Investors looking for a real growth story in emerging markets may want to consider China's internet sector.
Like America, the internet sits at the heart of China's future economy - and society - as an enabler of commerce, entertainment and social life. Its development is supported by the world's largest centrally planned government and its potential is enormous.
Mobile internet adoption will be a massive growth driver
China is home to more fixed broadband and wireless subscribers than any single market. Yet network development and device adoption lag developed markets. China already has more than 1 billion wireless subscribers, most of whom have yet to use their first smartphone. As better and cheaper devices come to market, and networks develop around them, mobile internet adoption in China will grow.
An illustration of the potential growth can be found at China Mobile (NYSE:CHL). Out of its 740m subscriber base it reported 138m customers are 3G+ subscribers, or 19% of its total, not all of whom are smartphone users. By comparison in the U.S., Verizon (NYSE:VZ) wireless last reported 70% smartphone penetration of its postpaid base. Another major wireless provider China Unicom (NYSE:CHU) reported that it had 67m smartphone users out of a total wireless customer base of 262m, or 26% smartphone penetration. As smartphone and tablet adoption ramp up, more people in China will be using the mobile internet.
Fixed broadband is growing
Fixed line broadband penetration is also growing and supported by the country's urbanization. China Telecom (NYSE:CHA), the country's largest wireline operator last reported it added 12 million broadband subscribers in 12 months. The other major wireline operator, China Unicom added 7 million subscribers over the period. These additions equate to every man, woman and child in Greece and Laos combined.
The major telecom operators in China have outlined significant investment plans for their fixed and wireless networks. As adoption increases and data speeds improve expect internet use to continue rising in China.
Supportive government
The evolution of the internet has neatly coincided with China's rapid economic development. China's recently announced 12th Five Year Plan outlined goals to increase urban population, improve living standards, grow the service sector and highlighted electronic information and development of next generation IT as a core objective.
China's government has also protected its home grown internet service sector at the expense of foreign competition. Many large U.S. companies, like Google (NASDAQ:GOOG), Facebook (NASDAQ:FB), Twitter (NYSE:TWTR), have been blocked from accessing the mainland Chinese market. This has led to the evolution of internet service companies that closely mimic the internet service sector in the U.S. Below we will take a closer look at some of these companies.
E-tail is big in China
If it hasn't already, China will soon surpass the U.S. as the single largest internet retail (e-tail) market. According to a recent McKinsey study, the Chinese e-tail market was worth an estimated $200bn in 2012 as compared to the U.S. market, which was worth around $225bn. By 2020 McKinsey estimates China's e-tail market will be worth $420-650bn matching the size of the U.S., Japan, U.K., German and French e-tail markets combined. Growth in e-tail will be driven by increasing internet adoption, income growth, urbanization, improving payment systems and development of other associated businesses.
The lack of physical retail infrastructure, especially in China's third and fourth tier cities, presents a case study of the internet's potential. With limited traditional retail options and pent-up demand in China's less developed cities, the McKinsey study found consumers in China spend a greater percentage of their wallet for on-line purchases than for traditional retail. E-tail also stimulates consumption (another goal of government) by making goods more accessible to consumers, and unlocks potential for entrepreneurs, SMEs and associated businesses to develop.
Aligned shareholder interests
In addition to its attractive growth outlook, the internet sector has another important structural component worth considering. Because most internet service companies were founded by entrepreneurs, and are still significantly owned by them, minority shareholder interests are generally aligned with owners/managers. This is an important consideration since many companies in emerging markets are not always run in the interest of shareholder value maximization and can face material policy risks. Large listed companies in sectors like energy, banking and domestic utilities can bump into populist policies or political objectives at the expense of commercial interests.
Risks to consider
Despite the favorable view China's government places on the development of the internet it is worth considering the political reality in China. Its government maintains a tight grip on information and society in general. With the internet being the great enabler of free information one cannot rule out potential government interference in the sector that can be detrimental to investors. The internet in China is heavily censored and one example was recently highlighted in the latest issue of the Economist.
Politics is not likely to be high on the agenda of an internet service company but a significant crackdown on one of China's internet service companies, or its owner, could increase risk perception towards the sector.
China's growth boom could unravel
Following a long period of fixed investment driven expansion, China's growth outlook is less certain. Its economy is increasingly debt dependent and debt to GDP levels are expanding. The country is also fiscally challenged at both the national and local government level and finances are heavily reliant on a continuation of asset inflation, especially in housing. The country's shadow banking sector has grown significantly and presents unknown risks. The economy also depends heavily on manufactured exports. Should these turn, China's economy faces serious risks. Economic data and reporting standards can also be opaque and unreliable. China is a fortress economy that presents genuine risks.
A closer look at the sector and KWEB
For those willing to move forward and consider investing in China's internet sector, let's take a closer look at it. China's internet sector is relatively investable with numerous companies listed in the U.S., and via ETFs, with the most targeted one being the recently launched KraneShares CSI China Internet (NASDAQ:KWEB).
KWEB invests in publicly traded China-based companies whose primary businesses are in the internet and internet-related sectors. The fund tracks the CSI Overseas China Internet Index and includes companies listed in the U.S. and overseas. KWEB is the only U.S.-listed ETF with dedicated exposure to non-U.S. internet companies. First Trust's Dow Jones Internet Index (NYSEARCA:FDN) is its closest peer, tracking U.S. stocks along with PowerShares NASDAQ Internet Portfolio (NASDAQ:PNQI). KWEB is one of a handful of sector and country-specific emerging market ETFs.
KWEB's portfolio consists of companies involved in a broad spectrum of internet services. Internet companies in China provide many of the same services seen here in the U.S. like e-commerce, search, gaming, social networking, on-line video and internet security. The fund is relatively concentrated with a total 28 holdings, of which the top 15 holdings represent 77% of its total holdings.
KWEB's top holdings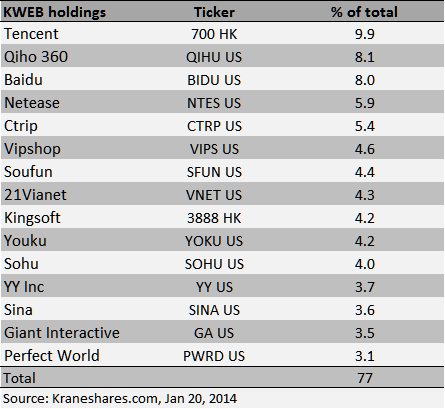 Below is a short description of KWEB's top 15 holdings.
Tencent Holdings (OTCPK:TCEHY) is a leading internet service company with a foothold in social networks, online gaming and e-commerce. It has the largest social activity user base in China through its popular instant messaging service WeChat and is a leading on-line game developer. Its services include communication, information, entertainment, e-commerce and seeks to provide one-stop online lifestyle services.
Qihoo 360 Technology (NYSE:QIHU) has a strong presence in the internet security realm. Qihoo is also involved in search, browser and web-game operations. Qihoo has many internet products including 360 SafeGuard and 360 Safe Browser. It has built strong distribution ability in mobile through its 360 Mobile Assistant, one of the frequently used third-party app stores in China.
Baidu (NASDAQ:BIDU) provides Chinese-language internet search services that enable users to find relevant information online including web pages, news, images and multimedia files through links provided on its websites. The company also offers social networking services, content based knowledge products, music products and mobile related products.
NetEase (NASDAQ:NTES) is one of China's leading on-line game service providers. The company offers online advertising, search, e-commerce, news and information content, matchmaking services, music and photo sharing on the internet.
Ctrip (NASDAQ:CTRP) is a leading travel service provider that offers hotel reservations, airline tickets and packaged tours to business and leisure travelers in China. Ctrip aggregates information on hotels, flights and vacation packages and enables customers to make informed and cost-effective travel bookings. Ctrip primarily targets frequent independent travelers in China who do not travel in groups. The company offers its services through an advanced transaction and service platform.
Vipshop Holdings (NYSE:VIPS) is China's leading online discount retailer for brands. The company offers high quality and popular branded products to consumers throughout China typically at a discount to retail prices.
SouFun Holdings (NYSE:SFUN) is a leading real estate internet portal in China. It currently provides marketing, listing and other value-added services as well as products for China's fast-growing real estate and home furnishing and improvement sectors. The company also intends to integrate paid priority placement of customer links in keyword search results into its current search and search ranking services.
21Vianet Group (NASDAQ:VNET) is the largest carrier-neutral internet data center services provider in China. The company provides hosting and related services, managed network services and cloud computing infrastructure services.
Kingsoft Corp. (OTCPK:KSFTF) is a Chinese software developer that has historically focused on development for the internet, Microsoft Windows-version systems and created a web browser known as Liebao. The company has worked on security software products, most recently moving towards internet-based applications, such as Kingsoft Kuaipan, a free cloud storage application running on multiple platforms.
Youku (NYSE:YOKU) provides internet television services. The company engages in online video sharing, distribution and mobile value added services. Its products and services include online video content, guided user generated content, in-house productions, online video search and discovery, youku community, wireless video services, youku iPhone channels and iPod services and p2p downloadable software.
Sohu (NASDAQ:SOHU) operates an internet portal in China. The company's website consists of Chinese language web navigational and search capabilities, web-based communications services, and a platform for e-commerce services.
YY (NASDAQ:YY) is a social communication platform that engages users in real-time online group activities through voice, text and video. Its platform consists of YY Client, the YY.com and Duowan.com web portals and Mobile YY.
Sina Corp. (NASDAQ:SINA) is an online media company. Its digital media network of SINA.com (portal), SINA.cn (mobile portal) and Weibo.com (social media) enable internet users to access media and user generated content in multi-media formats from the web and mobile devices. The company is also allying itself with China's largest e-commerce platform, Taobao (Alibaba), in an effort to expand its business.
Giant Interactive (NYSE:GA) is one of China's leading online game developers and operators. It mainly focuses on multi-player online, or MMO, games that are played through networked game servers in which tens of thousands of players are able to simultaneously connect and interact. Many of its games are designed on a "Free-To-Play" model, by which users can access a Free-To-Play game at no cost, but pay for virtual products and services within the game
Perfect World (NASDAQ:PWRD) primarily develops online games based on proprietary game engines and game development platforms. The company's technology and creative game design capabilities, combined with knowledge and experience in the online game market, enable it to frequently introduce popular games designed to cater changing customer preferences and market trends.
U.S. regulators still dissatisfied with disclosure
Many of the companies held by KWEB also issue American Depository Receipts (ADRs) that are accessible to U.S. investors. Last year a dispute between U.S. regulators and the top audit firms in China arose over the reluctance of the auditors to disclose certain information. An agreement was later reached, however, the dispute returned with the U.S. SEC now seeking to ban 4 leading China-based auditors for 6 months.

The dispute over disclosures, specifically U.S. law, which requires companies to turn over all documents requested by regulators, and Chinese law, which prohibits transferring data to foreign parties that might contain state secrets is complex. It appears likely the dispute will enter an appeals process that could drag on for some time. A 'worst-case' outcome could jeopardize the U.S. listings of many Chinese companies held by the fund.
ETFs with large Chinese internet holdings

There are a few other ETFs with large exposure to Chinese internet companies but none that hold pure internet exposure. Guggenheim China Technology (NYSEARCA:CQQQ) holds technology and IT companies in addition to internet names. The fund has a relatively broad portfolio with around 40 holdings. Its top holdings are Baidu, Tencent and Lenovo (OTCPK:LNVGF). Global X China Technology (NASDAQ:QQQC) also offers a technology profile and lists Baidu, Tencent, and Lenovo as its top holdings. PowerShares Golden Dragon (NASDAQ:PGJ) holds only U.S.-listed Chinese companies and as a result holds a high percentage of IT and internet service-related companies since many of them list ADRs in the U.S. PGJ has a fairly broad portfolio with around 65 holdings and also includes healthcare, consumer discretionary, energy, telecom and other companies listing ADRs in the U.S.
Gotta pay to play
Internet companies do not trade on cheap multiples. KWEB's largest holdings - Tencent, Qihoo 360 and Baidu - trade on forward P/E multiples of around 25x-35x. That should not come as a surprise given their growth outlook and the prices investors are willing to pay for internet stocks in other markets like the U.S. Investors are also willing to pay high multiples for many emerging market consumer companies, again based on growth expectations.
Most Chinese internet companies have seen their margins decline over the past few years due to heavy investment and the sector broadly has gone through an earnings downgrade cycle during this time. There are signs that the cycle may start to turn as companies move from the investment stage to the return stage.
A vast opportunity
The investment case for China's internet sector is about growth. Growth of internet enabled customers, growing expenditures and growth of services around the internet ecosystem. It is apparent here in America that the internet will be a large part of our economic and social life. China is no different.
We can dismiss the internet opportunity in China as too risky and too expensive - both valid considerations and useful in tempering our expectations. We can also take part in this sector's evolution.
Disclosure: I am long KWEB. I wrote this article myself, and it expresses my own opinions. I am not receiving compensation for it (other than from Seeking Alpha). I have no business relationship with any company whose stock is mentioned in this article.