We are initiating coverage on Fidelity National Information Services, Inc. (NYSE:FIS) with a Neutral rating. Shares of FIS are trading at a multiple of 12.0x our fiscal 2010 EPS estimate of $1.96, a discount to the industry.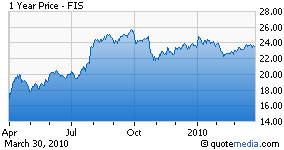 The company's fourth-quarter 2009 earnings marginally beat the Zacks Consensus Estimate, benefiting from cost-cutting efforts and operating efficiency gains, as well as higher revenue in the international solutions segment. FIS reiterated its 2010 guidance.
Fidelity has been an active acquirer of companies, and we believe the Metavante acquisition will offer both top-line growth and cost synergies with increased operating leverage. We are encouraged by FIS' prospects, given the broad range of offerings of the combined company, as well as the acquisition of Metavante.
New customer signings, increased presence in international markets, incremental cross-selling opportunities and stabilization in end-market demand will also drive growth.
Although we believe that the company has the potential to grow at a healthy rate over the next few years, a declining market for check services and a slow recovery in the mortgage market concern us, since they could hurt sales. Moreover, FIS has grown its business principally through acquisitions, which have been eating up its balance sheet in the form of high levels of goodwill and intangible assets.
We believe FIS has held up better than most of its peers, despite a highly challenging economic environment. We expect the company to post stronger results in 2010 driven by improving IT spending.
By successfully integrating acquired companies, FIS has reported stronger sales, which along with cost management and core & ancillary product integration, enabled it to generate pro forma revenue of more than $5 billion and pro-forma EBITDA of more than $1.4 billion (28% of total revenue) in 2009.
For the longer-term, the company expects overall revenue growth of 6% to 9%. Management believes the company will continue to drive strong revenue growth and higher profitability through new revenue sources, new product development and technology enhancements, long-term contracts, an improved sales force, leveraging of customer relations and cross–selling of products across business lines, focus on large deals and lowering of the expense base.
As such, we have a Neutral rating on FIS shares with a price target of $25.00. This represents a P/E multiple of 12.8x estimated 2010 EPS, which is a discount to its peers.
FIS is a leading provider of banking and payments technology solutions, processing services and information-based services to the financial services industry. The company's primary competitors that provide similar core processing applications and services to financial institutions include Fiserv Inc. (NASDAQ:FISV), International Business Machines (NYSE:IBM), Accenture Plc (NYSE:ACN), Alliance Data Systems (NYSE:ADS), DST Systems Inc. (NYSE:DST) and many more.