(Editors' Note: This article covers stocks trading at less than $1 per share and/or with less than a $100 million market cap. Please be aware of the risks associated with these stocks.)
Previously, I highlighted my top 5 silver stocks - companies which I feel are the best picks in the industry for 2014. However, since I feel that there are plenty of good picks in the gold and silver sector, it can be quite hard to fit just five stocks in this list.
Therefore, I have made both my top 5 gold stocks and silver stocks lists into a two-part series.
I believe these stocks hold tremendous upside potential and great leverage to an increase in the price of silver. For example, certain silver miners hold at least 3-4 times leverage to the silver price, meaning that a 50 percent gain in the price of silver should lead to 150 percent gains in the price of the stock.
Of course, investing in mining companies introduces a whole 'nother element of risk, as opposed to just owning the physical metal and selling when it goes up in value. Still, if you can find a company with a great project and solid management team, you can alleviate some of these risks.
Why Silver Over Gold?
Before I give my other top 5 picks in the silver sector for 2014, I would like to briefly explain why investing in silver could be a better idea than gold.
You can make the argument that silver presents a better long-term investment than gold for a number of reasons. As I mentioned in the first part of this series, silver has many industrial uses, of which there is no other substitute. These uses include photography, medicine, electronics, automotive industry, solar panels, etc. The silver is basically used up and thrown away in microscopic amounts.
You will see below that silver currently sits right above its 50-day moving average (blue line) and remains just $1.55 away from its 200-day moving average. The technical picture is getting much more strong for silver.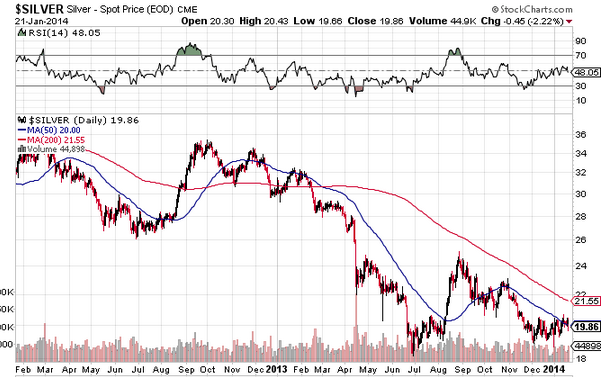 Next, I feel that physical silver is easier for the common person to invest in. Think about this - if you had $1,000 to invest, you can buy close to 50 ounces of silver, but you still wouldn't have enough cash to buy an ounce of gold at $1,250 an ounce. All it takes is some spare cash for the small investor to get in the game.
With gold at $1,240 and silver around $19.50, the gold:silver ratio is just over 63, meaning one ounce of gold will buy you 63 ounces of silver. I'll take 63 ounces of silver over one ounce of gold any day.
The bottom line is that I feel silver is undervalued compared to gold. As I mentioned in a previous article, the ratio of silver to gold production is around 9 to 1 (For example, in the year 2011, worldwide gold production was just over 2,600 tonnes, and total silver production was 23,688 tonnes - a ratio of 9.11).
Why are These Top Picks?
What makes a gold or silver stock a "top pick?" I base my criteria on the following:
- Miners or streamers with a rock-solid balance sheet to weather the ongoing silver price weakness.
- Big upside and leverage to the price of silver when it rises.
- Silver mines with low all-in sustaining costs or development projects with very favorable economics.
- Takeover targets are a plus. Small silver miners or developers which have great projects in safe jurisdictions will be a target in 2014 as M&A activity heats up in this sector.
- I label these picks as "top picks" because I feel that they will outperform the benchmark Silver Miners Index(NYSEARCA:SIL) as well as the price of silver(NYSEARCA:SLV).
While I still feel comfortable with my top 5 picks for the year, there are certainly some other miners which deserve to be recognized.
Here are my five other top picks for 2014. I feel that these silver stocks hold big leverage to the price of silver, giving investors tremendous upside potential in the medium to long-term.
#5 Impact Silver (ISVLF)
Impact Silver trades on the US OTC under ISVLF and on the Toronto Stock Exchange under IPT.V.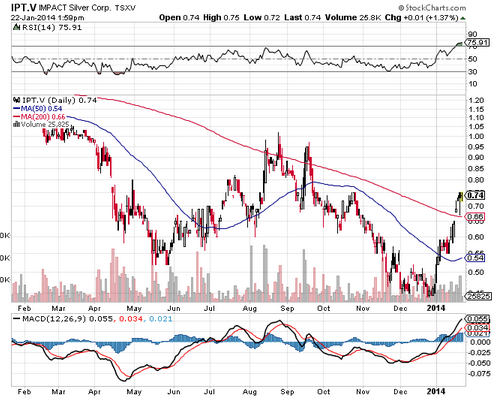 Shares Outstanding: 68.1 million
Recent Stock Price: $.68
Market Cap: $46.26
Cash: $6.7 million with working capital of $9.9 million (Sept. 30)
- Impact Silver is a small junior silver producer with low-cost operations in Mexico. The company is focused on creating shareholder value through increasing its low-cost silver production profile, funding by operating cash flow (as opposed to debt and equity raises). The company only has 68.1 million shares outstanding. Impact is focused on becoming a multimillion ounce silver producer.
- Impact's 500 ton-per-day production center is located within the Zacualpan District in Mexico. the company feeds ore to the center through its three underground silver mines, located nearby: the San Ramon, Noche Buena and Cuchara-Oscar mine. The company also owns and operates the Capire processing pilot plant, at 200 TPD.
- Impact's mineral resource base includes 7.224 million ounces of silver measured and indicated plus 435,959 ounces in inferred, 30,446 ounces of gold measured and indicated plus 1,919 inferred, 7+ million lbs. of copper measured and indicated plus 475,594 inferred, 37.2 million lbs. of lead and 95.6 million lbs. of zinc.
- In the third quarter of 2013, Impact produced 185,998 ounces of silver, but also 348 ounces of gold and other by-products of lead and zinc. The company reported revenues of $3.1 million, but reported an operating loss for the quarter on lower silver prices.
- Impact has released some very impressive drill results at its San Juan project. On Jan. 7, the company reported drill intersections of 1,409.8 g/t silver over 2.07 meters from the Noche Buena Vein, and 17.1 g/t gold over 1.89 metres from the Carlos Pacheco vein. Full drill results can be found here.
- For 2014, the company will focus on continue drilling on the VMS targets in the Capire district, and advance towards graduation from the TSX-V to the TSX.
- Impact has zero debt and has not gone to the market to issue shares, like many other junior mining companies have done.
- Insiders own approximately 14.9 percent of the company.
I believe that Impact Silver is a prime takeover candidate in 2014 for a mid-tier silver miner. With $9.9 million working capital the company should be fine for now, but if silver were to remain under $20 the company's balance sheet could come under pressure.
#4 Silver Wheaton (SLW)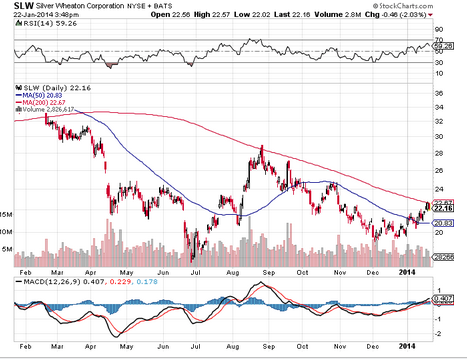 Silver Wheaton trades on the NYSE under the symbol SLW and on the TSX under SLW.
Shares Outstanding: 357.4 million
Recent Stock Price: $22.13
Market Cap: $7.93 billion
- Silver Wheaton is perhaps the least risky stock on this list since the company is not a silver miner, but a streamer. In fact, Silver Wheaton is the largest precious metals streaming company in the world, bigger than its competitors Franco-Nevada (NYSE:FNV), Royal Gold (NASDAQ:RGLD) and Sandstorm Gold (NYSEMKT:SAND). Silver Wheaton is also the only company on this list which pays a dividend.
- Silver Wheaton spreads out its risk around the world at different projects. The company enters into agreements where, in exchange for an upfront cash deposit, the company has a right to purchase at a low fixed cost (typically $4 to $6 an ounce per silver or $400 an ounce per gold), all or a portion of the silver and/or gold production from the project.
Silver Wheaton has 19 of these agreements on assets in production, plus five development stage projects.
- One of the advantages to owning a stock like Silver Wheaton is that the company remains very profitable, even with much lower silver prices. For example, even as silver slumped in 2013, going from $30 to $20 an ounce, Silver Wheaton recorded net earnings (nine months ended 2013) of $281,595,000, with total cash flow from operations of $409.5 million!
- Silver Wheaton's low-cost production profile and solid cash flow has allowed the company to build up its silver and gold resource base very quickly. The company currently boasts a massive proven and probable silver reserves of 891.6 million ounces, in addition to 5.38 million ounces of gold.
This does not include another 529.5 million ounces of silver in the measured and indicated categories, in addition to 290.5 million ounces in inferred, and 1.85 million ounces of gold in M+I.
This resource base is one of the largest in the industry, only second to Fresnillo (OTCPK:FNLPF) and larger than both Pan American Silver (NASDAQ:PAAS) and Silver Standard Resources (NASDAQ:SSRI).
- Silver Wheaton currently derives around 80 percent of its revenue from the sale of silver and 20 percent of revenue from the sale of gold.
- For 2013, production is estimated to finish at 33.5 million silver equivalent ounces. That number is expected to grow slightly in 2014, but by 2017 it should reach 42.5 million ounces - a five-year production growth of 45 percent.
- As mentioned, Silver Wheaton currently pays a dividend and the current yield is 1.6 percent. The dividend policy is unique - dividends are linked to operating cash flows, with 20 percent of the average of the previous four quarter's operating cash flows are distributed to shareholders. This is a flexible and sustainable dividend policy in my view.
Bottom line? In terms of the best long-term picks in the gold and silver sector, I rank Silver Wheaton right at the top of the list.
#3 Great Panther Silver (NYSEMKT:GPL)
Great Panther trades on the AMEX under the symbol GPL and on the TSX under GPR.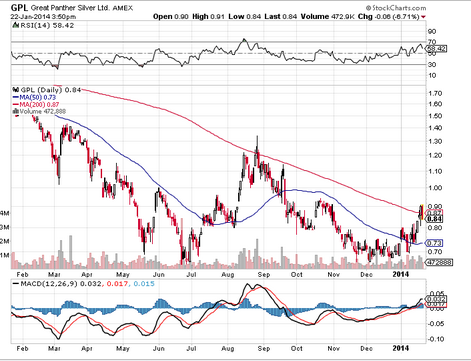 Shares Outstanding: 138.4 million
Recent Stock Price: $.84
Market Cap: $115 million
Great Panther is a silver mining company which operates two mines in Mexico - Topia and Guanajuato. Great Panther also owns an exciting development project in San Ignacio, scheduled to come online in 2014, and two exploration projects in El Horcon and Santa Rosa.
- On Jan. 14, 2014, Great Panther reported a 19 percent increase in total metal production for 2013. Silver equivalent production was 2.84 million, an increase of 19 percent and an annual record.
- Production should increase in 2014 - the company expects overall metal production of 3.1 to 3.2 million silver equivalent ounces as the San Ignacio project comes online.
- Guanajuato is the company's most profitable mine, producing silver at cash costs of just $3.92 an ounce. For the third quarter of 2013, Great Panther recorded gross profits of $2.64 million.
- Great Panther has a solid balance sheet with $23.7 million in cash and $35.9 million in working capital.
- San Ignacio, scheduled to come online in 2014, has a resource base of 6.9 million SEO's. The project will start at 100 TPD in the first half of 2014, increasing to 250 TPD by the end of the year.
Drilling and development is ongoing at San Ignacio. Recent surface drill results were very encouraging: The most significant intersection returned 263 g/t silver and 7.27 g/t gold over 24.6 metres! "A proposed drill program for the San Ignacio project in 2014 will include in-fill drilling deeper in the system and detailed drilling for 250 metres south along the Intermediate Vein in an area of limited exploitation dating back to the 19th century, as well as property-wide targeting." (Source: December 16 release)
- El Horcon is an exciting development project which contains 2.5 million SEO's.
- Great Panther, like Impact, is a very strong takeover target for a mid-tier miner like Endeavor Silver (NYSE:EXK) or Silver Standard or a senior silver producer like First Majestic Silver.
The bottom line for Great Panther is that the company is very highly leveraged to an increase in the price of silver, has a very solid balance sheet for a company of its size and owns a number of exciting development projects, most notably the San Ignacio project.
#2 Avino Silver & Gold Mines (ASM)
Avino Silver & Gold Mines trades on the AMEX under the symbol ASM and on the TSX under ASM.V.
Shares Outstanding: 27.9 million
Recent Stock Price: $1.50
Market Cap: $41.19 million.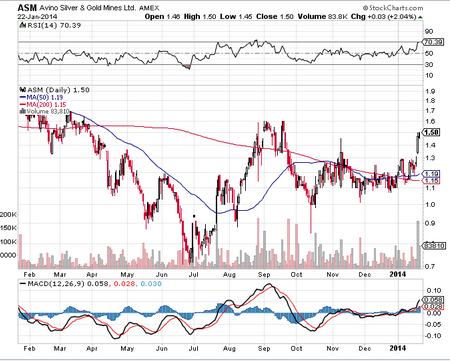 Avino is one fast-growing silver stock which I just recently learned about - and I am glad that I did.
- The news release which caught my attention was the Jan. 20 release which announced Avino had increased its total yearly silver equivalent production to 895,240 ounces in 2013 - up 253 percent from a year ago.
- Avino's main project is the Avino mine, located in the Durango region of North Central Mexico, in the heart of the Sierra Madre Silver Belt. The total project contains silver equivalent ounces of 27.5 million.
- Despite the drop in precious metals prices, Avino remains profitable. In the third quarter of 2013, Avino reported earnings per share of .03 on an all-in sustaining cash cost per ounce of just $11.35. Earnings for the period before taxes were just over $1 million.
- Avino has done a great job getting cash costs down - from $14.74 an once in the first quarter of 2013, to $6.86 an ounce in the last quarter.
- The San Gonzalo mine has a ton of potential in my view. The mine contains an inferred resource of 10.49 million silver equivalent ounces at very high grades. With further drilling and development, this should be converted to higher-confidence categories. There is also a ton of exploration potential.
- At the Avino mine, much of the deposit remains unexplored and 16.2 million SEO's are in the inferred category.
- Avino has a cash balance of $4.3 million with no debt.
- A company's management team is especially important when owning such a small mining company. Avino's team has more than 200 years combined experience, with the CEO and director David Wolfin with over 26 years experience.
In conclusion, I really like Avino in 2014 and beyond, for a few reasons:
- The tight share structure with just 27 million shares outstanding.
- Very low operating costs, profitable.
- Big exploration potential.
- Organic growth pipeline in place.
- Experience of the management team.
- Cash balance and debt-free.
I've only scratched the surface on Avino and I plan on writing a follow-up article which goes more in depth, so stay tuned.
#1 First Majestic Silver (AG)
First Majestic Silver trades on the NYSE under the symbol AG and on the Toronto exchange under FR.TO.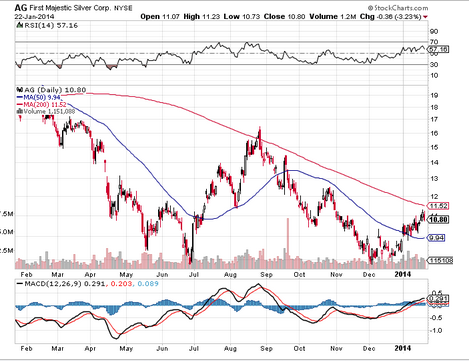 Shares Outstanding: 117 million
Recent Stock Price: $12
Market Cap: $1.2 billion
First Majestic is a senior silver producer based in Mexico. The company owns and operates five producing silver mines - the La Parrilla mine, the San Martin mine, the La Encantada mine, the La Guitarra mine and the Del Toro mine.
- Production from the five mines totaled 10.6 million in 2013, with 12.7 million total silver equivalent ounces produced. This represents an impressive 41 percent increase in production from 2012. However, the growth is far from over as the company expects to produce up to 15.6 million SEO's in 2014.
- The company has two projects in the permitting stage - La Luz and Plomosas. La Luz contains 33.7 million SEO's in the measured and indicated category, and 13.1 million SEO's in inferred, while Plomosas has historical reserves of 10 million SEO's.
- Going out further, First Majestic is aiming towards producing 20 million SEO's by 2017, as you'll see in the below chart. Plomosas and La Luz should help the company achieve this goal: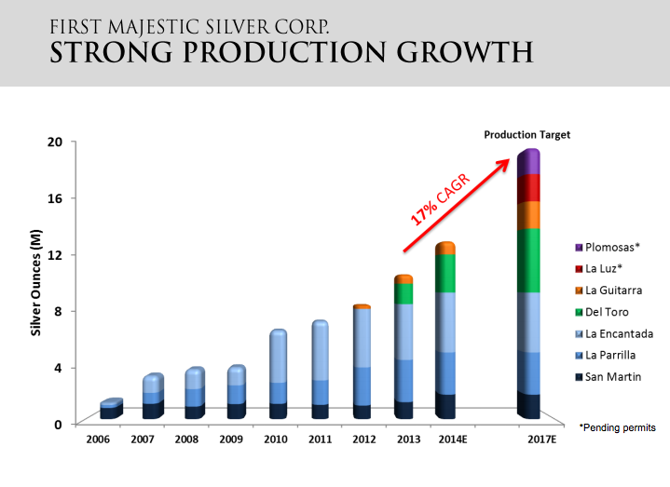 - First Majestic remains profitable - for Q3 2013, the company reported mine operating earnings of $29.2 million, with operating cash flows of $37.2 million (cash flow per share of $.32). This was with an average realized silver price of just $21.58.
- Total cash cost per ounce of silver was $8.84 in Q3 2013, according to the company. All-in sustaining costs for 2014 are expected to be in the range of $15.87 - $16.69, meaning that First Majestic should remain profitable amid lower silver prices.
- First Majestic has a very large silver resource base, with total proven and probable, measured and indicated SEO's of 286.9 million. However, the company also has an additional inferred resource base of 269.3 million ounces, giving First Majestic 556.2 million SEO's in total.
- The company has $67.2 million in cash and equivalents.
- Insiders own roughly 4 percent of the company, with the CEO owning 3.2 million shares himself.
- First Majestic is one of the best performing precious metals stocks of the past five years, returning 443 percent in that time. This is much higher than the returns of the price of silver (up 71 percent), Silver Wheaton (up 222 percent) and Fresnillo (276), according to the company's presentation.
- While First Majestic has a lot of potential to grow organically, I feel the company should be looking for more M&A opportunities, even though the company doesn't have a huge amount of cash to work with. Several of the other top picks on this list would make perfect sense for the company.
In conclusion, First Majestic is one of the finest growth stocks in the gold and silver space as the company could end up producing at least 20 million SEO's in just three years. The company is a long-term must own for any serious silver mining investor.
Don't Let the New Mexico Mining Tax Scare You Away
On Oct. 31, 2013, Mexico's senate approved a package of tax reforms, which maintained the corporate tax rate at 30 percent, but included a 7.5 % charge or "royalty tax" on gold and silver companies.
This will have a small, negative effect on each gold and silver mining companies earnings. However, I don't believe it should scare investors away completely.
The bottom line is if the company has great projects operating at low costs, they should be just fine, and it should not be a deciding factor is whether or not to invest in a particular company. I still feel Mexico is a good place for miners to do business.
What is your top silver stock for 2014? Please share your thoughts below.
Disclosure: I am long SLW, . I wrote this article myself, and it expresses my own opinions. I am not receiving compensation for it (other than from Seeking Alpha). I have no business relationship with any company whose stock is mentioned in this article.