Under Armour (NYSE:UA) shares continue to trend up as the company's high doubled digit growth is being recognized by investors. The company trades with a higher price to sales and price to earnings than larger rival Nike (NYSE:NKE). However, Under Armour has plenty of opportunities for further growth, including international sales. The company may also see new boosts from Notre Dame, Winter Olympics and Johnny Manziel.
The recently speculated Under Armour deal with Notre Dame was confirmed by the company Tuesday. This deal is huge for Under Armour, as it gives them access to one of the largest fan bases and most valuable college football programs. Notre Dame had previously been with Adidas since 2001 for apparel and 2007 for shoes. The new program with Under Armour will start in 2015. Under Armour beat out bids from Adidas and Nike to secure the Notre Dame program. Under Armour will supply footwear, apparel, equipment for training and game-day uniforms for all 26 varsity athletics programs.
Notre Dame was named the second most valuable college football team in an ESPN article. The article gave Notre Dame a value of $117 million, falling behind Texas University's total of $139 million. Notre Dame also signed an extension with NBC through 2025 to air football games.
More importantly, the deal gives Under Armour one of the top ten colleges in terms of merchandise sales. Prior to signing Notre Dame, which ranks third in merchandise sales, Under Armour's highest ranked school was South Carolina at number 16. Notre Dame also saw substantial growth, going from number nine to number nine. This move was facilitated by a BCS National Championship appearance. Under Armour now has 13 Division 1 football programs under contract. This is low compared to Nike (79) and Adidas (30), but also creates plenty of room for growth in this area for Under Armour ahead.
Reports from ESPN show that the Notre Dame deal with Under Armour is worth about $9 million per year, making it the highest college apparel deal ever. The previous record was Adidas' $8.2 million a year deal signed with the University of Michigan in 2008. Obviously, Under Armour won't be able to shell out this much money on every college deal, but it is slowly picking up market share in the segment and should see this trend continue as it lures away former Nike and Adidas partnerships. One potential area of this I am watching is Maryland's move to the Big Ten Conference. The move of Maryland, an Under Armour customer and alma mater of CEO Kevin Plank, will be in a more prominent television market and might be able to bring Under Armour to more Big Ten schools.
Under Armour is likely to be involved in several more deals as schools see their endorsement deals expire with Nike and Adidas. While Under Armour and Notre Dame pushed the limits money wise, one part of the deal could be worth watching for future deals. Under Armour's deal with Notre Dame included stock options as part of the payment. This means if Under Armour does well and continues to see a rise in its share value, Notre Dame could actually profit further. Other schools may be lured away from Nike and Adidas if they are offered stock options in a growing company like Under Armour.
Aside from the Notre Dame deal that has already sent shares of Under Armour up, a short-term catalyst could be coming. Under Armour is betting big on the 2014 Winter Olympics in Sochi, Russia. The company is the official outfitter of the United States speedskating, United States bobsled, United States skeleton and Canadian snowboard teams. These deals should get Under Armour more of a focus to television audiences around the world and could boost sales of some items. Lolo Jones, a former US track star, made the bobsled team this year and figures to be a prominent storyline on television during the Olympics.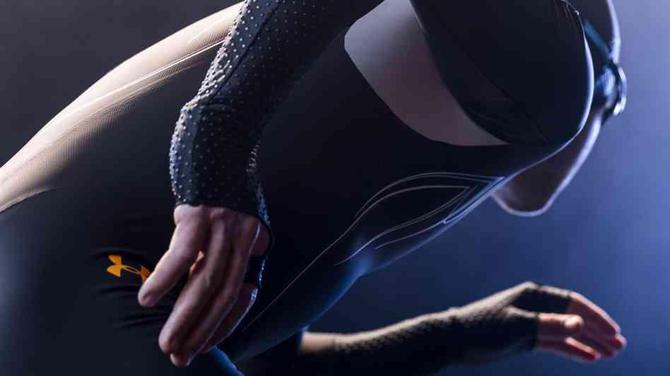 More importantly, Under Armour has a new outfit for the US speedskaters that could help set some records and land some contracts in the company's future. Under Armour partnered with Lockheed Martin to design the fastest, most aerodynamic suit ever. The suit, known as Mach 39, could see instant comparisons to the Speedo LZR swimsuit that helped several swimmers set records at the 2008 Summer Olympics in Beijing. That Olympics caused Speedo and athletes be accused of "technological doping." While this sounds like a negative, setting records and showcasing a dynamic suit like this will lead to future wins for Under Armour for other countries and other sports. Going forward, Under Armour also has a deal in place with the USA Gymnastics team for the next two summer Olympics.
New reports and pictures have Under Armour linked to the signing of Johnny Manziel, one of the most known figures in college football. Signs by the Under Armour headquarters welcome Manziel to the family, even though no official endorsement deal has been signed. The winner of the 2012 Heisman Trophy, Manziel will likely be one of the top ten picks in the 2014 NFL Draft this fall.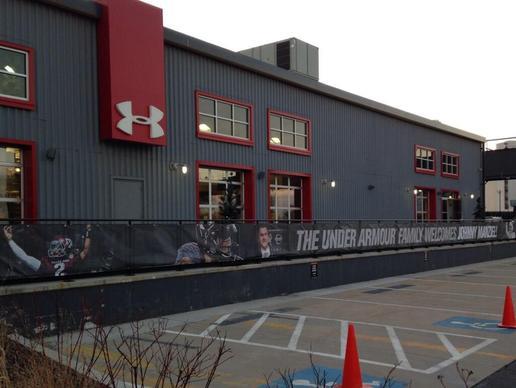 Signing Manziel to the Under Armour family would be a big win. He is sure to be one of the most followed NFL players as he will likely end up starting at quarterback to begin the 2014 NFL season. Manziel would join Cam Newton and Tom Brady as other big Under Armour athletes. The signing would continue Under Armour's push into endorsement deals that includes:
· MLB: Buster Posey, Bryce Harper
· NBA: Stephen Curry
· Michael Phelps
· Willie Robertson
Back in September, I highlighted the new growth plans of Under Armour. The company, which had sales of around $2 billion, believes it can double sales to $4 billion by 2016. The company also believes it can hit $10 billion in sales through growing its international sales, which represents only 10% of current sales.
In that same article, I called for Under Armour to make possible acquisitions. The company had $224 million in cash and was likely to buy a smaller company. In November, Under Armour bought MapMyFitness, an open platform fitness company. The company has over 20 million registered users and over 400 fitness tracking devices. This deal should push Under Armour further into the accessories and performance measuring categories.
Under Armour will always be compared to rival Nike, which currently has annual sales that are more than 10 times that of Under Armour. Here is a look at how the two companies compare:
| | | |
| --- | --- | --- |
| | Nike | Under Armour |
| Share Price | $74.01 | $85.02 |
| Market Capitalization | $65.5 billion | $8.9 billion |
| 2014 Estimated EPS | $3.49 | $1.77 |
| Forward Price to Earnings | 21x | 47x |
| 2014 Estimated Revenue | $30.2 billion, +8.8% | $2.77 billion, +21.9% |
| Forward Price to Sales | 2.2x | 3.2 |
*Figures from Yahoo Finance*
A quick look at that table would likely make Nike the better investment. There is little doubt that Nike isn't a great investment, as it has dominated the apparel and footwear market for years. However, Under Armour continues to increase its sales and exposure through new entries (like footwear) and adding sponsorships (Notre Dame, Johnny Manziel). Under Armour is expected to grow sales 22% in fiscal 2014. The company will continue to grow at double digit rates to hit its goals of $6 billion and $10 billion. Wait for a pullback and then buy shares of Under Armour.
Disclosure: I have no positions in any stocks mentioned, but may initiate a long position in UA over the next 72 hours. I wrote this article myself, and it expresses my own opinions. I am not receiving compensation for it (other than from Seeking Alpha). I have no business relationship with any company whose stock is mentioned in this article.