Retrophin (NASDAQ:RTRX) is developmental-stage biotech headed by CEO Martin Shkreli. Mr. Shkreli had great success trading biotechs as a hedge fund manager and many are hoping his talents transfer to leadership. The lead compound Sparsentan (RE-021) for focal segmental glomerulosclerosis (FSGS) will likely be competing with biotech powerhouses like Sanofi (NYSE:SNY) and Roche (OTCQX:RHHBY) in this space. Given the status of Retrophin's pipeline, or lack thereof, Sparsentan is do or die. The two recent additions to this pipeline aren't helping much either.
Syntocinon
Syntocinon is an intranasal synthetic-oxytocin spray that was originally developed to aid in milk let down. On August 7,1997 the FDA announced the withdrawal of this compound after Novartis had notified them they would no longer be marketing the product. Syntocinon is still currently a discontinued product.
No patent protection or regulatory exclusivity:
Needless to say patent protection and exclusivity are a must in an industry fraught with generic competition. As of right now, Syntocinon is wide open to ANDA submissions.
In addition, as per the S-1, there are "pending published patent applications (but no granted patents) in the United States, and corresponding international counterparts, owned by third parties that contain claims related to the use of oxytocin (the active ingredient of Syntocinon) for the treatment of psychiatric disorders, including autism and schizophrenia."
Novartis License:
Retrophin will be facing "substantial payments upon the achievement of certain milestones" under the licensing agreement with Novartis. Due to a request of confidential treatment, it is unknown what these milestone payments are or what developmental and commercial events trigger the payments. There are a total of ten milestone payments listed in the 8-K. Retrophin is also obligated to pay a 20% royalty rate on net sales.
Milk Letdown
Preterm mothers typically have a greater lack of milk expression than that of full-term mothers and were typically those who were prescribed the intranasal spray. Published studies in the past decade have challenged whether or not intranasal oxytocin spray (specifically Syntocinon) actually aids in milk let down.
Some studies have even gone as far as to suggest the intranasal spray carries a more psychological than physiological effect. "Despite marginal differences in the pattern of early milk production, the use of oxytocin nasal spray did not significantly improve outcome. Most mothers believed they were receiving the active spray, suggesting a significant placebo effect (supported by limited data from historical controls) and benefits from the extra breast feeding support available during the study."
Whether or not the FDA will require any additional trials before reintroduction into the market is unknown. It is my opinion there should be, as the original data for approval of the compound would not pass existing thresholds.
Oxytocin Use In Schizophrenia and Autism
There were a wide array of results for oxytocin, and while they were inconclusive, they do show promise for schizophrenia. The mixed results could be due to a wide variety of variables including -- but not limited to -- anatomy, dose, and nasal vascularisation.
In all existing (small) trials, there has not been prolonged use of intranasal oxytocin. Many of the short duration trials show mixed improvement in social behaviors at best. There have been few studies completed that are beyond 6 weeks in duration. Not nearly long enough to observe a multitude of possible side effects.
In fact, recent long-term studies conducted in parrie voles with intranasal oxytocin found that it may actually cause the brain to make less natural oxytocin (which is emitted in pulses), thereby worsening the case of the individual. It is unclear if this is a vasopressin/oxytocin offset or if there is damage done to the receptors. It is unknown if these results directly transfer to autism/schizophrenia patients, leading to a need for extended treatment trials. I believe the FDA will/should require extended trials before approval for such indications.
One major question we must ask: Despite the trials showing possible benefit in autism and schizophrenia, why did Novartis keep this compound on the shelf? Was it the patent issues, cost of trials, or something else?
RE-034: ACTH Analog
To start, Retrophin's CEO Martin Shkreli recently announced an anti-trust suit against Questcor (QCOR) on Twitter.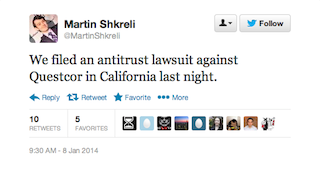 Questcor outbid Retrophin for the rights to Synacthen. I won't get into the legalities of Questcor's actions too much, but I encourage both parties to read Retrophin's anti-trust suit and determine its merits. (I have yet to see anyone else post it anywhere.)
"After approximately nine months of due diligence and negotiations, Retrophin and Novartis agreed to terms on which Retrophin would acquire the rights to Synacthen…The signing was set for June 11, 2013" (Paragraph 49) It was on that very June 11th Questcor put out a press release they acquired Synacthen. It has since taken Retrophin nearly seven months to file this anti-trust suit.
Hot Air?
In a press release Martin Shkreli stated, "these are two key therapeutic areas for Retrophin (referring to infantile spasms and nephrotic syndrome), so approximately a year ago we embarked on development of RE-034 and have recently reached major CMC (chemistry, manufacturing, and controls) milestones."
What is curious here is that if you believe this timeline Mr. Shkreli is telling shareholders in the press release, his company would have begun developing RE-034 while simultaneously seeking to acquire Synacthen. As it happens, by the dates listed in the court document, Retrophin would have started development in the middle of negotiations with Novartis. That's a highly irregular move, considering the negotiations were moving to the point where Retrophin was willing to sign just a few months later.
I contacted Retrophin three times to clarify the dates listed. I was told via phone by Marc Panoff on January 21st I would have a response by the afternoon of Jan. 22, which never materialized. CEO Martin Shkreli even acknowledged my submission on Twitter, and still I received no response.
Additionally, you will note the court document does not say when RE-034 had begun development, a fact I believe that could be key in Retrophin's claims of damages against Questcor.
Aside from damages, the more notable request of judgment against Questcor in this lawsuit was: "Permanently enjoining Questcor from enforcing or maintaining its rights to Synacthen under its agreement with Novartis or any similar formal or informal agreement."(Claim G, page 20)
It is my opinion Retrophin is likely still pursuing Questcor/Novartis' Synacthen. The company itself acknowledges in the anti-trust suit there is a much greater chance of failure. And even if RE-034 is developed, there is no guarantee they will be able to break into the relevant markets dominated by Questcor.
Until the compound RE-034 moves out of pre-clinical development, I would be highly skeptical on placing any value on this compound. I highly doubt RE-034 will be even remotely on par with Phase I or III clinical trials beginning in 2014.
How Convenient
The timing of the announcement of this compound came shortly after Questcor announced more federal probes into the promotional practices of Acthar, in addition to Citron Research's much-publicized report that the FTC was investigating the acquisition of Synacthen. Overall, the timing of such announcements should raise questions for investors, as they ensured publicly leading up to the IPO.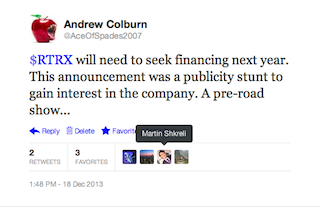 That's Weird
In a move that many biotech investors on Twitter classified as "weird," Retrophin repurchased shares directly before they issued their dilution.
As per the S-1, "In the fourth quarter of 2013 and early in the first quarter of 2014, we repurchased approximately 264,000 shares of our common stock for an aggregate purchase price of approximately $1.9 million. We currently recognize such repurchased shares of common stock as treasury stock."
Again, this raises more questions leading into their IPO, given the low float. Such repurchases could have artificially inflated the price per share if timed appropriately, especially on days where only a few thousand shares were traded.
Observational Side Notes
RE-001: Duchenne Muscular Dystrophy
This was not listed under "our product candidates" nor on the pipeline graphic in the S-1, but is, however, located deeper in the document and still remains under the pipeline listed on their website. Retrophin has been developing RE-001 for years and none of the proceeds raised by the IPO are marked for this compound. There are no patents or licenses for this compound.
RE-003: Spinal Muscular Atrophy
This was not listed anywhere in the S-1 but still appears on the company website. It is currently still in pre-clinical phase. None of the proceeds raised by the IPO are marked for this compound as well.
Conclusion
The IPO priced 4,705,882 shares at $8.50 raising $40M, not including the 30-day option of 705,882 shares for the underwriter. This was roughly a 30% dilution that tripled cash reserves. It is currently sitting on $60M, but has a throng of milestone stone payments and will have an increasing cash burn rate as its pipeline progresses. Retrophin now sports a $293M market cap, but based on the massive 82.5% share price appreciation since Retrophin announced their IPO and little meaningful change in the status of their pipeline, I would remain on the sidelines and avoid RTRX until the IPO euphoria wears off -- even if you believe in Sparsentan.
Disclosure: I have no positions in any stocks mentioned, and no plans to initiate any positions within the next 72 hours. I wrote this article myself, and it expresses my own opinions. I am not receiving compensation for it (other than from Seeking Alpha). I have no business relationship with any company whose stock is mentioned in this article.