By Sumit Roy
Natural gas inventories fell only modestly last week, but traders look forward.
Natural gas was last trading up by close to 2 percent to $4.77/mmbtu after the Energy Information Administration reported that operators withdrew 107 billion cubic feet from storage last week, close to analyst estimates that ranged from 95 to 110 bcf.
However, the withdrawal was well below last year's draw of 172 bcf, and the five-year average draw of 206 bcf.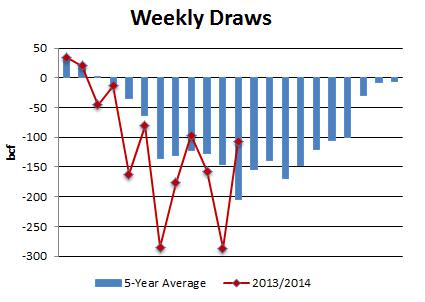 In turn, inventories now stand at 2,423 bcf, which is 573 bcf below the year-ago level and 372 bcf below the five-year average (calculated using a slightly different methodology than the EIA).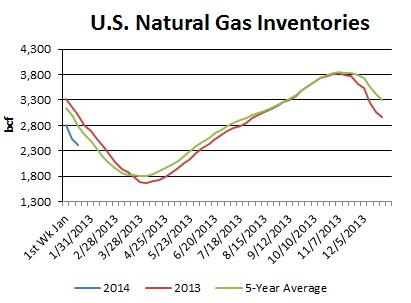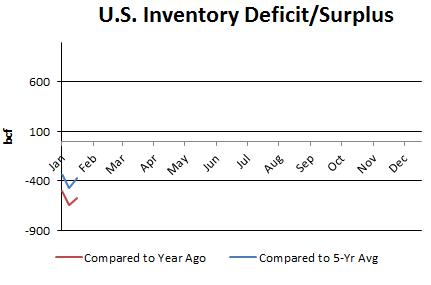 The weather last week was much warmer than normal, in sharp contrast to the week before, which was the coldest in decades.
According to the Edison Electric Institute, utilities generated 78,054 GWh in the week ending Jan. 18, which was 1.8 percent below the same week a year ago.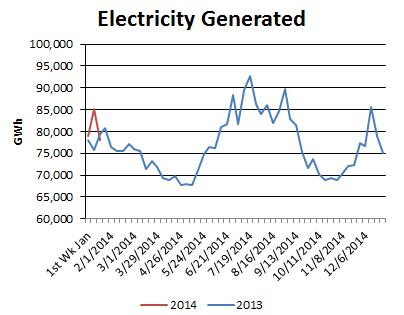 Looking forward, the NOAA's 6- to 10-day outlook calls for a resumption of the cold weather trend over the eastern half of the country-where most gas is consumed during the winter.
NOAA 6- TO 10-DAY OUTLOOK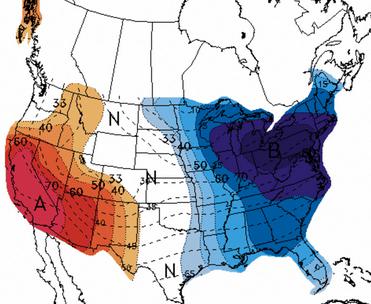 Meanwhile, the number of rigs drilling for natural gas in the U.S. rose by eight to 365 last week.
Natural Gas Rig Count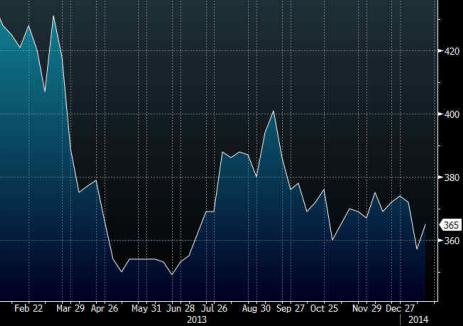 NATURAL GAS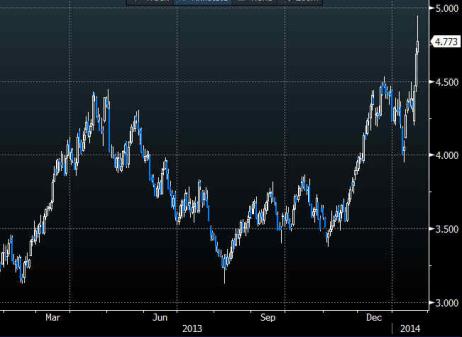 Bottom line: The latest inventory data from the EIA were bearish, as the inventory deficit against the five-year average fell from 471 to 372 bcf.
Still, this relatively small withdrawal was expected, and the inventory deficit will resume its expansion in next week's report. While it's hard to say whether we will have another record-breaking withdrawal, it's safe to say that over the next several weeks, we will see at least a few more 200 bcf-plus draws.
That will push the inventory deficit against the five-year average above 500 bcf. A deficit of that size suggests a season-ending inventory level of about 1,300 bcf (the five-year average trough is 1,815). That's a low level compared with recent years, but not considered critically low.
On the other hand, if the deficit widens to 800 bcf or more - suggesting a seasonal trough at 1,000 bcf or below - natural gas prices could spike much higher from here. As we wrote in a separate piece (see Could NatGas Double From Here?), when gas inventories fell to 654 bcf in 2003, prices more than doubled from $5 to nearly $12 in less than two months.
Currently natural gas is trading in the upper-$4s after reaching as high as $4.95 earlier, a 2 ½-year high. We've been expecting prices to hit $5, but any additional upside beyond that level is predicated upon whether the inventory deficit rises meaningfully above 500 bcf.