Among developed market dividend destinations, the U.S. is tough to beat, at least at on a cash basis.
Last year, "a whopping $312 billion was paid out in dividends by S&P 500 companies, up 11% from in 2012. On a per share basis, after declining in 2009 to $22.41 as companies restored their balance sheets amid the financial crisis, dividends climbed back to approximately $35 per share in 2013," according to a research note from S&P Capital IQ.
However, there are some developed markets with viable dividend reputations, including the United Kingdom. Increasing the allure of U.K. dividend stocks for U.S. income investors is that the U.K. does not withhold tax on payouts for foreign investors, meaning U.K. dividend taxation is comparable to what investors are accustomed to in the U.S.
Just as there is with U.S. large-caps, there are legitimate dividend growth stories with some U.K. companies, some of which are already familiar to investors on this side of the Atlantic. Investors can use exchange traded funds to access some of those names.
A recent Seeking Alpha post identifies seven U.K. firms with the potential to deliver dividend growth, some which are already doing so. That group is comprised of auto insurance provider Admiral Group (OTCPK:AMIGY), BP (NYSE:BP), BHP Billiton (NYSE:BHP), AstraZeneca (NYSE:AZN), Aviva (NYSE:AV), BAE Systems (OTCPK:BAESY) and British Sky Broadcasting (OTCQX:BSYBY).
With the exception of Aviva, the aforementioned names have positive one-year dividend growth trajectories and over the past five years, BP joins Aviva in the negative dividend growth column. BP has, however, shown noticeable commitment to restoring its payout to where it was before a forced reduction in the wake of the 2010 Gulf of Mexico oil spill. Since early 2011, BP has made significant strides in boosting its payout and its current yield of 4.7% is well in excess of U.S. rivals Exxon Mobil (NYSE:XOM) and Chevron (NYSE:CVX).
A traditional play on U.K. large-caps and possible dividend growth is the iShares MSCI United Kingdom ETF (NYSEARCA:EWU). BP and AstraZeneca are top-10 holdings in EWU, the largest U.K. ETF in the U.S. by assets, combining for almost 8% of the fund's weight. BHP Billiton, British Sky Broadcasting, Admiral Group, Aviva and BAE Systems are also found in EWU's lineup, though at smaller weights.
EWU has a trailing 12-month yield of 2.40%, according to iShares data. Investors looking to gain exposure to U.K. dividends while hedging against GBP/USD fluctuations can consider currency hedged funds such as the db X-Trackers MSCI United Kingdom Hedged Equity Fund (NYSEARCA:DBUK) and the WisdomTree United Kingdom Hedged Equity Fund (NASDAQ:DXPS). Both funds debuted in the latter half of 2013.
The aforementioned stocks combine for 12.2% of DBUK's weight while AstraZeneca, BP and BHP Billiton represent a combined 14.1% of the portfolio in DXPS. DXPS has a robust distribution yield of 7.66%, according to WisdomTree data.
Importantly, all three ETFs have noticeable allocations to the financial services sector, which is expected to be fertile ground for U.K. dividend growth this year. The average weight to that sector among the three ETFs highlighted here is over 20%, led by a 22.3% weight in DBUK.
db X-Trackers MSCI United Kingdom Hedged Equity Fund Sector Weights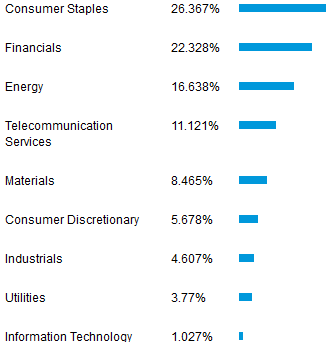 Data Courtesy: Deutsche Bank
Disclosure: I have no positions in any stocks mentioned, and no plans to initiate any positions within the next 72 hours. I wrote this article myself, and it expresses my own opinions. I am not receiving compensation for it. I have no business relationship with any company whose stock is mentioned in this article.