The biggest issues facing social media stocks are the questions regarding longevity and deriving ways to monetize the massive amounts of data generated by users. Facebook (NASDAQ:FB) already faces an issue where the original users are now abandoning the site while Twitter (NYSE:TWTR) isn't grabbing the casual social media people.
One thing is probably clear by now is that users crave a certain level of social interaction via social networks. The real question is whether a constant shift in social networks will take place over time similar to the social hangouts and nightclubs that constantly rotate, as new concepts push old clubs into the rear view. An interesting dilemma for investors going forward will be whether the investment potential exists in finding the social network concept that has staying power or the stock that provides a tool to interact or take advantage of the data present in any social media network that pops up. In a way, it brings up the old gold mine analogy of whether one should invest in the gold miner or the firm selling the equipment to all the gold miners.
Social Media Stats
New social networks are popping up all around us. New studies indicate that teens now favor sites like SnapChat, WhatsApp, and Instagram over Facebook. The studies highlight a common theme and major concern of investing in social networks when long-term the networks struggle to maintain validity. Before Facebook, MySpace and AOL (NYSE:AOL) were the online hangout spots. Eventually a more modern one replaced those networks. Will the same happen to Facebook and Twitter?
Digital Insights produced an interesting info graphic that covers all of the latest social media stats, figures, numbers, and facts of 2013. Some of the most fascinating facts are mentioned here:
74% of marketers believe Facebook is important for their lead generation strategy
28% of Retweets on Twitter are due to inclusion of "please RT!"
40% of marketers use Google+, 70% desire to learn more and 67% plan to increase Google+ activities
42% update their profile information regularly on LinkedIn
Every second 8000 users like some or other photo on Instagram
80% of total Pinterest's pins are re-pins
4.2 billion people use mobile device to access social media sites
Social media generates almost double the marketing leads of trade show, telemarketing, daily mail, or PPC
More than 23% of marketers are investing in blogging and social media
These stats and figures highlight the vast amount of data that advertisers and the social networks hope to harness in the future.
Leading Sites Provide Limited Value
The Digital Insight study produces an interesting view of the leading social media sites. Naturally Facebook is the largest by far, but it was interesting to see the numbers tagged to Google+ at over 500 million users. The number matches with Twitter providing a large leadership over the users of LinkedIn (LNKD), Instagram, and Pinterest. The graphic below highlights the numbers for the top three sites:
Another interesting dynamic emerges once adding in YouTube to the social media mix. The list only offers three publicly traded vehicles for investors: Facebook that owns Facebook and Instagram, Twitter, and LinkedIn. Google (NASDAQ:GOOG) owns Google+ and YouTube providing a limited direct investment in social media while Pinterest is private.
Another interesting concept is the extreme valuations of the three focused social media stocks. As the chart below shows, each stock now trades with an enterprise value near 20x current revenue numbers: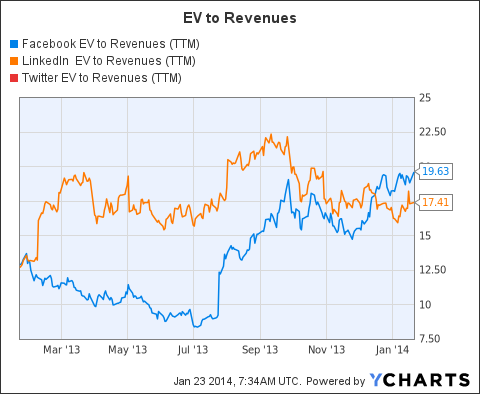 FB EV to Revenues (TTM) data by YCharts
* Note the chart data has incorporated Twitter yet that far exceeds 20x multiple.
Connecting For The Long-Term
Whether Facebook, Twitter, or LinkedIn, the methods for ads are still very rudimentary based on inserting either banner ads on the side of the page or sponsored messages or tweets within the data feed. Part of the extreme valuations in the group is the hope and expectation that these firms will eventually hit the holy grail of targeted ads based on the volumes of data obtained directly from users. While Facebook and the others have implemented some targeted ads, it leads to another question of whether privacy concerns will make it harder to maintain the user base long-term. The constant push of MySpace towards more and more ads is constantly listed as a reason for the decline of that service.
The social networks start separating themselves when viewed in the light of the connections maintained. Facebook typically connects users to friends, a type of connection not as open to intrusive ads though one where recommendations from friends could be utilized by advertisers to target ads. Twitter is quickly becoming a media outlet for instantly releasing news and connecting with followers. This one-to-many concept might have a longer staying power with the network more dependent on the media, celebrities, and sports figures to keep the stream active and humming. The ability to quickly connect with followers is a huge plus for media personalities, but the site does struggle to keep the casual user connected. LinkedIn allows professionals to connect with business partners and former associates. With more of a business focus and connection, the social site might be able to adapt targeted tools and ads. A financial analyst might be more receptive to an ad to subscribe to a financial tool on LinkedIn versus one on Facebook based on hitting 'Like' to a product similar to the ad.
Pinterest And Others
The social media info graphic didn't include the hip new teenager sites like SnapChat or WhatsApp, but it did focus on Pinterest. Unlike the more teenage focused sites, this social site provides the interesting dilemma for advertisers. As the below graphic shows, Pinterest has over 70 million users with most accounts not connected to Facebook. The mostly female users heavily focus on food and fashion items that likely more correlate directly to purchase decisions than most of the conversational data points on Facebook or even Twitter. Eventually the advancement of Pinterest will require advertisers to either directly work with the firm or utilize a strategy of working with a service that eventually provides the advertisers one platform to interact with all of the social ad networks.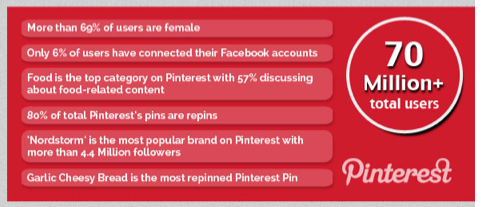 Providing The Tools
Several other interesting ways to think about investing in the social media networks soaring popularity are companies that provide the tools to better use the services or help advertisers improve results. In this manner, an investor isn't picking a social network so much as investing in the concept of an increasing shift in individual time and advertisers budgets to digital forms. A couple of interesting ways to play this revolution include investing in companies that help ad agencies and brands develop and measure ad strategies and companies that operate sponsored influence.
Marin Software (NYSE:MRIN) operates a cloud-based digital advertising management platform referred to as Revenue Acquisition Management. The platform offers integrated digital advertising management solutions for search, display, social media, and mobile advertising that allows a user to create, manage, and optimize campaigns across a board range of publishers. In essence, the agency or brand has one platform for managing campaigns across Google, Facebook, and various other advertising platforms. In the future, one should expect the integration of Twitter along with any other social media platforms that become significant to advertisers.
Though growing revenue around 30%, the stock has struggled since going public last summer. The market value now sits at only $325 million with analysts forecasting Marin to reach revenue of nearly $100 million in 2014. With the social media giants trading at multiples in the 20-30x revenue area, Marin Software is a virtual bargain at only a little over 3x the expected revenue for this year.
The social influence sector is not as easy to invest in with private Influenster and micro-cap IZEA, Inc.(OTC:IZEA) Influenster was recently featured on CNBC and focuses on consumers testing new products and using their realm of influence including blogs and social media to get the word out about those items. On the other hand, IZEA is a leader in sponsored influence. The company operates several marketplaces including Sponsored Tweets and SocialSpark that connects advertisers with social media publishers that blog, tweet, pin, and post on their behalf. These contributors are paid for the social media content.
The company has reportedly used the likes of Kim Kardashian to P. Diddy to Melissa Joan Hart to post social media using their wide social networks to promote brands from Abercrombie & Fitch (NYSE:ANF) to NBC Universal to Bed Bath & Beyond (NASDAQ:BBBY). The interesting part is that it's platform agnostic. IZEA is building a next generation exchange that will add code for advertisers to connect to all-important social networks including Twitter, Foursquare, Facebook, LinkedIn, Instagram, Google+, YouTube, Google Analytics, Word Press, Blogger, and Type Pad. Even more interesting, the platform provides the ability to add the next great social platform demanded by advertisers without having to bet on the future winner.
Though IZEA has a compelling concept it is unfortunately a micro-cap that carriers a lot of risk. The company recently released that fourth-quarter bookings surged 140% to easily surpass the stated goal of 100% growth. During the third quarter, the company generated bookings of $1.87 million on 69% growth. Revenue for that quarter hit only $1.57 million, up 48% compared to the same period in 2012.
Conclusion
While social media and networks are here to stay, it isn't clear which sites will last the test of time. History suggests that social networks whether in person or virtually tend to eventually collapse. In this scenario, many questions abound not only about the survivability of currently popular social networks, but also if the ones that survive and thrive will ever justify current valuations. In that manner, investors should explore investing in the creator of tools and platforms that allow advertisers to utilize a platform for access to the popular social trends now and in the future. The social networks will eventually work out methods to target users, but it will only matter to investors and advertisers if the network is still utilized.
Disclosure: I am short FB, . I wrote this article myself, and it expresses my own opinions. I am not receiving compensation for it (other than from Seeking Alpha). I have no business relationship with any company whose stock is mentioned in this article.
Additional disclosure: The information contained herein is for informational purposes only. Nothing in this article should be taken as a solicitation to purchase or sell securities. Before buying or selling any stock you should do your own research and reach your own conclusion or consult a financial advisor. Investing includes risks, including loss of principal.