By Stuart McPhee
For the last month or so the euro has steadied and established a trading range roughly between 1.3550 and the recent resistance level at 1.38, however to finish out last week the euro broke down through the support level at 1.3550. This movement lower was building up over the last week which has resulted in a new eight week low a few days ago. The 1.3550 level has become a key level over recent times and in the last 24 hours the euro has sprung off it to a two week high at the resistance level at 1.37. Prior to the recent low it spent a week rallying up from the support level at 1.3550 but it ran into the same short term resistance level around 1.3700 which is where it settled for a couple of days before easing back to 1.36 earlier last week.
After placing some pressure on the resistance level at 1.38 a few weeks ago, the euro has since fallen sharply down to its lowest level in a month to the support level at 1.3550 before rallying back to the resistance level at 1.37. Through November the euro enjoyed a solid move higher which saw it return to a wall of resistance at 1.38 and in doing so move to a then six week high. In the few days afterwards the euro challenged the 1.38 resistance level again before being turned away yet again.
In mid November the euro did well to bounce strongly off support at 1.34 and recover the lost ground from the previous couple of days which saw it fall from the resistance level around 1.3550. This was after a few weeks which saw it move steadily higher from a support level at 1.33 back up to a three week high just above 1.3550. Over the last few months 1.3550 has been a key level. Towards the end of October the euro enjoyed a strong surge higher to move through to its highest level in nearly two years just above 1.38 before spending that week content to consolidate around this level.
Over the following three weeks it fell heavily down to a support level at 1.33 before recovering well. It moved quite well throughout the middle of October after breaking higher from its sideways range. For the month leading up to that, the euro traded within a narrow range between 1.3450 and 1.3650 before the range narrowed down to between 1.35 and 1.36. The former level of 1.35 was strongly tested a few weeks ago and has resurfaced as a significant level presently.
Throughout August the 1.34 level had been causing the euro headaches however several weeks ago it surged higher and moved through there to its then highest level since February just shy of 1.3570, which was past a couple of weeks ago moving to just shy of 1.3650. About a month ago the euro fell strongly away from the resistance level at 1.34 back to below the support level at 1.32 and in doing so traded to its lowest level in seven weeks very close to 1.31. Looking at the bigger picture the euro spent a lot of August and September trading within a range between 1.32 and 1.34 before recently pushing its range to between 1.3450 and 1.3650. Back in early July the euro was content to maintain the level above 1.31 and settle there, as it received solid support from both 1.30 and 1.31. On a couple of occasions it made an attempt to move within reach of the longer term resistance level at 1.32 and finally it finds itself trading on the other side of this level and being well established there.
The euro surged to a one-week high against the dollar Thursday, as a pickup in business activity boosted investor confidence in the euro zone's economic recovery. The data also helped European stocks reverse early losses, which came following a slowdown in China's manufacturing sector. The euro climbed 0.6% against the dollar to trade at $1.3643, its highest since January 16. The single currency also gained against the yen and sterling. Date firm Markit said its preliminary composite Purchasing Managers Index for January - a measure of activity in the manufacturing and services sectors - rose to 53.2 from 52.1 in December, signaling the most rapid expansion since June 2011. Expectations had been for a more modest rise to 52.5.
(Daily chart / 4 hourly chart below)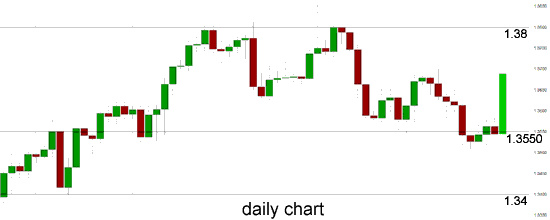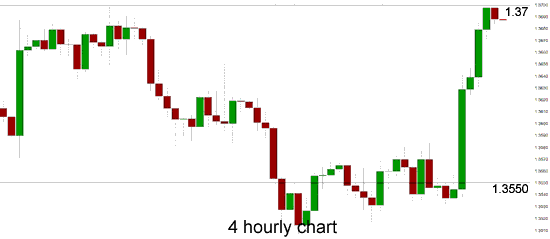 EUR/USD January 23 at 23:55 GMT 1.3687 H:1.3698 L: 1.3538
EUR/USD Technical
| | | | | | |
| --- | --- | --- | --- | --- | --- |
| S3 | S2 | S1 | R1 | R2 | R3 |
| 1.3500 | 1.3400 | - | 1.3700 | 1.3800 | - |
During the early hours of the Asian trading session on Friday, the euro is just easing back a little from the resistance at 1.37 after surging higher in the last 24 hours from down near 1.3550. Current range: just below 1.37 around 1.3690.
Further levels in both directions:
• Below: 1.3500 and 1.3400.
• Above: 1.3700 and 1.3800.
OANDA's Open Position Ratios
(Shows the ratio of long vs. short positions held for the EUR/USD among all OANDA clients. The left percentage (blue) shows long positions; the right percentage (orange) shows short positions.)
The EUR/USD long position ratio has dropped sharply back below 30% as the euro has surged higher towards resistance at 1.37. The trader sentiment remains in favour of short positions.
Economic Releases
09:30 UK BBA Mortgage Approvals (Dec)
13:30 CA CPI (Dec)
*All release times are GMT