With the advent of novel technology, companies operating in the agricultural realm are now scaling new heights. The very broad industry is boosted by a growing population, food grain products and the ever-escalating requirements for food. The global farm equipment market is fiercely competitive and has three key players: Deere & Company (NYSE:DE), AGCO Corporation (NYSE:AGCO) and CNH Global NV (NYSE:CNH). Deere & Company claims to be one of the leading companies in the agricultural and farm equipment industry, with approximately 77% of its total sales revenue from its agriculture and turf segment.
Over 5 years, DE generated wealth for investors by continued growth in revenue and earnings. Deere performed well financially during 2013 and generated $37,795 million, up by 4.5% due to strong demand for agricultural equipment. DE's gross profit margin increased to 32% from 29.8% and successfully maintained its cost of sales. Keeping in mind the technological advancements, DE invested $44 million during 2013 with an average increase of 12% over the past 4 years. Operating profit margin increased to 16.5% from 15% in 2012, indicating management's effective control over operating costs without compromising the research and development fund. In order to create wealth for investors DE generated an EPS of $9.09, up by 19% from $7.63 last year. DE generated a dividend yield of 2.25% and announced dividends of $1.94, up from $1.79 from last year.
The 4th quarter of 2013's earnings were $2.11 per share, up 21% year over year; however, quarterly sales declined by 3% to $9.2 billion. The company expects sales to decline by 2% year-over-year for the 1st quarter and 3% in fiscal year 2013. Even though the commodity prices and farm income are expected to remain healthy it will be lower during 2014 compared to 2013, and this will have a depressing effect on the demand for larger farm machinery.
The following graphs show the 5-year continued growth trend in revenue and profits.

During 2013, the construction and forestry division generated 16% of Deere's total revenue. According to analysts' estimates, construction spending will increase from 42% to 50% in China, the US, Canada, Brazil, Russia and India. Due to its global diversification, Deere's revenue from this segment is expected to grow significantly.
The US housing market is highly influential upon Deere's revenue, mostly from the sales of lawn tractors, mowers, and other landscaping and yard work equipment. Recent trends show that the US housing market is recovering, demand for these products is expected to increase, and it is expected in 2014 that the company sales from forestry equipment will offset the anticipated slowdown in the demand of agricultural machinery. Despite this temporary expected slowdown, the increasing global population will create demand for the agricultural equipment industry, putting Deere in a position to enhance its sales through its market mix. DE expects to generate $50 billion of revenue at a CAGR of 9% compared to the historical CAGR of 8% by the end of 2018. Fifty-two percent of which is expected to be generated from outside of the U.S and Canada, and will enhance the company's asset efficiency to 2.5 from current the current level of 2.2.
Strategic Reconsideration of Deere Water Irrigation
To grow its water irrigation segment, Deere & Company acquired Roberts Irrigation Products back in 2006 for $41 million. Recent underperformance of this segment generated $250 million or below 1% of total revenue, and now Deere is looking for an alternate strategic option with the help of Bank of America Merrill Lynch. It is believed that the global sprinkler irrigation system market will reach $2.4 billion by the end of 2016. If the company stays in the water irrigation market and develops an effective strategy shift, this division may contribute towards revenue.
The following table compares DE to its competitors: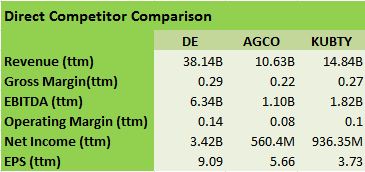 Compared to its competitors, DE is dominating the market with revenues of $38.14 billion due to its product and market mix in relatively stable and growing economies. Due to higher cost of sales, Deere's GP margin is almost close to AGCO and (OTCPK:KUBTY). DE somehow managed to derive a net income of $3.42 billion that is significantly higher than AGCO's $560.4 million and KUBTY's $936.35 million, resulting in a better EPS of $9.09 that is 61% higher than AGCO and 144% higher than KUBTY and strong enough to attract investors' attention.
History of Aggressive Share Buyback
To fulfill its primary objective for shareholders DE authorized share buybacks worth $5 billion back in 2008, and by the end of October 2013 approximately $1 billion was left under that authorization. DE's net cash flows from operations stand at $3,254 million, up by 178% from last year, and the total assets base boosted 5.8% from last year. A strong balance sheet position and operating cash flow position enabled DE to authorize another repurchase worth $8 billion in December 2013, and investor satisfaction is dependent upon on Deere continuing to repurchase the shares at the historical rate of 3% per year.
Conclusion
Deere is performing well over the years, with average revenue growth of 13.3% and a net income average growth of 23.8%. These figures are higher than the industry average growth of 12% and net income average growth of 15.6%. However, in anticipation of a slowdown in the farm industry during 2014, I assume that DE will maintain its current earnings growth rate over a longer period. I am optimistic about the company based on strong operating cash flows, history of cash return cash through repurchase and cumulative $9 billion future buyback, above-industry EPS $9.09 and dividend yield of $2.25 with payout ratio of 29%. DE's current P/E ratio is 9.9 and is less than the industry average of 13.4. After decreasing to its lowest level of $81.50 November 2013, DE's share is in recovery and is trading at $89.83 today, reflecting investor confidence. This is the time for investors to buy this stock.
Disclosure: I have no positions in any stocks mentioned, and no plans to initiate any positions within the next 72 hours.
Business relationship disclosure: The article has been written by a Blackstone Equity Research research analyst. Blackstone Equity Research is not receiving compensation for it (other than from Seeking Alpha). Blackstone Equity Research has no business relationship with any company whose stock is mentioned in this article