As the US deals with stubbornly high unemployment and relatively low consumer confidence, some new trends are developing in the business of "outsourced services." For some time now, large companies have relied on offshore companies to supply services such as technology support, customer service, and even more business critical functions such as R&D and manufacturing. Efficiencies gained from working with cheaper labor forces and relaxed regulations allowed businesses to post better margins.
But today, many of these trends are shifting as US companies are benefiting from stimulus incentives aimed at encouraging employers to hire the swelling ranks of unemployed. Currently, employers who hire particular unemployed workers will be allowed to save their share of the Social Security tax (6.2%) for the remainder of 2010. The monetary benefit along with the PR boost of hiring American workers is causing many reputable companies to consider closing down outsourced solutions and "backsource" these jobs back to the US.
While this is one of the smarter moves that the current administration has made (cutting taxes actually increases productivity and in time should lead to stronger, more stable tax revenue), the news is not exactly positive for outsourcing companies with operations in India, China, and other International centers.

Today, we are going to look at Wipro Ltd. (WIT) which is an Indian provider of outsourced consulting, technology and R&D. The stock has become a favorite vehicle for swing traders and momentum players who have enjoyed a steady trend higher for the majority of 2009. During the difficult days of the credit crisis, WIT continued to pull in strong revenues, averaging between $1.3 and $1.4 billion in revenues. Fundamentally the business survived very well throughout the challenges.
But 2010 looks to be a much more challenging year. Companies are demanding price concessions and the competitive factor of backsourcing is likely to cut into margins – possibly more than analysts are currently modeling. As technology solutions become cheaper domestically, Wipro is likely to face a more difficult environment, and engage in tough negotiations in order to land contracts.
In 2010, we expect IT budgets to be flat to marginally positive. For the quarter ending march 31, 2010, we expect revenues from our IT Services business to be in the range of $1,161 million to $1,183 million. ~Azim Premji, Chairman
When the company reports fourth quarter earnings in the coming weeks, it will be extremely important to determine what demand trends are shifting as a result of global competition both from similar corporations as well as from the "insource" factor.
Currently, WIT is trading at about 35 times this year's expected earnings (the company's fiscal year end is March 31) and earnings are expected to grow by 9% in fiscal 2011. The multiple is not too excessive for a company with stellar growth, but as earnings trends flatten out the market is more likely to place a lower multiple on the stock – leading to a reduced stock price.
On March 17, WIT broke to a new high after a healthy looking two month base building process. However, the stock immediately came under distribution and the breakout failed. This is a dangerous pattern – especially for a stock that appears over-valued relative to its earnings and growth. Volume has yet to confirm the negative pattern, but if WIT begins to break, it may be a good candidate to short, and long positions should definitely be hedged or trimmed.
Other stocks that may also face challenges from the backsourcing issue include Cognizant Tech Solutions (NASDAQ:CTSH) and Infosys Technologies (NASDAQ:INFY). All of these stocks are currently trading with strong positive momentum, but they are worth putting on a radar list for potential breakdowns in the future.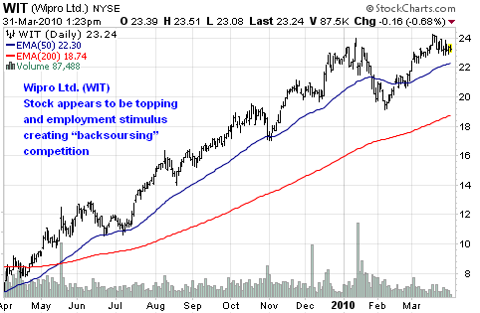 Full Disclosure: Author does not have a position in WIT