Starbucks (NASDAQ:SBUX) released 2014 fiscal Q1 earnings on Thursday, and although I am bullish on the company, I was surprised to see the stock tick higher during after-hours trading. I recently wrote a Seeking Alpha article detailing my bullish view on the company, but also noted that continuous downward pressure on the stock should come as no surprise. As we neared the Q1 earnings report and the stock continued to slide, I came to the conclusion that the company would have to seriously knock it out of the park, in terms of earnings, for the stock to rebound significantly. The trade strategy I detailed during my previous SBUX article allows me to own the stock at $72.5 if it were to decline: and as I first looked through the initial release of the financial results, I thought I would own shares outright by morning. However, contrary to my opinion, market participants trading during the after-hours session began buying the stock, hiking it upwards of $74. I was a bit perplexed, to say the least. Don't get me wrong, Starbucks is indeed a premier company and a stock I want to own: however, as the markets have traded sloppily over the past month, I am under the impression that new investors looking to take a position in the name will get a better opportunity soon.
The Numbers
The company reported earnings per share of $0.71 on revenue of $4.24B. This reflects a year-over-year increase of 25% and 12% in each respective measure. Starbucks also reported same-store sales growth of 5% and operating margin of 19.2%: the result of a 2.6% year-over-year increase. Although these financial results were solid, they did not satisfy analyst expectations. Starbucks delivered on the bottom line, beating the consensus analyst earnings per share estimate by $0.02: however, it missed consensus revenue and same-store sales growth estimates which were $4.29B and 5.7%, respectively. The company also repurchased 0.6M shares of common stock and has board authorization to purchase roughly 26M more.
Below is a table of operating income percentage growth, segmented by region.
| | |
| --- | --- |
| Region | Operating Income (loss) percentage growth |
| Americas | 24% |
| Europe/M. East/Africa | 50% |
| China/Asia Pacific | 25% |
| Channel Development | 23% |
| Other Segments | 174% |
Valuation
CEO Howard Schultz and Starbucks management increased 2014 full-year earnings per share guidance to a range between $2.59-$2.67. The mid-point of this range is $2.63; using this number along with Thursday's closing stock price of $73.39, I calculated a forward price to earnings (P/E) ratio of 28 for the stock. This is in line with the industry average, yet considerably higher than the S&P 500 P/E multiple of 18.6. The company also now trades at a price to cash flow (P/CF) multiple of 19.3: considerably higher than the industry average P/CF multiple of 5.5 and that of the market, which is 11.2.
Trade Opportunity
All in all, I am a Starbucks bull, yet recent consumer and general market headwinds keep me wary of retailers and discretionary names. After what in my opinion was a sub-par earnings release; the fact that the stock moved higher in after-hours trading implies that traders, and investors, obviously took kindly to the numbers. Although market sentiment appeared to approve of what CEO Howard Schultz and Co. had to say, this does not imply the stock is in the clear. As long as the markets continue to trend sideways or move lower, I think investors looking to take an equity position in the name should not rush in at current levels. Further, the company only repurchased 0.6M shares out 26M authorized for repurchases. This miniscule amount implies to me that shares are still trading at an overstretched price for management to consider a significant buyback at current price levels.
Below is a 6-month chart that I believe will be useful in illustrating my assertions.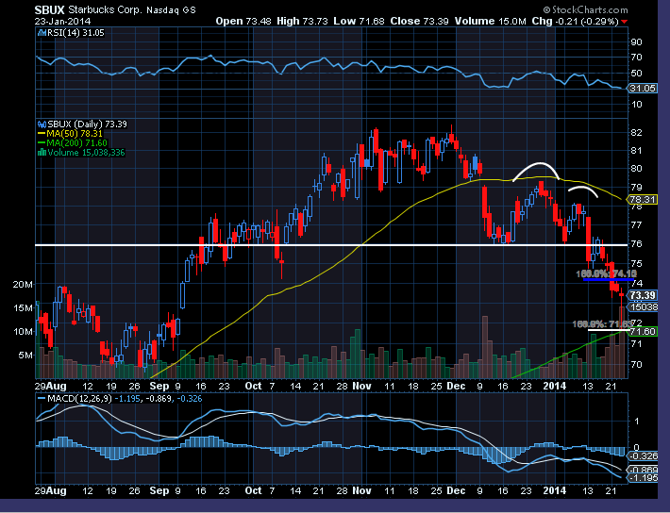 From a technical standpoint, the stock appears to be broken. Its chart trended consistently from the lower left to the upper right through the majority of 2013, but appeared to tire out as the year came to an end. The stock failed to positively breakthrough its 50-day moving average on two occasions and has continued to tumble through January. While a pop in price action is never a bad thing, I would warn investors and traders to be cautious as they look to take positions in Starbucks. Given the extent of selling the name has had over the past month, a quick pop may lead some traders to exit the name after making back some of their recent losses: bringing the share price right back down. I believe any weakness from current levels can be bought, however I would not chase the name any higher: at least until overall market uncertainty eases a bit.
Disclosure: I am long SBUX. I wrote this article myself, and it expresses my own opinions. I am not receiving compensation for it (other than from Seeking Alpha). I have no business relationship with any company whose stock is mentioned in this article.
Additional disclosure: I am long SBUX through the options market.