Most oil and drilling and exploration companies, even vertically integrated leaders like Chevron (NYSE:CVX) and Exxon Mobil (NYSE:XOM), really don't build the equipment required to complete all of the complicated and pricey tasks they undertake. Rather, these energy companies turn to engineering and industrial corporations that make and operate the oil rigs and pipelines that are the backbone of the sector. These oilfield service organizations provide the equipment, infrastructure, intellectual property and services necessary to the global oil and gas industry to explore, extract, and transfer oil and natural gas.
The overall worldwide economic outlook remains largely the same, with fundamentals continuing to strengthen in the U.S., Asia and Africa seemingly set for stronger growth, and Europe is seeing a milder growth. These optimistic effects should prevail over lower growth in some developing economies and aid a continuing rebound throughout the entire world economy. Consequently, predictions for oil demand in 2014 have been improved reflecting the highest demand growth in a number of years.
Most companies in the energy sector are looking to increase investments and enhance future growth opportunities within the next two years. There is also increasing demand that is enhancing revenue of the oilfield services companies. Consequently, these companies have generated solid growth in revenue and earnings over the past two or three quarters. In this article, I look at Schlumberger NV, (NYSE:SLB) one of the best companies operating in the oil field services industry. The company has generated record growth in the fiscal year 2013 with solid performance. As a result, its stock reached 52-week highs during the year. This article explains whether Schlumberger is a good stock to buy in the oil field services industry.
Is Schlumberger a Good Stock to Buy?
Schlumberger is a supplier of technology, information solutions and integrated project management to the oil and gas industry globally. Employing roughly 120,000 people addressing the needs of more than 140 countries, and working in more than 85 nations around the world, Schlumberger offers the industry's largest variety of products and services from exploration to production. The company has been generating record revenue quarter over a quarter, with the increase in drilling and exploration activities both offshore and in key-land markets. Exploration activities continue to be strong in the key markets of United Arab Emirates and Saudi Arabia, as well as in Malaysia and Australia. Deepwater exploration work in Ecuador and Argentina continues to be strong, while the European and African regions are making progress with impressive activities in Angola, Azerbaijan and Turkmenistan.
Because of its strength, at the end of fiscal 2013, the company has been able to increase its top line by 8%, a fact that was led mainly by an international area revenue growth of 11% with solid year-end product, software and multi-client seismic sales in nearly all areas. New technology sales and strong cost management across all groups offered opportunities for higher pricing in a competitive international market. As a result, the company has been able to enhance its margin by 200 basis points in its international segments. This further resulted in a bottom line growth of 28% in the fiscal year for 2013. Schlumberger's top and bottom line growth enhances its potential to generate massive cash flows. In the past twelve months, its operating cash flows and free cash flows have grown at record levels. Its dividends are safe as free cash flows are three times its dividend payments. Recently, Schlumberger increased dividends by 28% to $0.40/share. Still, its payout ratio of 25% will allow the company to make more increase in its dividends in the coming days.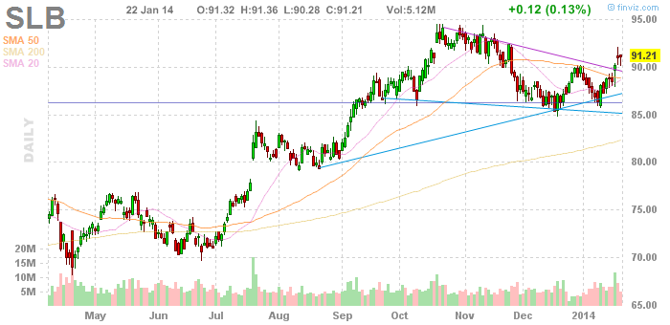 With all the positive news, Schlumberger's stock gained momentum over the past three quarters. At the moment, its stock is trading at around $91/share, which is well below its 52-weeks high of around $95/share. The stock looks undervalued to me when analysts have a mean target price of $110/share, and there is a forward price-to-earnings ratio of 13. Schlumberger has a lot of potential to continue its upward surge. Also, with E&P spending anticipated to grow even more in 2014, primarily by international activity and long-term strength in deepwater US Gulf of Mexico, I remain optimistic about the company to keep its solid financial performance that will help stocks maintain their upward momentum and continue to pay increasing dividends. Further, with a well-balanced business portfolio, extensive geographical footprint and solid operational and executing capability, Schlumberger is well set to generate big profits in 2014.
Where Other Players Stand
Schlumberger's main industry peers are Halliburton Company (NYSE:HAL) and National Oilwell Varco (NYSE:NOV).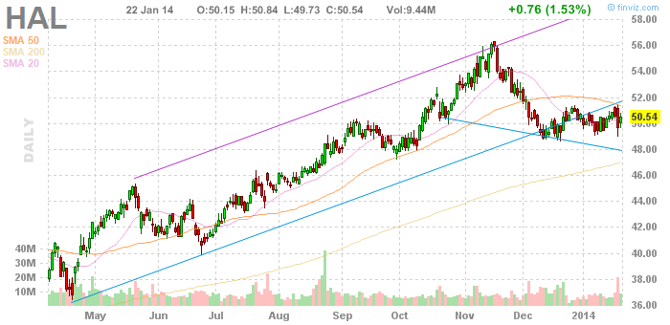 The Halliburton Company offers services and products to the energy industry associated with the exploration and production of natural gas and oil. In the fiscal year for 2013, Halliburton generated record revenue in each international region. The company achieved record operating income in the Middle East/Asia region, for six of its 13 product lines. The strong performance led the company to increase dividends twice this year. Also, Halliburton is working diligently on a share repurchase program which will impact both its EPS and dividends, as well as the share price in 2014. Consequently, over the year, its stock has gained around 32%. At the moment, Halliburton stock is trading at 23 times earnings and looks pricy to me with a forward PE of only 9. Nevertheless, the company has potential to keep upward momentum going as it is looking to generate double-digit growth in earnings per share in 2014.
National Oilwell Varco is an equipment provider in the drilling industries which are utilized in oil and gas drilling and production operations and supply chain integration services to the upstream gas and oil industry.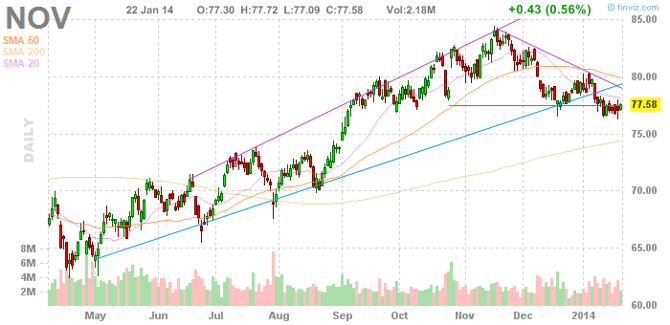 National Oilwell Varco has had a great 2013 in terms of financial performance when the company's three business segments generating higher sequential revenues and margins, and as a group, has reduced its working capital requirements, which has further led to a quarterly record cash flow from operations of $1 billion. The company has raised dividends 100% to $0.26/share. However, the company stock climbed by only 6% and at the moment is trading at around $77/share. The stock looks undervalued to me as it is trading at only 14 times to earnings and 1.5 times book ratio while the industry average is at 21.7 times earnings and 2.3 times book ratio.
In conclusion
The oil field services industry is on its top as energy companies continue to massively invest in growth opportunities. Schlumberger is well set to generate big profits by providing technology, information solutions and integrated project management to energy companies all over the world. Schlumberger is also trading at attractive multiples and looks like a good buy with strong dividends.
Disclosure: I have no positions in any stocks mentioned, and no plans to initiate any positions within the next 72 hours. I wrote this article myself, and it expresses my own opinions. I am not receiving compensation for it (other than from Seeking Alpha). I have no business relationship with any company whose stock is mentioned in this article.