After head-turning jumps in the month of December and, so far, this year in the share price of Plug Power (NASDAQ:PLUG), the divide in opinions about the future prospects and profitability of the company have gotten intense this week.
8 Fictions of Plug Power
The article by Dr. Hugh Akston, titled 8 Fictions of Plug Power touches upon eight issues critical of the company and, in a couple of instances, critical of its CEO Andy Marsh. However, as an effort to put a better prospective on Akston's negative article of Plug Power, as well as investors' misconceived perceptions of the company's business model, we should consider the context of today's markets.
Overall, investors' misconceptions surrounding this stock could as easily be applied to investors of any one of the banks of the entire banking sector, the housing sector, GSEs Fannie (OTCQB:FNMA) and Freddie (OTCQB:FMCC), Twitter (NYSE:TWTR) and the like, as well as Amazon's (NASDAQ:AMZN) extraordinary valuation, et cetera.
For those who are long PLUG, I believe the market and position PLUG maintains have improved, gauging from the number of articles about large multinationals dipping their feet into fuel cell technologies due to aggressive operational cost-cutting measures these technologies offer.
PLUG will most likely benefit from this meaningful trend.
Anonymous Sources Trash Plug Power's Products
With regard to the first piece of "fiction" of the eight Akston delineates in his article about Plug Power, which is, specifically, that "PLUG products do not provide a tangible benefit over existing battery technology," Akston begins by quoting Andy Marsh:
"Plug Power sells productivity savings, first and foremost. -Andy Marsh, President & CEO 12/4/2013"
Then, Akston supports contradictory quotes made by anonymous customers, implying, maybe, that Marsh is merely 'hyping' or overstating the value of Plug Power products.
"Honestly, we wouldn't do it again [buy Plug Power products]. What they promised us on run time never happened. They promised 6-8 hours and we barely get 4," says one anonymous customer.
"The ROI wasn't there with the run time we actually got. It won't pay for itself."

"A new electric battery will outperform the hydrogen fuel cells."

"Some of our operators can outwork the fuel cell. These are guys that really know how to work a lift. The fuel cell can't keep up with the workload and you end up having to stop. This is more down time."

"I don't want anyone to spend money they shouldn't."
There are more quotes from unsatisfied customers contained in the article, but the above quotes are representative of his point.
Contradictions From Two Big Sources
However, Wal-Mart (NYSE:WMT), a customer of Plug Power, disagrees with Akston's anonymous sources. In a published communique, titled, Why Wal-Mart Canada is Investing in Hydrogen Fuel Cell Technology, Wal-Mart Canada states:
We believe our investment in fuel cells will speed wider adoption of the technology in the market, improving hydrogen infrastructure and sustainability performance and driving down costs for our customers, our

competitors and us.

... at the Balzac PDC, use of hydrogen fuel cell technology will deliver $2.0 million in operating cost savings over seven years and will reduce Greenhouse Gas emissions by 530 tonnes of CO2 per year.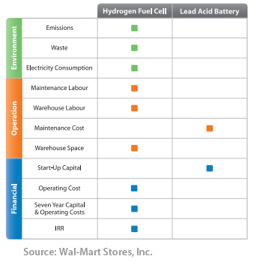 Though not directly mentioned in the communique, Plug Power must be involved in that $2.0 million of savings somewhere. Why would Wal-Mart continue to purchase from Plug Power if the company's products detract from productivity or offer no tangible benefit?
Who, exactly, did Akston interview?
And in another report that contradicts Akston's anonymous sources, titled, State of the States: Fuel Cell in America 2013, the US Department of Energy states, on page 13:
Sysco (NYSE:SYY) Houston is "saving nearly $100,000 per year in man hours spent on refueling fuel cells versus swapping batteries and have created 5.5 jobs from the switch."
Sysco, another customer of Plug Power goes on the record to assert it saves money from using Plug Power products.
Then, Akston goes on to list the seven additional fictitious notions about Plug Power, with which, to all, I agree. But to mock Andy Marsh for his supplemental comments to the Plug Power's Q4 2011 result, specifically, when Marsh states, "The fuel cell industry is going through a full-fledged renaissance, as applications from lift trucks to automobiles to on-site power generation become more broadly deployed," is unfair, in that Marsh's comment was apparently taken out of context.
"PLUG's sales declined -5.5% in 2012 vs. 2011….a renaissance?" Akston retorted.
Obviously, Marsh was most likely referring to a renaissance within the fuel cell marketplace, not a renaissance to Plug Power's revenue.
And finally, Akston's second point of fiction about Plug Power: "PLUG will be profitable in 2014" may turn out to be correct; it appears that Plug Power will most likely not achieve profitability in fiscal 2014, according to Akston's well-thought out projection (see Akston's exhibit, below). But Plug Power may achieve a positive EBITDA sometime in 2014, which, in itself, should excite the longs.
On this score, Akston may well be correct. Marsh should maybe consider restating that point to read, "EBITDA positive."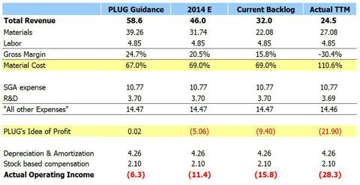 Source: 8 Fictions of Plug Power
Conclusion
Though the banter surrounding Plug Power contains investors' misconceptions, confusion, ignorance and some fiction-spreading, Plug Power CEO Marsh cannot control most of the other points taken up by Akston. And Akston doesn't suggest Marsh should, anyway.
But, to one investor, the point regarding CEO Marsh's overly enthusiastic and viewpoint about the subject of Plug Power's profitability could also be construed by someone else to be a demonstration of Marsh's optimism for the company's prospects in a wide open multibillion dollar marketplace.
Investors should allow the Plug Power's performance in 2014 to speak for itself. And with a stock such as Amazon.com trading at 152-times forward earnings and Twitter , which trades at 61-times revenue, PLUG looks comparatively good at $3.35.
Disclosure: I have no positions in any stocks mentioned, but may initiate a long position in PLUG over the next 72 hours. I wrote this article myself, and it expresses my own opinions. I am not receiving compensation for it (other than from Seeking Alpha). I have no business relationship with any company whose stock is mentioned in this article.