(Editors' Note: This article covers a stock trading at less than $1 per share and/or with less than a $100 million market cap. Please be aware of the risks associated with these stocks.)
On Thursday, shares of Alloy Steel International (OTCPK:AYSI), spiked nearly 80%, after the company released its fiscal 2013 financial statements. And yet, despite the stock's huge move, as of Thursday's close, excluding cash, AYSI traded at less than 1 times trailing earnings. As it turns out, there were good reasons for both the stock's spike Thursday and its bargain basement valuation. We'll address both in this post. First, a little background on the company.
A Picks And Shovels Play On The Mining Industry
Alloy Steel, headquartered in Western Australia, uses a high tech, proprietary process to manufacture protective wear plates for mining equipment. The image below, from the company's website, shows a front end loader bucket with Alloy Steel's Arcoplate wear plating installed.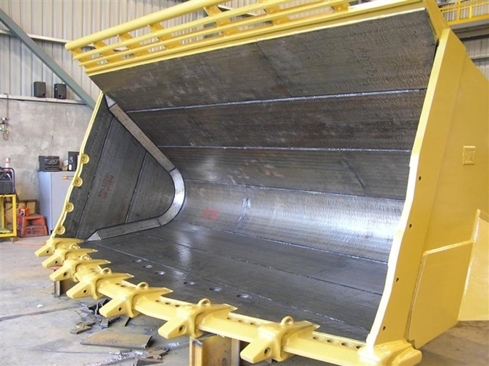 In addition to protecting against wear, Alloy Steel's wear plates are also designed to reduce "hang-up", which is the tendency of ore to adhere to the surfaces of mining equipment, reducing their efficiency. Some of Alloy Steel's corporate customers have included BHP Billiton Limited (NYSE:BHP), Caterpillar, Inc. (NYSE:CAT), Arch Coal, Inc. (ACI), Alcoa, Inc. (NYSE:AA), Rio Tinto, plc (NYSE:RIO), Fortesque Metals Group (OTCQX:FSUMF) and AngloGold Ashanti Limited (NYSE:AU).
Essentially, the company is a picks and shovels play on the mining industry, particularly iron ore and coal mining and as such, is positioned to potentially benefit indirectly from Chinese demand for those commodities.
Why Its Stock Soared Thursday
The bottom line of why Alloy Steel's stock spiked as it did was the bottom line on its income statement: Alloy Steel posted earnings of 32 cents per share in its fiscal 2013 (its fiscal year ends September 30th), a 60% year-over-year increase from its fiscal 2012 earnings. It also ended its fiscal year with 50 cents in cash per share.
Why The Stock Still Has A Bargain Basement Valuation
At Thursday's closing price of 79 cents per share, the company traded at a trailing P/E multiple of 2.47. But if you exclude the 50 cents per share the company had in the bank at the end of its fiscal year, the stock was trading at less than 1x its 2013 earnings. The abysmal valuation is due to the company's history of opaque corporate governance and shareholder communication, the latest incidence of which was its announcement last August that it would suspend reporting quarterly financials, ostensibly, to save costs. How expensive it was to report unaudited quarterly numbers was not explained. Previous blows to the company's share price dealt by its management include the company's decisions to delist its stock from the OTC Bulletin Board, and its decision to fire an outside CEO a few months after it hired him, without offering a detailed explanation for why it had done so.
Considering that the company's founder and CEO, Gene Kostecki, owns nearly 60% of the outstanding shares, and given the company's impressive operating results, one might ask why he would not make more of an effort at transparency and shareholder communications, since he would stand to gain the most if Alloy Steel's shares traded at a healthier valuation. I can't answer that question, but I can tell you that Mr. Kostecki benefits from his company's profits despite its lagging share price. The technology that Alloy Steel uses in its manufacturing process (which was invented by Mr. Kostecki) is owned by a related entity Kostecki controls, and Alloy Steel pays that entity royalties equal to 6% of net sales.
A Unique Combination Of Risks
The concentrated ownership of Alloy Steel, and the opacity of its shareholder communications, comprises a unique combination of risks for investors. With the CEO owning an outright majority of shares, there is little chance that this company would attract an activist investor. Shareholders are left hoping not only that the company's excellent operational results continue, but that the company's management decides to become more communicative and transparent so the company's share price comes closer to reflecting its fundamentals.
Disclosure: I am long AYSI, . I wrote this article myself, and it expresses my own opinions. I am not receiving compensation for it (other than from Seeking Alpha). I have no business relationship with any company whose stock is mentioned in this article.