The Short Case For Zeltiq Aesthetics
The US equity market remains expensive, overbought and speculative. The total capitalization of the equity market hovers near all time high percentages of US GDP. And the P/E ratio of the S&P based on GAAP earnings shows that valuations have only been this high during stock market bubbles.

Compounding the problem is the fact that corporate margins are tracking at 60 year highs. Not only is this "as good as it gets", but any move towards long term average margins will make stocks appear that much more expensive on any earnings basis.

Also, current sentiment is near extremes. The NDR Crowd Sentiment Poll is above 70, evidence that investor sentiment hovers at overly optimistic levels. Margin debt is high, as is the ratio of funds invested in stocks vs. money market assets. Such overoptimism is a bearish contrarian signal.

This enthusiasm has investors piling into the most speculative shares. This can be seen by the returns of companies with high beta, low stock prices or the highest forecast growth rates. The Ranger Equity Bear ETF (ticker: HDGE) is positioned in expensive, lower quality stocks designed to take advantage of a market correction.

We are targeting a hyped-up security which, we believe, has substantial downside. Zeltiq Aesthetic (NASDAQ:ZLTQ) is trading 130% above its 200 day moving average, indicating excessive investor enthusiasm for the stock. In an overvalued market, this stock is very overvalued. We believe expectations will not be met, punishing the stock's price. Here's why:

The hunger to uncover the next Google (GOOG), Apple (AAPL), or Twitter (TWTR) drives investors to speculate on dubious companies and to dismiss the fundamentals. Zeltiq claims to have a fat loss solution that involves no exercise, diet, food supplement or surgery. Management claims their product can 'spot reduce' fat. Too good to be true?

Zeltiq develops and sells the CoolSculpting System which is designed to vacuum and hold a bulge of fat in a CoolSculpting machine and lower the temperature within the bulge to kill the fat cells without damaging the skin or surrounding tissue. The released fat is then used or stored elsewhere over subsequent months leaving a reduced profile in the treated area. The company makes no claim that this is a fat loss procedure and indicates that results become apparent within three months after a treatment. Zeltiq sells the machines and per-procedure kits to dermatologists and "aesthetic specialists". The machines and consumables each represent approximately half of the company's sales. A procedure could cost $1500 or $2000. They claim an installed base of 1912 units as of September 2013.

The company has sales of $75.8mn in the first nine months of 2013 and a market cap of $713mn. Officers and Directors own 3.35% of the company; venture capitalists, another 35%. The company sold a secondary offering of 4.5mn shares in November, to allow shareholders to sell. The company received none of the proceeds.

ZLTQ went public at $13 in 2011. The stock dropped to below $4/share in early 2013 on missed expectations and a stall in growth. Yet, this year, the stock had a very strong run, rising to over $19/share where it stalled. New marketing spending has enabled the company to kickstart sales growth to over 60% Y/Y in the last quarter, after suffering negative growth in Q4 2012. Sales and Marketing total a whopping 56% of the last nine month's revenues.

Nonetheless, the company has been unable to produce any profits during its tenure as a public company. In fact the company has produced losses every quarter of every year resulting in a large accumulated deficit. Red ink dominates the company's financial statements. Losses are expected to continue through 2014 with a possible breakeven scenario in 2015, according to consensus estimates.

The company has no debt and $1.18/share in cash and short-term investments on the balance sheet. This is cash the company will need to fund operating losses in coming quarters. Although working capital generated cash over the last two quarters, it is likely that sales growth will reverse those cash flows shortly. Without operating profits and with working capital absorbing cash, it is likely that negative cash flows will persist.

Consensus estimates are rising, with Wall Street looking for $130mn in sales in 2014 and a loss of $0.16/share. Wall Street has raised its target price on ZLTQ from $5.25 in April to $21.60 now. It appears that Wall Street is chasing the stock price.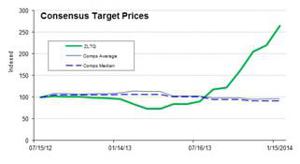 Zeltiq stock is very and unsustainably expensive. Without current earnings or earnings on the horizon, we can only look at sales as a benchmark. Zeltiq stock trades at 7x EV/Sales. One would think this company had ample profits and no competitors. However, it does have competitors and less risky ones at that because the competitors have a portfolio of products and lower valuations. Zeltiq has only CoolSculpting. The other companies trade at levels far below Zeltiq. Competitors such as Cynosure, Inc. (CYNO), Solta Medical, Inc. (SLTM) and Cutera, Inc. (CUTR) trade in a range of less than 1x EV/Sales to 2.6x EV/Sales. Zeltiq is more than twice as expensive as its most expensive comparable company.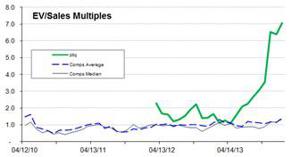 Solta's valuation has spiked (although still far below ZLTQ's) because it is currently in play. Valeant Pharma (VRX) is trying to acquire the company for its portfolio of products. Zeltiq already competes with Solta's Liposonix system. If Valeant is successful in its bid, Zeltiq will have to face a more aggressive and better financed competitor in its backyard. We might short this stock on a valuation basis alone, but the addition of Valeant into the mix gives us additional ways to be right. The soon to be strengthened Solta could take share from Zeltiq and cause them to miss forecasts.

Which brings us back to weight loss, investments and silver bullets. Investors looking to fatten up their portfolios would do well to short Zeltiq stock if they have that ability or to avoid Zeltiq if they don't. In investing as in weight loss, there are no shortcuts.
Disclosure: The Ranger Equity Bear ETF is short ZLTQ. I wrote this article myself, and it expresses my own opinions. I am not receiving compensation for it (other than from Seeking Alpha). I have no business relationship with any company whose stock is mentioned in this article.
This article was written by
Brad Lamensdorf, a seasoned money manager started LMTR.com to take advantage multiple market opportunities and provide a resource to investors. He also writes is The Lamensdorf Market Timing Report, a newsletter designed to help investors improve performance via market timing by assessing the environment of the stock market using a variety of technical, fundamental and sentiment-oriented tools from powerful independent research firms. Many investors mechanically enter and depart the market without a true "game plan." Studies have shown that retail investors, in particular, are very poor market timers, tending to invest at or near market peaks and sell at or near market lows. The newsletter is designed to provide risk parameters for both professional and retail investors around the short-term stock market environment, giving subscribers better insight about when to allocate assets into or out of the equity markets. Lamensdorf, a frequent guest commentator and analyst on major business networks including CNBC, CNN and Fox Business News. Lamensdorf, also has managed investment portfolios for the Hughes family and acted as principal of Tarpon Partners, managing a long/short fund that was up more than tripling the fund over six years. Earlier in his career, he was as an equity trader/market strategist for Taylor and Company, the Bass brothers' trading arm, co-managing a short-only strategy in a derivative format with notional exposure. He also served as the in-house market timing strategist for the entire internal and external network of Bass managers.