Sunpower (SPWR) has been our favorite stock picks in the U.S. solar industry, given the company's diversified revenue streams (solar development, module sales), backing by Total (NYSE:TOT), profitable operations and high efficiency crystalline solar technology. The company has seen its stock price underperform compared to the Chinese solar stocks in the last one year, as the Chinese stocks caught up with the U.S. solar stocks in valuation. However as the Chinese solar stock valuations have become more in sync with the U.S. solar stocks, Sunpower has again become an attractive buy in the cleantech sector. The global solar industry has become more balanced from the supply demand perspective, as the vicious downturn of the last couple of years has bankrupted the weak players (LDK Solar (NYSE:LDK), Suntech (NYSE:STP) etc.), even as solar electricity prices have reached grid parity in a large number of places. The strongest players, such as Sunpower, Canadian Solar (NASDAQ:CSIQ), Trina Solar (NYSE:TSL), Yingli Green Energy (NYSE:YGE), Jinko Solar (NYSE:JKS) and ReneSola (SOL), have consolidated their position in the last year. The margins have improved dramatically, as solar panel prices have stabilized with module costs declining. Sunpower has become a more lean and efficient company after reaching the brink of bankruptcy. The biggest strength of Sunpower is its high efficient solar technology, which is finding applications in areas other than the traditional power sector. Its recent win at Ford (NYSE:F) to supply its 24% plus efficient monocrystalline solar cells for cars indicates that the company has many years of strong growth ahead, as solar power takes centre stage in the energy industry.
Sunpower - strong across different solar energy segments
Sunpower is a strong player across different solar energy segments. The company possesses strengths in both the utility and residential/commercial segments. First Solar (NASDAQ:FSLR) is strong in the utility segment because its low efficiency thin film solar panels cannot compete effectively in the space constrained residential segment. SolarCity (SCTY) is almost absent from the utility solar segment, as its business model is focused towards the residential segment. Sunpower has one of the strongest dealer networks in U.S. and is also one of the largest solar farm developers. The company can compete effectively in both the segments and should benefit as the world moves towards the residential solar segment market. Sunpower solar panels can generate more power per unit area compared to the products sold by the other solar companies. Hence, its high efficiency solar modules give it a bigger edge in space constrained applications too. Sunpower also has a strong manufacturing operation in Philippines, which it is expanding due to strong demand. It has managed to sharply decrease the cost of producing solar cells, as the solar downturn forced the company to become more competitive with dirt cheap Chinese solar cells. Sunpower is looking to further increase its efficiency lead, by leveraging Concentrating Photovoltaic (CPV) technology. The 1 MW Sunpower OASIS blocks are another Sunpower innovation for the utility sector, which improves the installation time as well as decreases costs.
Total Backing
Sunpower would most probably have been bankrupt (like Q-Cells) or a division of a Chinese company (like A123 systems), if French oil and gas giant Total had not bought the company. Total infused capital at crucial times so that Sunpower could survive the industry downturn in 2012 and 2013, when SPWR generated about a billion dollar in losses. Sunpower is slowly starting to leverage the scale of its parent by looking to build large solar farms in the Middle East. The cost of capital is one of the most important variables in determining the returns from a solar farm, given the capital intensive nature of solar projects. Sunpower can use Total's massive balance sheet to get debt at low cost to increase its competitive advantage over the companies such as SunEdison (SUNE) and First Solar.
We are partnering with Total in a number of emerging markets such as the Middle East, Africa and South America. For example, our recently announced 70-megawatt project in Chile. This groundbreaking project is the world's largest merchant PV power plant, meaning that electricity will be sold on the spot market rather than through a long-term power purchase agreement. We believe that this project represents an important milestone, proving that solar power can provide wholesale power at prices competitive with conventional generation technologies. 70% of the $200 million project will be financed through nonrecourse project debt from Overseas Private Investment Corporation, or OPIC, a U.S. government's development finance institution, including an equity investment by Total. Construction is scheduled to begin within a few months in early 2014.

Source - Sunpower Q313 Conference Call
Ford's new car
Hybrid and environment friendly cars are showing sharp growth rates, as the costs come down and people become increasingly climate conscious. Tesla (NASDAQ:TSLA) has shown that electric cars have become viable gasoline alternative and other mainstream automakers are following that trend. Using solar cells for power generation in vehicles is not a new concept, but it is only now that it is starting to catch up. Ford recently announced a new car using Sunpower solar cells. SPWR possesses an advantage over other solar companies because of its quality and efficiency of its solar cells. The company can look forward to more cars using its products, as solar cost decline. There are already a number of products, such as solar backup batteries and solar generators in the market now. More and more applications will start using solar cells for power generation and Sunpower is a natural beneficiary of this trend.
Solar Industry is booming
All the major countries are showing strong solar growth as the industry becomes more geographically dispersed. The three biggest power consuming countries are all set to become the three biggest solar demand creators in 2014. Solar demand is expected to range between 40-50 GW in 2014, as solar costs have reached electricity price parity in a number of places. The solar industry is growing in a strong secular manner and the growth is unlikely to abate in the next decade. Sunpower, being one of the leaders, is a good "buy and hold stock".
Sunpower Risks
a) Lack of presence in China - Sunpower does not have a major presence in the world's largest solar market like the other U.S. solar companies. The Chinese government implicitly prefers domestic manufacturers over the foreign ones, which makes it very hard for the non-Chinese companies to compete in the cutthroat low return Chinese market. This means that Sunpower's Total Addressable Market (TAM) is restricted to only 65-70% of the global solar market.
b) US-centric revenues - Sunpower's project pipeline is highly concentrated in the U.S., unlike the other companies such as SunEdison and Canadian Solar which are geographically diversified. Any potential slowdown in the U.S. market, such as the tax credit expiry in 2016, could adversely affect Sunpower. The company has also not grown as aggressively in the other non-U.S. markets, as its competitors.
In Q3, non-GAAP North American revenue was $404 million and better than planned. North American revenue accounted for 65% of total revenue, with a non-GAAP gross margin of 21.2%. We recognized 112 megawatts in the quarter, with approximately 60% coming from our Power Plant business. We are ramping our installation at Solar Star for MidAmerican and expect to announce full commercial operation of CVSR in the near future.

Source - Sunpower Q313 Conference Call
Valuation and Stock Price
Sunpower was one of the best performing solar stocks in 2012, but has been overshadowed by others in 2013. The company's valuation is no longer very cheap, though it is not expensive either. The company trades at a forward P/E of ~20x and a P/B of 1.7x. The stock has been trading in a ~$25-35 range over the last 6 months, even as the other tier 1 solar stocks have been making new highs. I think that Sunpower stock can show sharp appreciation as the company becomes more aggressive on the growth front.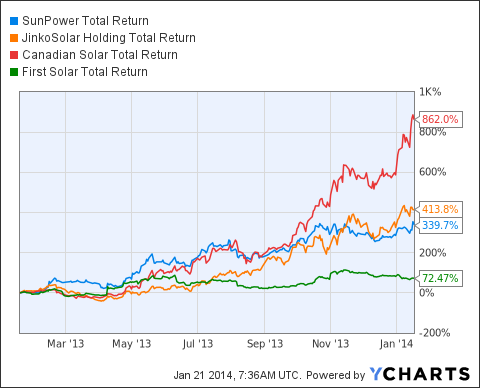 SPWR Total Return Price data by YCharts
Summary
I had recommended investors to buy other cheaper solar stocks in preference to Sunpower last year. This strategy worked as the other top solar companies have shown sharper price appreciation. As the valuation of other solar stocks become comparable to Sunpower again, investors should look to build a position in Sunpower, given the company's unique strengths in products and technology. The company is a long term winner in the solar industry and investors should look to buy dips, to gain from the strong secular growth of the solar energy industry.
Disclosure: I have no positions in any stocks mentioned, and no plans to initiate any positions within the next 72 hours. I wrote this article myself, and it expresses my own opinions. I am not receiving compensation for it (other than from Seeking Alpha). I have no business relationship with any company whose stock is mentioned in this article.