Marcus Corporation (NYSE:MCS) has been trading flat over the last year, up only 3.65% over the last 12 months, vastly underperforming the overall market. The company has struggled to move its share price since January 1996, when it was trading at about $16.50 per share. As I write, it's trading at $13.73 per share on January 23, 2014.
Looking at the markets it serves and the operations of the company over the years, it appears there isn't much that has or will be done to grow the company in any meaningful way. It is more of a dividend play at this time, even though it serves in somewhat volatile movie theater market. It also owns and operates or manages hotels and resorts.
What we'll see in the future is probably an occasional acquisition in the theater segment, and in the hotel and resort segment, improvements on existing properties, with a secondary focus on winning more management business.
There of course could be some minor exceptions to this overall strategy, but this is the big picture for Marcus.
It speaks to a very safe strategy, but one that doesn't exclude risk in the segments and markets it operates in. In some cases safety isn't as safe as it appears to be because of potential revenue and earnings contraction, and that's the major obstacle I see inherent in how Marcus operates. It's also the reason it has remained level for about 18 years.
source: StockCharts.com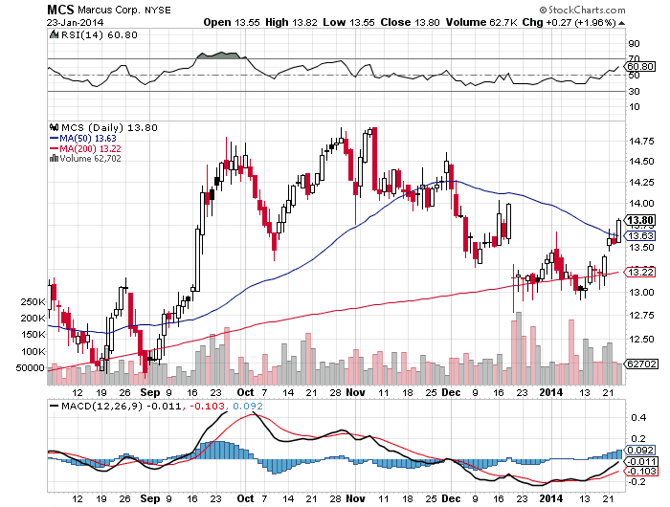 Latest earnings performance
Revenue for the second quarter of fiscal 2014 was $100.59 million, missing the consensus estimate of $102.05 million. That was slightly lower than the $100.63 million generated in the same quarter of fiscal 2013. The first half was better, with revenue reaching $229.6 million, up 5.1% from the $218.6 million for the first half of fiscal 2013.
Earnings per share in the quarter was $3.2 million, or $0.12. That was 31.3% below the $4.7 million in earnings per share year-over-year. Analysts had been looking for $0.17 per share. About $0.02 of that was the result of a loss of close to $750,000 from selling off its minority ownership interest in a hotel joint venture.
Earnings in the first half jumped 8.3% to $16.7 million.
On the expense side, one thing to consider throughout 2014 is the increase in interest expense, which looks like it will be approximately $300,000 higher in each quarter of the fiscal 2014. Several things contributed to this, including the increase in the interest rate after the closing of $50 million in 4.02% senior notes, assumption of the Cornhusker motel mortgage in fiscal 2013, and the interest rate associated with borrowing to pay the special dividend paid out in the fiscal 3rd quarter of 2013.
Theater business
We'll first look at the theater business of Marcus Corp., which accounts for 53.4% of the overall business of the company, and just under 80% of the total operating income.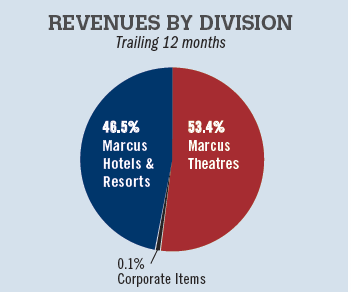 Source: company report
Marcus Theaters is the fifth largest operator in the U.S., owning or managing 685 screens in 55 locations in the Midwestern states of Nebraska, North Dakota, Minnesota, Wisconsin, Illinois, Iowa, and Ohio.
In the 2nd quarter box office revenue dropped 8.7%, with concessions revenue following it down by 4%. Attendance at comparable theaters fell 7.1% in the quarter. Only a record-breaking first quarter has kept this from being a total disaster for Marcus's theater unit. So far in fiscal 2014, box office revenue is up 1.4% over last year, while concessions sales are up 5.4% for the year. Theater attendance for the year so far is up 1.3%.
The problem here is what will happen going forward, as it's unlikely we'll continue to see record-breaking quarter in 2014, although 2015 with its strong slate of films could be a strong catalyst for higher revenue and earnings.
One thing Marcus has done to attract new customers was to initiate a $5.00 movie night on Tuesday. It targets those that have stopped going to see movies at the theater because of higher prices. So far it appears it has been successful in attracting new customers, and that of course will translate to concessions sales as well.
Theater improvements
Marcus spent about $12.6 million in its theater unit in the last quarter, with almost all of it going towards creating a better experience for patrons. Future success for movie theaters increasingly includes bringing in customers with higher disposal income. This means developing different products, services, and menus to meet their unique needs.
Some of these include expanding its DreamLounger recliner seating program, renovations, and adding a more realistic and quality sound and visual experience through its UltraScreen program.
Besides the traditional concessions popcorn and soda, theaters, including Marcus, have been experimenting with and expanding the food and drink menus at select locations.
In the case of Marcus, it has everything from self-serve soda, branded coffee, juices and mineral water on the beverage side, and Zaffiro's Express and Hot Zone, which serve up a variety of hot appetizers, including pizza, hamburgers and wraps, among other tasty food options. You can even get ice cream or yogurt if you want.
With its 'Big Screen Bistro,' it provides an attached kitchen with a full menu. It also has "Take Five Lounge' for customers to hang out and relax in. It has also introduced Zaffiro's Pizzeria and Bar at a few theaters to see how that works out.
All of this leads to higher concessions revenue and earnings per customer.
It's imperative for Marcus to boost its revenue-per-customer, as the trend is that less people have been going to the movies, and it must make that loss of revenue up with a premium experience which people don't mind paying for.
Ancillary revenue
With the shrinking customer base in mind, theater owners have been working on creative ways to generate revenue from its buildings outside of the box office. The most important of these is selling lobby and pre-show advertising. For Marcus, it's the largest revenue stream outside of ticket and concessions sales.
There is a growing number of organizations and groups that use the theaters for meetings and gatherings of a variety of sorts. These are usually short-term events and uses, so are better for the slow season, although if a theater can fill its seats, it won't care who's sitting in them or why.
One thing that has happened is some films attract the attention of a specific demographic, and a screen can be bought out by a like-minded group that wants to see it together. Maybe the most well-known of these is when The Passion of the Christ came out, and numerous church groups bought out an auditorium for the showing.
This also can happen with those that are sports fans, where live games are live-streamed at the theater. Tickets can of course be bought individually, but groups could buy a screen out as well. The same thing happens with live performances and other entertainment shows.
Again, the main thrust of these types of ancillary revenues is to boost sales during the slow periods. Added to increased concessions sales, it helps to make up for the lower number of customers coming in to see a movie, even though ticket prices have continued to rise.
Unfortunately for Marcus, its offering of $5.00 tickets on Tuesdays has put some downward pressure on its ticket price average. Since these are considered customers that wouldn't have come in without the incentive, that shouldn't be considered a bad thing, although investors need to know why it's happening.
Theater growth
In a time when the industry is consolidating, Marcus has taken a very laid back and relaxed position towards growth through acquisitions. For example, over the last six years, the company has acquired only two theater circuits and two individual theaters.
There are probably two reasons for this. One is the need to add products and services that will enhance the experience of the new customer with more disposable income. This requires capital, and a smaller company like Marcus is limited on how much it has to spread across its theater circuit.
That leads to the second reason, which is the lack of capital, which narrows down the type of theaters the company is able to buy. Its competitors have been buying up a lot of theaters, so the opportunities are out there. That suggests the company has limited options in this vital area. That will slow down its growth.
The movie industry in the United States is extremely fragmented, with about 800 smaller businesses owning about 50% of the screens. That is opportunity of course, but it also makes it hard for a company with the capital base Marcus has to effectively compete for these properties when they come available. This is likely to remain the case, so growth prospects for this division as measured by acquisitions looks fairly weak.
Along with that is a more predictable growth strategy, which is to choose excellent markets and build from scratch. That takes the longest and Marcus would have to wait longer to recoup its investment, but it is something it needs to get a little more aggressive on when it can afford to.
Organic growth strategies include expanding Big Screen Bistro, Zaffiro's, and Take Five Lounge to more theaters; expanding its premium concepts like large-screen UltraScreen and DreamLounger recliner seating; increasing ancillary revenue events; adding more low-price tickets during slow days and seasons; and provide unique programming for live and other events to attract a completely new demographic.
Hotel and Resort business
The Marcus Hotels and Resorts segment of the company owns and/or manages 20 hotels, resorts and other properties in 11 states, including California, Texas,
Oklahoma, Nebraska, Georgia, Nevada, Wisconsin, Minnesota, Missouri, Illinois, and Ohio.
Combined, Marcus owns or manages about 5,400 hotel or resort rooms.
Latest performance
In the latest quarter, Marcus Hotels and Resorts segment enjoyed a record performance, with revenue climbing 6.5% and operating income soaring 46.2%.
When measured by revenue per available room (RevPAR), comparable hotels owned by the company were up 3.8% for the quarter, and for the year is up 4.2%. The reason for that is mostly from price increases in the average daily rate.
What that suggests is a decent market, especially in regard to business travel. Within that segment of the market, it's more the individual business traveler that is bringing the most business.
Group business on the other hand isn't doing as well, but still remains level. That segment is looking stronger a little further out, with most of the group bookings being for smaller groups.
So on the individual business traveler side, it looks like the company is able to boost prices without any loss of business in the hotels it owns. It also speaks to some confidence in the economy by businesses, which is vital in the hotel and resorts business.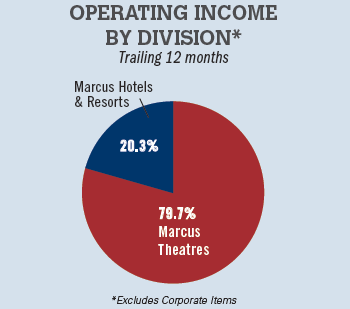 Source: company report
Managed hotels and resorts
It's difficult to access the management portion of this business, as contracts in place are different for each property. Some may be longer term (most are), but others can be of shorter duration.
Under a normal contract there will be a base management fee, usually entailing a fixed percentage of specific revenues, as well as some form of incentive for performance, usually based on agreed upon profit parameters.
Other revenue sources can be fees from preopening services. In some cases it provides technology and accounting services on a continual basis.
The strength of this part of the company is there is far less cost to entering these types of business opportunities.
Risks
The hotel and resorts business has its share of risks. The major and most obvious one is if the economy starts to tank and businesses cut back on travel expenses. This hammered the industry during the recession, and it will happen again when the economy slows down; although probably not to the level it did before because of the depth and length of the recession, which many feel we still haven't come totally out of. This is probably why there continues to be less group-business revenue than in the past.
Another lesser known but strong risk is the growing internet travel companies which provide third-party sales. These travel intermediaries are attempting to brand their reservations systems rather than a specific hotel or resort, and if they are able to succeed, it could easily cut back on the number of visitors to the properties.
If they are successful, consumers will identify with the Internet brand rather than any hotel or resort. The result will be negative for Marcus.
The company asserts it "expects" to get most of its business through traditional distribution channels, but that's far from being a certainty. This must be watched for Marcus, and any hotel or resort company that could be negatively impacted by this growing trend.
The relatively small number of hotels and resorts owned or managed by Marcus makes them especially vulnerable if a couple of the big properties they own take a hit.
Segment growth
Leadership in this division is in a transitional period, and it looks like the company is holding back some on acquisitions that will be company owned.
Instead it's focusing on pure management contracts and management contract where they can enter into a joint venture or take a minority interest in. Even if the company wasn't going through this leadership change, I like this strategy over adding properties they would directly own at this time.
There is less risk in that strategy, as we still haven't come close to rebounding to where the industry was pre-recession. We are due for a pullback in the near future, and having more debt and ownership risk isn't the way to go.
I do think they need to be much more aggressive in the management segment of this unit, as it can't grow by only improving the existing properties it owns.
Conclusion
Marcus Corporation operates in two market segments that can do very well in a strong economy, but falter some when things slow down; that's especially true in the hotel and resort segment. On the box office side, consumers will go to see a movie as an inexpensive form of entertainment, but the focus on improving the experience for customers with more disposal income, has yet to be tested during a significant slowdown.
The other side of the equation in these two industries, is they complement one another during the summer months, when both do very well when the economy is at least fairly healthy. This is probably where traders would want to take a look, as a good summer would generate some strong numbers, which would at least temporarily boost the share price of Marcus. The opposite would happen during that period because of expectations.
Traders should also look at the last quarter of the regular year, when the box office usually does extremely well. When the next earnings report comes out, either there will be a jump in the share price before the report, or may afterwards as well, if there is a surprise to the upside.
As for long-term investors, I think this is going to be a very slow-growth company at best. On the positive side, if there are a couple of significant deals made in conjunction with the size of the company, it can move the share price needle up because it has such a low market cap.
Looking over Marcus though, it appears it is in more of a defensive and reinforcement of existing businesses mode at this time, and even when it buys a business, it tends to be an adjustment to one they may have divested of recently.
Landing some management deals on the hotel and resort side, along with a strong box office over the next couple of years, could give the company some unexpected sustainable lift. Barring that, there is little to get excited about other than grabbing a fairly safe company for the $0.34 dividend, or moving in and out of this volatile stock.
Disclosure: I have no positions in any stocks mentioned, and no plans to initiate any positions within the next 72 hours. I wrote this article myself, and it expresses my own opinions. I am not receiving compensation for it (other than from Seeking Alpha). I have no business relationship with any company whose stock is mentioned in this article.