For investors that love the long-term story of the 3D printing sector, the disappointing guidance from Stratasys (NASDAQ:SSYS) has a silver lining. The stock and the sector were clearly overheating and anything that can cool off both without signaling an end to the long term of the sector growth helps provide an entry point for new investors.
Stratasys manufactures 3D printers and materials for personal use, prototyping, and production. The company is in the process of integrating the Objet and MakerBot acquisitions. Investors should expect some level of lumpiness in the financials from such major mergers so the news today isn't all that surprising unless an investor paid 50x forwarding earnings for the stock in the expectation of perfect numbers.
Warning Details
The company provided the following financial guidance for fiscal 2014:
Revenue guidance of $660 to $680 million.
Adjusted net income of $113 to $119 million, or $2.15 to $2.25 per diluted share.
Organic sales, which exclude MakerBot sales, to grow at least 25% over 2013.
Operating expenses are projected to expand significantly in 2014 driven by investments in sales and marketing programs to drive future market adoption, as well as by higher R&D investments to fund technology innovation and new product development.
The interesting news is that the company actually guided revenue higher than the consensus estimate of $656 million, but earnings per share were guided lower than the $2.33 analyst estimate.
Industry Fundamentals
As highlighted in a recent article about 3D Systems (NYSE:DDD), the sector was trading at such lofty valuations that it was only a matter of time before a little hiccup crushed the stocks. The roughly 8% drop in Stratasys that day is hopefully the starting point of a 20% correction or so that would place the stock back into a more normalized enterprise multiple of around 10x revenue. With the limited drop in 3D Systems that day, it is even more apparent that the momentum trade was in peak mode.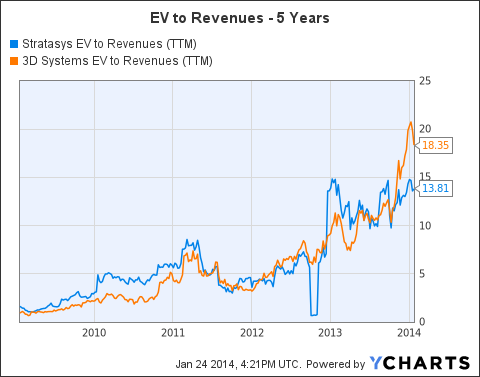 SSYS EV to Revenues ((NYSE:TTM)) data by YCharts
Stratasys has seen fast growth over the last couple of years, but it didn't prevent the stock from dropping about 33% from $90 to $60 back early last year. As long as the below revenue story continues in the uptrend, a lower stock price makes for a better long-term entry point: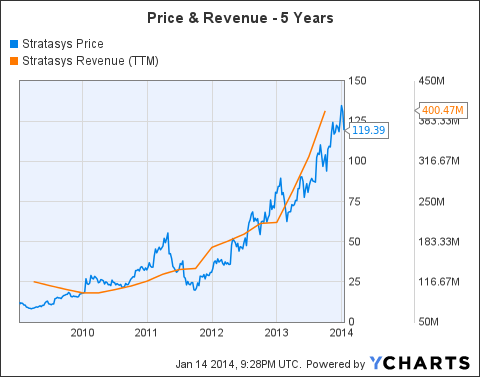 Higher Expenses
The impressive part of the 3D printing leaders has always been the ability to generate substantial profits while being revolutionaries in the manufacturing space. In those regards though, Stratasys and 3D Systems have always appeared to under spend on research and development. An increase in spending is probably necessary and warranted to ensure the company can compete not only with 3D Systems, but also if Hewlett-Packard (NYSE:HPQ) or any other printing or technology giant wants to take on the space.
For the nine months ending September 30, Stratasys only spent $35 million on research and development, or less than 11% of revenues. For a young, fast growing technology firm looking to disrupt the manufacturing process, the company should be spending a larger percentage on technology advancements. Hewlett-Packard could easily spend $50 million a quarter and outspend Stratasys by triple the amount it spends. With that mindset, higher expenses might well be worth it.
Conclusion
The slight earnings warning from Stratasys due to a plan to expand spending on operations including the all-important research and development costs shouldn't be feared. If anything, a healthy 20% pullback provides a gift for long-term investors wanting to increase positions. A pullback to the $105 level would nearly mirror the early 2013 correction in the stock and provide for a solid entry point right around the 200-day exponential moving average. The stock would trade at an elevated EV to revenue multiple, but a multiple of 10 sure beats buying the stock previously at nearly 15x or 3D Systems still trading at around a 20 multiple.
Disclosure: I have no positions in any stocks mentioned, and no plans to initiate any positions within the next 72 hours. I wrote this article myself, and it expresses my own opinions. I am not receiving compensation for it (other than from Seeking Alpha). I have no business relationship with any company whose stock is mentioned in this article.
Additional disclosure: The information contained herein is for informational purposes only. Nothing in this article should be taken as a solicitation to purchase or sell securities. Before buying or selling any stock, you should do your own research and reach your own conclusion or consult a financial advisor. Investing includes risks, including loss of principal.