Risk sentiment soured just a little overnight as the US ADP employment and Chicago reports disappointed. US equity markets closed a little lower, as did growth-sensitive commodities such as copper. The commodity currencies in contrast have held up well, although this is likely due in part to USD selling flows associated with end-of-month hedge rebalancing (with offshore investors into the US increasing their FX hedges due to the near-6% rally in US equities in the month). Stocks-wise, Ford (NYSE:F) slid on the UAW retiree fund's plan to raise $1.78 billion by selling warrants to buy Ford stock. Chevron (NYSE:CVX) led energy shares higher as oil topped $83 a barrel and Obama said he'll allow drilling off the East Coast.
Employment data remains very important for markets. For US growth to become self sustaining requires solid employment outcomes as the boost from the fiscal stimulus and inventory cycle fades in the second half of the year. So with the ADP employment series reporting a fall in private sector employment of 23k when the market consensus was looking for a rise of 40k some negativity on the growth outlook is understandable. Note the consensus for non farm payrolls on Good Friday is for a rise of 185k.
Today the market has been cheered by the weekly jobless claims which shaved 1k of the expected number coming in at 439k. Combined with the economic news from China and Japan overnight (see below) has meant it's a pre holidays "risk on" day.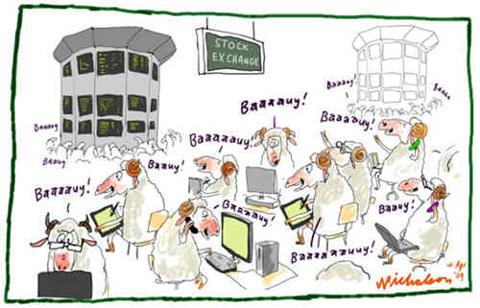 Today's Market Moving Stories
Overnight, another day and more Aussie M&A. Gold stocks thrown into the limelight after Lihir Gold (LIHR) rejected a A$9.2bn bid from Newcrest (OTCPK:NCMGY). The bid was a 27% premium to Lihir's close and the stock traded straight through the terms in anticipation of a counter bid. Dai Ichi Life started trading today and opened up 14% from issue.
Japanese business sentiment improved for the fourth straight quarter in the three months to March, the Bank of Japan's tankan survey showed, reaching its highest level since September 2008 due mainly to strong overseas demand for Japanese products. But the closely-watched indicator also showed some bearish signs, suggesting the country's deflation-hit economy isn't yet out of the woods. Companies still plan to cut capital spending slightly during the fiscal year started today, even after slashing such outlays last business year during a deep economic slump.
China's manufacturing expanded at a faster pace in March, adding to the case for a wind-back of stimulus measures that policy makers say may be contributing to asset-bubble risks. The Purchasing Managers' Index rose to a seasonally adjusted 55.1 from 52 in February. Needless to say, mining and basic resources stocks are well bid on this news today.
UK earnings growth slowed in the three months to February, weighed down by lower public-sector pay deals in a trend that is set to continue, a Income Data Services showed. The average pay deal in the three months to February stood at 1.8%, down from the 1.9% increase in the January survey. The private sector recorded higher pay deals than the public sector.
March's CIPS/Markit report on UK manufacturing suggests that the industrial recovery is continuing to pick up pace nicely. The overall PMI managed to rise from 56.6 to 57.2, despite already being at its highest level since 1994. What's more, the rise in the output index from 59.8 to 61.9 left it consistent with quarterly rises in manufacturing output of getting on for 2% (compared to the 1% rise seen in the 3 months to January). But the official data have recently struggled to keep pace with the survey. And less encouraging was the drop in the new orders balance, driven by a fall in export orders.
The Bank of England's latest credit conditions survey showed that lenders expect to make more credit available to businesses over the next 3 months and maintain the current availability of mortgage credit. However, the positive tone of the survey in the past few months has not fed through to a pick-up in net lending growth, in part because many firms are repaying debt. The survey therefore does little to alter the view that a long period of sluggish credit growth lies ahead.
Banks borrowed much less than expected from the European Central Bank on Wednesday in the final emergency six-month tender in a sign of the improving health of the financial system. The ECB said it was asked for €17.9bn in funds compared with average expectations of €70bn. This suggests banks have enough cash to fund themselves and no longer need the support of the central bank.
Treasury Secretary Timothy Geithner said that, "we [the US economy] are coming back, and we are coming back faster and stronger than most people predicted – faster and stronger than Europe and Japan."
Atlanta Fed President Dennis Lockhart said that, "the ceasing of our [asset] purchases should have a relatively light effect", noting that rates should stay in place and "should continue to help stabilize the housing sector. The effect on the housing sector should not be adverse."
Fed Governor Elizabeth Duke said that, "improvements in a number of the conditions that depressed lending in 2009… lead me to be somewhat optimistic that we will begin to see an increase in bank loans later this year."
German retail sales fell 0.4% mom in February (following a 0.5% drop previously) to yield a 0.9% yoy fall – the tenth consecutive decline. The month-on-month fall compares with a consensus forecast for a fall of 0.1%.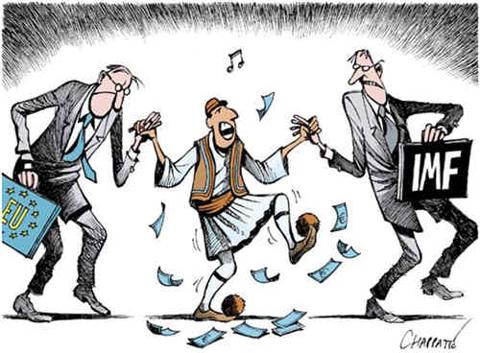 Greece May Be Heading Back To 'Square One'
Europe's week-old rescue plan for Greece has so far failed to do what its leaders predicted – reduce borrowing costs for the region's most indebted country. The yield on 10-year Greek government bonds has increased 24 basis points to 6.52% since EU leaders agreed to the aid blueprint on March 25. That's the highest in a month and more than double the rate paid by Germany. Seven-year bonds sold by Greece on March 29 fell for a second day yesterday. "What they were hoping for was to set up some sort of arrangement that never has to be used," said Phyllis Reed, head of bond research in London at Kleinwort Benson, which manages about $32 billion. "The markets have sniffed that out and it seems like we're heading back to square one." As borrowing costs increase, the risk is that EU leaders will have to deploy a rescue mechanism that still needs to be fleshed out. That would push them to decide the role of the Washington-based International Monetary Fund in any rescue and force the head of Europe's biggest economy, German Chancellor Angela Merkel, to counter public opinion by funding a bailout with taxpayers' money.
Company News
A good day for airline stocks today as Ryanair (NASDAQ:RYAAY) surged 6% to €3.89, the highest level since January 2008. Net income in the 12 months through yesterday was "not less than" €310 million compared with the company's previous projection for €275 million.
Air France-KLM (AKH) climbed 4.5% after Europe's biggest airline confirmed its forecast for breakeven on an operating level in the fiscal year starting today, according to spokesman Cedric Leurquin.
Elsewhere BMW (BAMXY.PK) rallied 3% on a Credit Suisse upgrade to "outperform" from "underperform" citing a "positive" pricing strategy.
Research In Motion (RIMM) fell 4% in late trading after the BlackBerry maker said average selling prices are falling amid stiffer competition and reported fourth-quarter sales that missed analysts' estimates. Revenue in the quarter ended February 27 increased to $4.08 billion, less than the $4.31 billion average of estimates. RIM is expanding into countries such as Indonesia and Brazil with its cheaper Curve phone and has increased spending to develop models that rival Apple's (NASDAQ:AAPL) iPhone and Motorola's (MOT) Droid.
Micron Technology (NASDAQ:MU), the biggest U.S. maker of computer-memory chips, posted its second straight quarterly profit after three years of losses, helped by higher prices. Net income was $365 million after a loss of $763 million a year earlier. Micron rose as much as 4.7% to $10.86 in extended trading after the announcement.
Readymix reported full year results for the year to 31 December 2009 after the market close yesterday. Revenues declined by 38% to €82.2m slightly better than the -40% guided in the trading update on 18 December 2009, while an underlying operating loss of €11.2m compared to earlier guidance of circa -€12m.
And Finally… Quants: The Alchemists Of Wall Street

Disclosures: None