Yelp (NYSE:YELP), a web 2.0 company that operates as a social networking and user review website by the same name, began its journey from a single city and continued that way for a year and a half to ensure quality and build-up of a platform operating across the globe with millions of user-access. Yelp is coordinating its services in countries like Canada, the United Kingdom, France, Germany, Spain, Australia, Denmark, Turkey, New Zealand, Brazil and the Czech Republic. It also hosts an online database of user-generated reviews of local businesses, a city guide that taps into the community's voice and reveals true and current insights on local businesses and services on about everything under the sun. It had 100 million unique visitors in January 2013 with 4.6 million calls and 5.7 million directions generated through the Yelp mobile app.
How It Earns?
Yelp asks its users to write their personal reviews of businesses and engages them through social networking features like that of Facebook. Yelp users can not only search for and review businesses, simultaneously, it can create a profile, "riend" other users and chat in online forums.
But the evident point is, which are the revenue sources for Yelp?
Yelp spawns almost all of its revenue from advertising - 94% for the year 2012. There are primarily two kinds of advertising:
Local advertising from businesses that want to be featured primarily on Yelp, accounting to 79% of total ad revenue.
Brand advertising, i.e. display and text ads on Yelp.com, which gets lots of traffic from search engines, forms 15% of the revenue.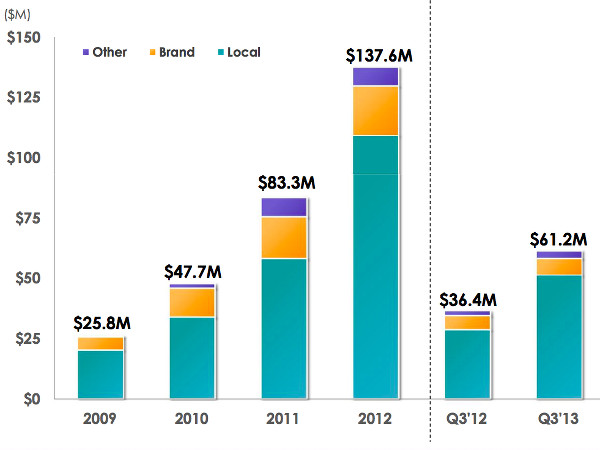 The above chart depicts the revenue breakdown of Yelp from 2009 onwards.
The major chunk of business reviews comes from shopping services (23%) and restaurant business (21%) followed by home and local services (11%).
Yelping Via Mobile
Yelp mobile app was launched in 2008, beginning with the iOS platform and later for Android and BlackBerry. With the help of Yelp mobile app, users can directly contribute their valuable reviews without any delay. Monocle, an augmented reality mode of Yelp, is quite dynamic in terms of usage. Similar to the Nokia City Lens, Monocle overlays ratings and other useful data for local businesses on a real-time basis. This can be done simply by manifesting the camera of your mobile device down the street, thereby becoming a very useful tool while trying to find a specific shop or eatery in an unknown place. The company reported in November 2012 that 45% of its web traffic came from mobile devices.
Alarms Ringing High
Since its inception in 2004, Yelp has completed a long journey. From a local business review site based in San Francisco, it has transformed itself into a social networking site. But still it has not attained a completely stabilized phase and a lot needs to be improved further. The cost-benefit ratio is not balanced and this is the sole reason why Yelp has not been able to reap profits as yet. Even its mobile application has not been able to generate much profits because it is a tough task to monetize the mobile app space through miniature ad banners.
The following is the chart showing revenue and profit margin for Yelp over the years: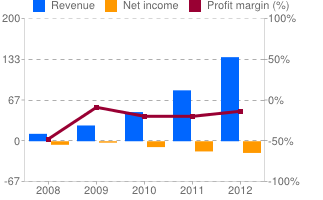 Another major concern for Yelp is the issue of "Fake Reviews." Several issues of fake reviews have been reported and Yelp has acknowledged them, filing law suits against many firms. In August 2013, Yelp sued a San Diego law firm for allegedly publishing fake reviews applauding its work. In June, the company sued AdBlaze in San Francisco federal court, accusing the online marketing firm of "selling Yelp reviews from unknown accounts to unknown third parties furthermore."
However, Yelp has been ardently striving to altercate the cases of bogus reviews. Yelp uses sophisticated software to filter more than 42 million reviews contributed to find the most reliable and helpful ones. Those reviews that don't make the cut - which include the ones that the algorithm thinks might come from the businesses themselves - get filtered out.
Survival Of The Fittest
Yelp has been facing stiff competition from other sites such as Groupon (NASDAQ:GRPN), Foursquare, TripAdvisor (NASDAQ:TRIP), Yellow Pages and Google (NASDAQ:GOOG). But it has emerged as the dark horse with a constant revenue rise year after year. Yelp simply does a better job at gauging and responding to real-time, location-based user intent. Yelp users, for example, typically start searching for establishments when they are interested in a particular time and place. Yelp makes it easy for them to filter within specific categories and by personal preference. No matter the quality of its data, Foursquare's "search and discovery" recommendations will always have trouble competing with user-driven intent.
Yelp conducted a study in July 2013 to show how much accurate the reviews are posted on its site, compared to its competitors and the results were definitely a plus point for Yelp.
The results of the study is as follows:

Entries that are significantly better than the other entries in a given row at a 95% confidence level are indicated in bold.
In terms of listing data, Yelp and Google quite resemble each other and are much ahead of the other competitors. Google stands out on refining business websites but Yelp scores more than Google in terms of photo content.
Investors Look For A Radiant Future
One might say that Yelp is being overvalued for its current position in terms of profits and revenues. But it is the future outlook that the investors are bidding upon. At present, Yelp is undergoing a transformative phase in its business history. Yelp lost 1 cent per share on $55 million in the revenues generated for the second-quarter, well above what analysts were thinking. Analysts polled by Thomson Reuters were looking for a loss of 4 cents per share on $53.29 million in sales. The company is still not profitable on a non-GAAP basis, but it doesn't matter, as local ad growth continues to soar and the company is taking market share away from other providers, as well as the Yellow Pages, which has seemingly been in a decline for forever. Not only is the company seeing tremendous demand on mobile, with 40% of ads viewed on a mobile device and 59% of searches coming from mobile, Yelp is expanding into new markets.
Therefore, looking on to the future prospects of Yelp, it can be suggested for investors who are ready to lock their capital for sometime in lieu of better returns. Yelp has a "smart" success story to convey.
Disclosure: I have no positions in any stocks mentioned, and no plans to initiate any positions within the next 72 hours.
Business relationship disclosure: The article has been written by Analysts at EurEx Consulting. EurEx Consulting is not receiving compensation for it (other than from Seeking Alpha). EurEx Consulting has no business relationship with any company whose stock is mentioned in this article.