In an article published just over one month ago, I disclose my ownership of AutoZone (NYSE:AZO) stock and liberally predicted a price target of $507, about 9% higher than it was then. While Fidelity Investments and Google Finance show the stock's 52-week high to be $507.72 and reached yesterday on January 21st, Seeking Alpha shows $505.86. The minor data issues aside, I have lightened up, despite continuing to like the company for several reasons that may be attributed to its performance as an investment.
Approximately one year ago, there was an industry-wide slowdown that particularly affected AutoZone and Advance Auto Parts (NYSE:AAP) more so than their other competitor, O'Reilly Automotive (NASDAQ:ORLY). Results lagged in the plains, Great Lakes and northeast and affected retailers with higher concentrations of stores there. A warm winter was one occurrence that it may have been attributed to as some automotive parts wear down faster in the cold. However, we recently began winter with a storm that stretched from Missouri to Maine.
Also a December 4th news brief from last year records the announcement of the company's acquisition of AutoAnything, an online parts retailer. Since then, it has put a drag on margins. As the purchase should now be "Anniversaried" comparisons to past years should be easier. Meanwhile, the Duralast brand continues to be recognized for success in this regard.
In fact, Moody's has mentioned it while upgrading AutoZone's credit rating from Baa2 to Baa1. Here is the rationale:
"The upgrade reflects Moody's expectation that AutoZone's financial policy, which is a key rating driver, will remain congruent with the maintenance of the current quantitative credit profile for the foreseeable future," stated Moody's Vice President Charlie O'Shea. "AutoZone is also benefiting from favorable fundamental trends in the auto parts sub-segment of retail, and its proprietary Duralast brand continues to drive higher margins than its competitors."
Fitch has also released a statement rating the company's three-year notes at BBB, which also falls under investment grade.
Another concern confronting the company, and industry, has been rising new car sales, as auto parts stores obtain business when vehicles remain on the road longer. Toyota (NYSE:TM) just announced strong global results. However, recent data from Ford (NYSE:F), General Motors (NYSE:GM), and Volkswagen AG (OTCPK:VLKAF) all indicate that new vehicles are not selling the way some had predicted. While carmakers' results in China are important to investors, our focus here is on sales in domestic markets that parts retailers operate within.
The company continues to expand internationally within the Americas, disclosing a 363 store presence in Mexico recently. AutoZone also has a handful of new locations in Brazil, perhaps near the Amazon, that are being evaluated. It is another long-term prospect. There is lacking indication of entry by the competition into either market. While AAP appears to have just pulled ahead, it might not be a permanent lead.
Consensus AZO analyst estimates project $31.34 in EPS for the year that ends in August 2014, and $35.43 one year later. The 12-month p/e multiple for the S&P500 is currently 15.75x. It is reasonable to use $32.7 x 15.75 = $515 in order to arrive at a price target. Hence, at present levels there may be some profit taking. While a run up from the low $420s in October is not monumental, it is sensible to cash in and perhaps reacquire stock if it moves lower.
However, shares could continue moving higher for several reasons, including the fact that it would not be ridiculous for the stock to trade at a higher multiple. The rest of the retail sector is increasingly out of favor on Wall Street. Here is a chart showing how the SPDR S&P Retail ETF (NYSEARCA:XRT) has performed in relation to AZO recently amidst "Circumspect" feelings toward the wider industry: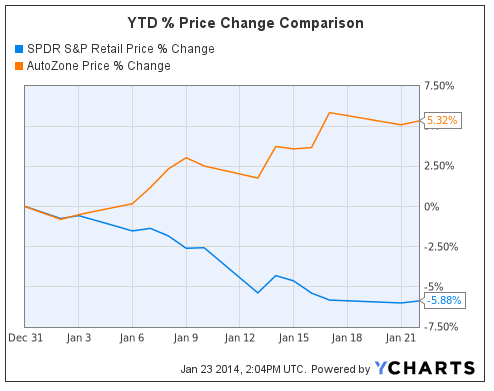 Another consideration is that there is fervent competition to take commercial market share. AutoZone has been aggressively going after the commercial market, which has been a mainstay of O'Reilly. My guess is that the stock could be range bound until the next quarterly report, which should occur around the conclusion of February.
AutoZone stock keeps appreciating. Plural matters relevant to the company have generally been going in its favor. The result might now be that some others may wish to take profits also. And if the stock price moves lower, there could be buying all over again.
Disclosure: I am long AZO. I wrote this article myself, and it expresses my own opinions. I am not receiving compensation for it (other than from Seeking Alpha). I have no business relationship with any company whose stock is mentioned in this article.
Additional disclosure: I may initiate a long position in F, GM over the next 72 hours.