Investing in a pharma company is about the pipeline, potential, and vision. It is also about getting products approved, to the market, and selling them in quantities that can demonstrate that the potential value once assumed by the street can be realized. Some drugs never get to market, some do and fizzle, while some sizzle.
For Arena Pharmaceuticals (NASDAQ:ARNA), all eyes are currently on the anti-obesity drug Belviq. It is the company's first drug to market. As most investors know, Arena partnered with Eisai (OTCPK:ESALY) on the drug. Eisai is responsible for marketing Belviq and Arena received some milestone payments and can participate in more if certain sales levels are reached. The bread and butter of the deal is the percentage of net sales that Arena receives. That percentage starts at 31.5% of net sales and can increase to as high as 35%.
There is not a person that will argue that a viable treatment for obesity is not needed. The market potential is huge and worth billions. The market is made up primarily of non-prescription solutions, programs,and remedies. Prescription weight loss treatment has been in the back seat since the days of Fen-Phen until recently.
The launch of Belviq occurred in June of 2013. Sales have, for the most part, been much more modest than the expectations of the companies, the street, and individual investors. The equity took its lumps throughout the balance of 2013, and only recently (about two months ago) began to climb off of its lows in the $4 range. The climb up from the lows has been primarily built on anticipation of a larger sales force, better coverage from insurance companies, a ramped up advertising campaign, and the fact that the first half of a calendar year is the strongest part of the year for weight loss products.
In my opinion, it is important for Belviq to show sales of between $50 million and $60 million in the current quarter. This will show that growth is still happening, and that at least some of the potential that investors assigned to the drug can be realized.
In order for the sales to reach that level, we need to see a certain amount of traction in the sales figures. I have stated a few times in this sales tracking series of articles that in the near term we need to see 10% week over week growth. By near term, I mean the next 3 to 4 weeks and not 10% in perpetuity. That 10% pace can shift to about 7% for a 5 week period after that, and then go to 5% for the last few weeks in the quarter. If this type of pace can be accomplished, sales for the quarter would be at about $25 million.
Investors should know that there are very active traders in Arena, that appear to make very short term trades in and out of the stock. A dynamic such as this brings with it some volatility. Traders will trade, longs will stay long, and shorts will seize their own opportunities. With that knowledge, those assumptions, and the knowledge gathered by following the equity and its behavior over many months, I have arrived at a conclusion that a certain performance in sales brings about certain dynamics in the equity. Essentially, if the sales figures of any given week point to reaching that $20 million to $30 million in the quarter, the equity will be neutral to bullish on the news. If sales are not pointing to these levels, the equity will be neutral to bearish. A lot depends on what has happened during the week leading up to the sales figures. A nice run can have fuel added to it and continue on good sales. A nice run can get cut off at the knees on weak news. The bottom line is that we want to see three to four weeks of 10% growth in order to see possible equity appreciation.
This week, Belviq sales came in at just below 6,500 according to industry tracker Symphony Health. This represented a 12% gain from the week prior and thus is neutral to bullish. The news on scripts today impacted the equity in very neutral fashion. As you can see, this plays directly into the concept I have been outlining for a few weeks now. What active traders will do is play the spikes and dips. That cycle will continue until there is clear demonstration that the sales momentum is compounding at a rate that demonstrates clearly that the drug will sell in levels large enough to deliver the desired revenue to Arena.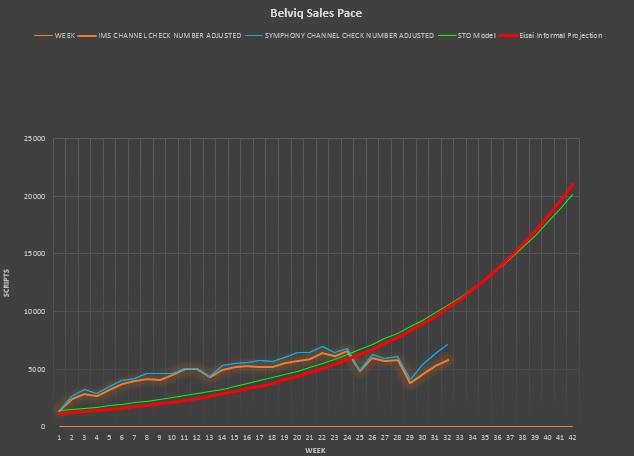 In terms of sales since launch, the target is to be between $50 million and $60 million by March 31st of 2014. The chart above tracks to the $60 million level. As you can see, sales were above the tracking line for quite some time (building a cushion of sorts). With the holidays, the sales began to track below the line (taking away from the cushion). For Belviq, the sales last week represented a full recovery from 3 major holiday in a 5 week span. In the chart below you can see that I have cumulative sales to consumers at just above $30 million since launch. This means that there are about 10 weeks left to garner a minimum of $20 million in sales and preferably $30 million. While that may seem a tall order, it is the type of traction the street needs to see to drive the equity up. The silver lining here is that Arena does not report sales to consumers, but rather sales at the "wholesale" or "distribution" level. That means that stocking the shelves is counted. Thus, we could see decent numbers simply based upon stocking of the shelves.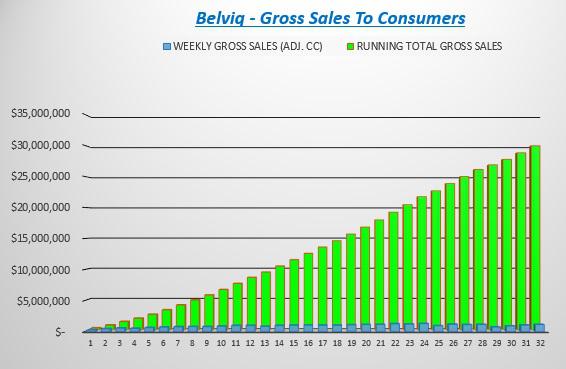 Summary
The Belviq story is still new. Consumer advertising thus far has been limited to print ads, and Eisai reps are still engaging doctors. Like anything, it takes time to really develop. Clearly Belviq has not "gone viral", but there is potential that "going viral" can happen at some point. One issue is that the longer the drug is on the market without "going viral", the more difficult it is to do so. Awaiting television ads is a big part of the "going viral" potential here.
Catalysts for Arena include news about positive sales, approvals in other countries, news regarding better insurance coverage, positive news about the use of Belviq for other indications such as smoking cessation, and the pipeline. Risks include poor sales or slow sales, slow traction with insurance, negative news about Belviq regarding other indications, negative news from Switzerland, Canada, Mexico, Taiwan, or Korea, a slowing in the pipeline, competition from Vivus (NASDAQ:VVUS) with Qsymia, and possible competition from Orexigen (NASDAQ:OREX) with the yet to approved anti-obesity drug Contrave. There are some compelling arguments for great potential, but the whole story includes some risks that are still substantial in their own right. The next several weeks will set the stage for 2014. Stay Tuned!
Disclosure: I am long ARNA, . I wrote this article myself, and it expresses my own opinions. I am not receiving compensation for it (other than from Seeking Alpha). I have no business relationship with any company whose stock is mentioned in this article.
Additional disclosure: I have no position in Eisai, Vivus, or Orexigen