Anything can happen in this market. 2013 saw the mortgage real estate investment trusts (mREITs) just get creamed. That said, thus far 2014 is telling a different story. The mREITs are showing some signs of life. Now, I realize that anything can happen to quickly derail this momentum. A natural disaster in the U.S. could send global markets spiraling. Continued mediocre earnings from individual companies could send entire sectors into the red and take your investment value right down with it. Not so hot economic data like we saw this morning (1/23/14) could weigh. What does this mean for one of the bellwethers in the space, American Capital Agency (NASDAQ:AGNC)?
Believe it or not, the fundamentals and the technical chart are both improving, at least for now. My favorite combination is when we have technical support on the side of the fundamentals. Take a look at figure 1. Figure 1 shows price action in the last three months for AGNC. During the summer and Fall of 2013, where the chart begins (end of October 2013), AGNC's management team took a ton of realized losses in its mortgage backed securities investments. They simply liquidated a huge section of toxic assets to preserve the company's future and raise some cash. This in turn crushed net income in the third quarter, which I will discuss below, and took the stock down another 15% in a few short weeks. This selloff and negative momentum is reflected in figure 1. Tax loss selling began pressuring prices but there was resistance from bargain hunters that supported prices around the $19.00 level. In the chart, you can see this short-term bottoming action. Once January began momentum shifted. Fundamentally, the action is supported by the fact that the ten-year treasury yield has plummeted from over 3.0% down to 2.8% providing relief to the pressure rising rates put on asset values.
It sure seems as though the bottom is in, as AGNC tested breaking below $19.0 several times. While AGNC did dip slightly below this mark a few times it would quickly come back on. While this chart is a short-term look and longer term things are still not so rosy, a short-term bottom appears in and AGNC is really challenging short-term resistance of $20.55 having breached it but not by much. Getting solidly into the $21 range and holding is the next positive sign to watch for. While fundamentally things look good and short-term technicals look good, I should also point out that AGNC has reduced leveraged. This will cap upside, but will limit any damage the portfolio will take especially in conjunction with the hedges in place. While a bottom is in and there are several reasons to buy I can't sound the all clear alarm (do we have a mostly clear alarm?), I will now discuss what could send shares moving and discuss reasons why you should consider buying now after the hellacious year of 2013.
Figure 1. Chart of American Capital's Share Price And Momentum Indicators Over The Last Three Months.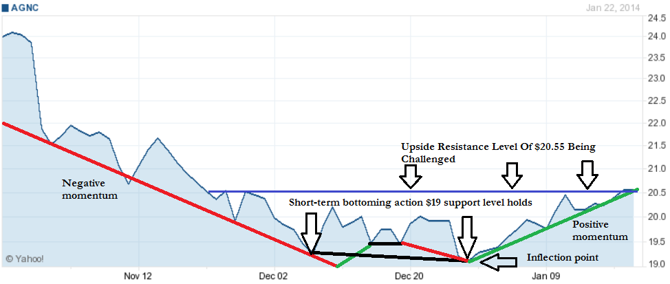 The Dividend Cutting Is Probably Over But The Buyback is Key.
We know that AGNC has to pay 90% of its taxable income to shareholders and earnings have trended lower. Some positive signs exist. AGNC's funds from operations were approximately $586,000,000. This was an increase of 72,000,000 from Q2 2013, but prior to this they had declined for four straight quarters. This turn-around was a good sign. But as we know, because earnings have been hit, along with book value, another cut came in Q4 2013. AGNC declared a cash dividend of $0.65 per share for Q4 2013, which was a cut of $0.15 or 19% from the last payout of $0.80. At $20.55 per share, assuming the $0.65 quarterly payout is maintained in 2014, the stock will pay $2.60 for the year, or 12.6%. This is much lower than what this stock usually paid us. One thing it does have going for it that could help sustain the dividend going forward is its buyback policy. As of the end of Q3 2013, it had made open market purchases of approximately 28.2 million shares of its common stock, or 7% of the outstanding shares as of September 30, 2013. The shares were purchased at an average price of $20.82 per share, including expenses, totaling approximately $586 million. Since commencing a buyback program in the fourth quarter of 2012, the Company has purchased approximately 43.0 million shares of American Capital Agency common stock for approximately $934 million, including expenses. The buyback reduces outstanding shares meaning existing taxable income can be spread among the remaining shares. This improves earnings per share and reduces the likelihood of a future cut.
What 2014 will bring is tough to predict accurately but I think most of the cuts are over. There could be a Q1 2014 cut to the dividend down to $0.55-$0.60 per share, but I think we are more likely to see the dividend be maintained. Hedging is in place, toxic assets have been liquidated and leverage is reduced. The risk seems to be to the upside. AGNC will report its fourth quarter on February 3rd. Most are expecting weakness. So, a moderate or even strong report could send shares rocketing higher. However, another cut could be a catalyst that sends shares below the $19.00 support line for months to come. However, should the company maintain its dividend, the stock could rise as this would be viewed as strength given the mediocre expectations. Another bloodbath quarter is unlikely because the company has reduced leverage and increased its hedging activities. They are protected from huge losses. The only negative is that this cuts off upside potential for its earnings. Remember, the fourth quarter started off fundamentally very strong for AGNC despite share price activity.
Like With Other High Yielders, Time is On Your Side
The plain fact is that AGNC has been paying a strong dividend since inception. Many of my readers who have asked me for advice directly often cite they bought in and held strong since 2010 or 2011 when these stocks were first widely being recommended. If you are holding after all of this, remember that any losses are on paper. Why did you buy AGNC? I imagine it was to collect the dividend. Let's see where someone is who purchased in June 2010 at $27.00 (table 1).
Table 1. American Capital Agency's Common Stock Dividend History, Dividends Paid Since June 2010.
| | | | |
| --- | --- | --- | --- |
| Ex Dividend Date | Date Paid | Dividend Amount | Cumulative Amount Paid |
| 6/28/2010 | 7/28/2010 | $1.40 | $1.40 |
| 9/24/2010 | 10/27/2010 | $1.40 | $2.80 |
| 12/29/2010 | 1/27/2011 | $1.40 | $4.20 |
| 3/21/2011 | 4/27/2011 | $1.40 | $5.60 |
| 6/21/2011 | 7/27/2011 | $1.40 | $7.00 |
| 9/21/2011 | 10/27/2011 | $1.40 | $8.40 |
| 12/20/2011 | 1/27/2012 | $1.40 | $9.80 |
| 3/5/2012 | 4/27/2012 | $1.25 | $11.05 |
| 6/19/2012 | 7/27/2012 | $1.25 | $12.30 |
| 9/19/2012 | 10/26/2012 | $1.25 | $13.55 |
| 12/24/2012 | 1/28/2013 | $1.25 | $14.80 |
| 3/18/2013 | 4/26/2013 | $1.25 | $16.05 |
| 6/26/2013 | 7/26/2013 | $1.05 | $17.10 |
| 9/26/2013 | 10/28/2013 | $0.80 | $17.90 |
| 12/27/2013 | 1/28/2014 | $0.65 | $18.55 |
As you can clearly see, AGNC has paid bountiful dividends for the last three years. The dividend now being at $0.60 is obviously at the lowest it has been since the hypothetical investor purchased. What this illustration is going to show is the strength of holding a high dividend payer through all the ups and downs. The investor who bought in at $27.00 during June 2010 may represent many of you reading right now. Let's assume they purchased shares once, not adding to declines or reinvesting any dividends (although most of you probably would have added on a big decline or two). Thus, as of the current price of $20.55, this person would be down $6.45 or 23%. That would be a disappointment after three and a half years, no doubt. But what if we factor in those dividends?
The dividends paid (not counting the $0.65 to be paid next week) total $17.90. Therefore, the 2010 buyer is actually up $12.45 per share if they were to sell now, ringing in a gain of 46% unless the share prices dropped another $12.45, all future dividends are gains. Now, chances are that AGNC won't stay depressed for long. In fact shares are on their way higher as I showed above. When the shares rebound, because of the power of the dividends, large gains will be had. Everyone who bought in prior to this and collected earlier dividends is likely up nicely. This example isn't all that fair, because most buyers should build a position on the way down, so their gains are probably substantially higher. While the disappointment of a lower share price from where you may have bought and being paid less to wait for a rebound is not easy to stomach, you can either get out with a gain, or hold and collect more dividends while waiting for the rebound. If you are on the side lines, then you are definitely in a position where a buy is tempting. You have missed the decline and have a chance to secure dividends and potential capital gains.
Will The Fourth Quarter Show Improvement?
Overall, the third quarter, while considered weak, was definitely an improvement from Q2. In Q2 AGNC reported a $2.37 comprehensive loss per common share, comprised of $4.61 in net income per common share as well as a $6.98 other comprehensive loss per common share. This equates to an overall loss of $936 million for the quarter. For Q3, AGNC reported a $0.45 comprehensive income per common share, comprised of $1.80 in net losses per common share as well as a $2.25 other comprehensive income per common share. This equates to an overall income of $179 million for the quarter. Estimated taxable income was $0.29 per share, which is below the dividend that was paid out of $0.80 per share. The interest rate spread was essentially stagnant quarter over quarter but I am expecting it to improve in Q4. When you include all of the factors affecting the spread, AGNC reported a net interest rate spread of 1.37% in Q3. This is the number to beat in Q4 and I think it will happen. The Q3 number was an increase over the 1.24% reported in Q2. How we get this beat will be determined by the building blocks of the net interest rate spread. AGNC's average net interest rate spread for the third quarter was 1.20%, a decrease of 29 bps from Q2 of 1.49%. Including estimated TBA dollar roll income/loss, AGNC's average net interest rate spread for the third quarter was 1.14%, a decrease of 72 bps from 1.86% during the second quarter. That was a big loss to the spread. However, AGNC's average net spread income for the third quarter includes -6 bps of premium amortization cost due to changes in projected constant prepayment risk estimates, compared to 29 bps of premium amortization benefit during the second quarter. So, for Q4 I expect the average net spread to rise since the quarter started strong. I don't anticipate changes in projected constant prepayment risk estimates to weigh either. I think the big impact will come from assets and yields.
AGNC's asset yield on its agency security portfolio for Q3 was 2.59%, compared to 2.92% for the second quarter. This is a huge drop of 33 bps. Overall, AGNC's average asset yield reported as of September 30, 2013, was 2.70%, a single bps decrease from 2.71% as of June 30, 2013. Furthermore, AGNC's average cost of funds decreased 4 basis points to 1.39% for the second quarter, from 1.43% for the first quarter, due to lower average swap costs as a result of a smaller hedge position. I anticipate the cost of funds to rise slightly, but I believe the asset yield on its agency security portfolio to offset this rise. The drop we saw in yield in Q3 was sort of an anomaly. Given the commitment to keep borrowing rates low, I think AGNC stands to benefit going forward.
Conclusion
Fundamentals look good. We have a Janet Yellen Fed that will certainly carry on the Bernanke tradition of low rates and continued asset purchases. Furthermore, there is technical evidence AGNC has bottomed here in the short term and positive momentum is building. The dividend might be cut once more, but if maintained it would serve as a huge catalyst to drive shares above the $21 range into Q1 2014. Another reason to buy, especially for those who have sat around waiting to get it, is the dividends. While many buyers have unrealized losses, look to the dividends paid over time. That is where the money is made. Time is on your side. No reason to sell now, while a possible inflection point is here. The risk is to the upside from here as management has lowered exposure of the portfolio, which may cap upside but limits severely the downside for this Q4 report. Finally, shares were trading at a significant discount to book value as of 9/30/2013. I anticipate that book value has declined very slightly, perhaps 2%-3%. Assuming this is the case, AGNC offers compelling value when all things are considered.
Disclosure: I am long AGNC. I wrote this article myself, and it expresses my own opinions. I am not receiving compensation for it (other than from Seeking Alpha). I have no business relationship with any company whose stock is mentioned in this article.