There might be some incentive to invest in EM markets: poor relative performance over the last two years which would call for rebalancing; some tentative improvement in global PMIs which suggests that global growth may accelerate this year; the relative PE ratio of DM to EM stocks that is back to its early 2009 level.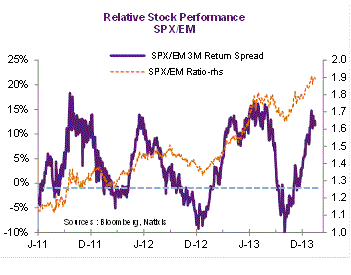 Rising long term interest rates, if operated smoothly through the Fed's forward guidance, should not be detrimental to EM stocks. As I wrote here, in periods of smooth U.S. growth, higher interest rates would not be synonymous of lower global liquidity, as is often thought, but rather with better global growth prospects; hence the outperformance of EM stocks.
The reason why it might be too early to invest in EM is linked more to idiosyncratic risks than to the global environment, even though the latter is not as supportive as one may think.
Global trade should grow at a slower pace than during the last decade and the surge in supply in metals should dampen any tentative price increases in the metal and oil complex.
The chart below shows what is at stake. Before China entered the WTO, the pace of increase in global trade was rather smooth (A). Then, coupled with the internalization of production (global value chain), global trade accelerated to an unsustainable level (B). Even if global exports have recovered since 2009, the recent fall in the ratio of global export to global GDP highlights the risk of isolation (C). It might be a temporary blip but I would rather think that global trade will never recover its pre-crisis growth rate and some impediments to its acceleration are linked to domestic bottlenecks in several EM countries.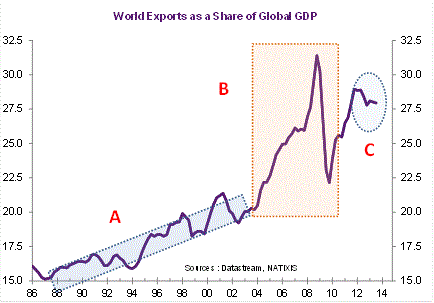 Interestingly, many of the countries that suffered from the risk of early tapering in mid-2013 have not been able to adjust their external accounts. There are several reasons for this:
External trade is not returning to pre-2007 levels (a new era, with less internationalization of production). China is no longer a global growth multiplier. Not because of the slower growth pace (7.7% annually) but because of the recent pattern of growth. As can be seen below, China's exports and imports are no longer at their mid-2002 highs, highlighting the tentative change in growth pattern. According to the IMF; a one percentage point cut in China's investment growth would subtract between one-half and nine-tenths of a percentage point from GDP growth in the regional supply chain.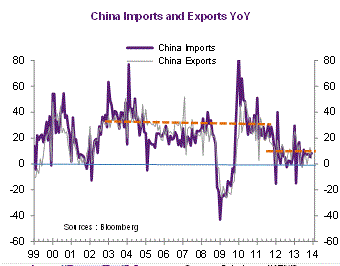 Domestic capacities are constrained. Bottlenecks are visible in the job market, but also in terms of productive capacity (Brazil, Turkey). The chart below shows that Brazil's current account has worsened at a time when industrial production was unable to grow. The appreciation of the currency might be to blame ("currency war") but the biggest culprit is the sluggishness of productive investment.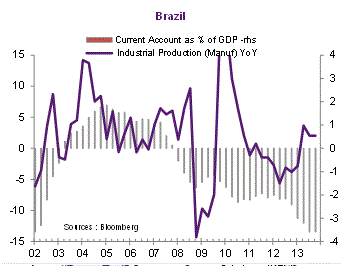 Another example comes from Turkey, where the situation is different. The current account stands around 7.5% of GDP and even if production capacities are not to blame (even though the sophistication of exports has to be improved), the financing of a construction boom through volatile short run funding in foreign currency poses a serious risk for the forthcoming months (the so call risk of Sudden Stop). Bottlenecks in highly skilled workers are also reported.
A question to consider is whether currency depreciation has been sufficient enough to reverse the trend. In countries indebted in foreign currency there is a limit to such a policy as it increase the debt burden of domestic borrowers (Turkey). There is a choice for EM policy makers, but the outcome is always bad:
Depreciation and FX reserve depletion could help exporting but domestic inflation may rise quickly;
Tightening of fiscal and monetary policy, and capital control.
The first option could be better if there is enough economic slack to exports and a rapid internal demand switch. If wages follow inflation, the competitiveness gain will be limited. The second option consists of increasing domestic saving with a dire consequence on domestic demand.
Should we fear the end of QE?

In a recent paper on QE spillovers, some economists find evidence that there were three transmission channels at play: liquidity, portfolio and confidence. They also stress that to the extent that QE appears to operate primarily via portfolio inflows to the largest emerging markets (rather than FDI), the broader benefits of QE for development finance are more likely to be second-order (relaxing financing constraints for firms able to access bond markets, enhancing liquidity in developing-country financial markets, and promoting overall financial development), and may also be more exposed to the risk of sudden reversals.
Another piece shows that there is little evidence that countries with stronger macroeconomic fundamentals were rewarded with smaller falls in exchange rates, foreign reserves, and stock prices starting in May 2013. What mattered more was the size of their financial markets (total external private financing). Countries with larger markets experienced more pressure on the exchange rate, reserves, and stock market when talks turned to tapering.
This view is confirmed by another paper, that shows that the relative importance of economic fundamentals in the pricing of sovereign risk varies over time. It stresses, in particular, that beyond fundamentals, the markets gave a bigger weight to the scope for the government to use fiscal and monetary policy to mitigate the adverse impact of crisis…/… the global crisis has heightened market awareness of tail risks and the varying capacity of emerging-market governments to cope with those risks.
There is no magic formula to protect oneself from external liquidity shocks. As seen above, strong fundamentals can be offset by the existence of a highly liquid market. Given that QE mostly operated through portfolio inflows, the ratio of Forex reserves to short term liabilities might be useful to make a gross estimate of the most fragile countries. But beyond fundamentals, it is the ability to cope with risk and the macroeconomic leeway that matters the most and so far, there have been no significant changes in many EM markets.
In addition, beyond the ability of countries to immune themselves from a shock initiated by the FED and some other central banks, I would rather focus on their ability to use economic policy leverage to correct their domestic and external imbalances without the help of a strong external environment.
Bottom Line: the sharp under-performance of EM stocks against US indexes would call for a reversal. But the balance of risk remains unfavorable to such an exposure. Not only many EM countries could face the headwinds of tapering but, more importantly, they have to deal with a bearish external environment (low commodity prices, weak global exports, and change in china's growth pattern). The recent experience suggests that even good macro fundamentals may not be enough to immune a country from strong portfolio outflows (liquidity risk). Given than many EM markets are facing significant structural problems/bottlenecks and a limited set of economic policy options, I would remain long S&P 500 (NYSEARCA:SPY), short MSCI EM (NYSEARCA:EEM), even though the ratio is back to its highest level since late 2005.
Disclosure: I have no positions in any stocks mentioned, and no plans to initiate any positions within the next 72 hours. I wrote this article myself, and it expresses my own opinions. I am not receiving compensation for it (other than from Seeking Alpha). I have no business relationship with any company whose stock is mentioned in this article.