The purpose of this article is to evaluate the attractiveness of Jamba Inc. (NASDAQ:JMBA) as an investment option . To do so, I will review Jamba's performance, key metrics, and industry trends to attempt to determine where the stock may be headed from here.
First, a little about Jamba Inc. The company is classified as a restaurant retailer headquartered in Emeryville, CA and has over 800 locations operating in 26 states, The Bahamas, Philippines, Canada, and South Korea. Jamba owns approximately 40% of its stores while the other 60% are run under franchise agreements. Now let's take a look at the 5-year graph for Jamba.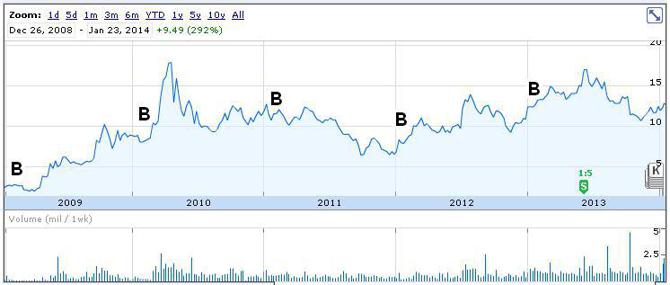 Source: Google Finance
As it can be seen on the graph, Jamba has gone from about $2.60 since January 2009 to about $12.75 today. However, Jamba made a 5-to-1 reverse stock split on June 3, 2013. Keeping this in mind, the stock has been practically flat since January 2009. However, the main takeaway from the graph is the cyclical pattern that the stock has had over the past five years. The stock has consistently experienced low points between December and January, represented by the letter "B" in the graph. These low points have been followed by year-highs between May and October. The following table highlights some of the returns that could have been achieved over the last 5 years by buying Jamba in January and selling it during the summer months of that same year. Note that the selling prices are averages of the months where the stock would have been sold. They do not represent absolute highs. This methodology was used to avoid abnormally high returns that would require perfect timing.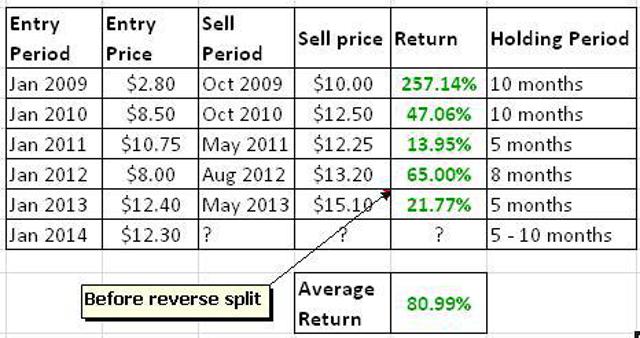 If you believe that history repeats itself, right now would be a great time to buy Jamba as the stock has pulled back from a year high of $17 this past June. I personally believe the stock has 30% to 50% upside within the next ten months based on this cyclical pattern and on improving fundamentals for the company.
Management appears to be on track to open another 60-80 new stores in 2014. This will represent a 10 % increase in total stores. Also, Jamba is planning to increase the number of JambaGO stations, which enjoy healthy margins and low overhead. The stations function basically as vending machines. The plan is to add another 1000 JambaGO locations in 2014 which represents an increase of 55% of machines this year. According to the Wall Street Journal, these expansions represent the largest expansion to date. If executed well, I believe this can be an important catalyst for the stock in the long-term.
Conclusion
Based on the previous analysis, I believe that Jamba, Inc. represents a good investment opportunity at its current price; keeping in mind the stock's seasonal pattern. Also, demand for healthy products is on the rise and Jamba is well positioned to do well in this segment. Despite a slight decrease in YOY revenue, Jamba is finally profitable and still growing fast as it continues to add new Jamba Juice and JambaGO locations worldwide. Finally, it is important to keep in mind that sustainable long-term gains will depend greatly on how well the company executes on its vision.
Disclosure: I have no positions in any stocks mentioned, but may initiate a long position in JMBA, over the next 72 hours. I wrote this article myself, and it expresses my own opinions. I am not receiving compensation for it (other than from Seeking Alpha). I have no business relationship with any company whose stock is mentioned in this article.