Apple (AAPL) is set to report Q1 2014 financial results after the bell on Monday, January 27, 2014. Analysts are expecting earnings per share of $14.08 on revenues of $57.42 billion, which represents year-over-year growth of 2% and 5%, respectively. In the past 3 months, these estimates have slowly moved up, as detailed by Bill Maurer's recent SA article. Although Q1 results are undoubtedly important, they will be backstage to the forecast that Tim Cook will give on the impact of the newly signed China Mobile deal.
Previously, I had published a meta-analysis on the sentiments of Apple authors and how that could be used to predict entry and exit points for trading Apple. Since that initial publication, the sentiment analysis has been updated and two additional signals were generated (see graph below). For clarity, I have drawn green and red lines to indicate buy and sell signals, respectively.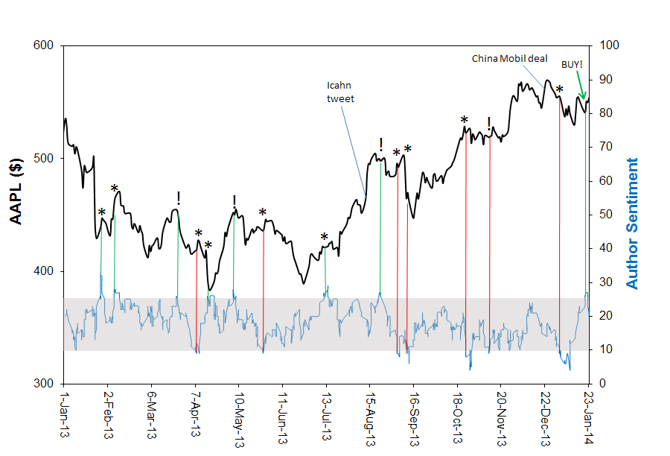 On January 2, a sell signal was observed when Apple was trading at $556. Traders could have sold at that point and bought back those share at $530 two weeks later. It appears that SA authors were not collectively upbeat on the China Mobile deal.
As Q1 2014 earnings release approaches, the sentiment quickly shifted and generated a buy signal on January 21. According to the data, the last time that such a rapid shift in sentiment occurred was on April 17, 2013, just days before Apple released Q3 2013 financial results and AAPL shares bottomed out. If this is any indication, we could see AAPL shares hit a new 52-week high in the coming months.
On the chart above, I have marked correct and wrong predictions with asterisks (*) and exclamation marks (!), respectively. Thus far, this method has 10 asterisks and 4 exclamation marks, which puts the probability of being correct at 71%. If you could win a coin flip 71% of the time, isn't that a bet that you would be willing to take? Buy Apple!
Disclosure: I have no positions in any stocks mentioned, but may initiate a long position in AAPL, over the next 72 hours. I wrote this article myself, and it expresses my own opinions. I am not receiving compensation for it (other than from Seeking Alpha). I have no business relationship with any company whose stock is mentioned in this article.