Antibody-drug conjugates [ADCs] have added a second dimension to the monoclonal antibody [mAb] treatment paradigm. ADCs can deliver a double whammy to cancer cells by blocking a receptor important to the cell, then after being delivered to the interior of the cell, release a toxic payload that destroys it. ADCs are gaining acceptance in the oncology community and are expected to become a major contributor to improved cancer therapy. SA author Peter Geschek has written an article about ADCs for investors that you can read here. You can read more technical material about ADCs in an article by Bethan Hughes here and one by Pamela Trail here.
At the clinicaltrials.gov website there are at least 13 companies with registered trials of ADCs. Of those, seven are large pharmaceuticals, and seven are publicly traded biopharmaceuticals: Amgen (NASDAQ:AMGN) ($89B), Astellas (OTCPK:ALPMF) ($28B), Celldex (NASDAQ:CLDX) ($2.2B), Immunogen (NASDAQ:IMGN) ($1.4B), Immunomedics (NASDAQ:IMMU) ($0.5B), Progenics (NASDAQ:PGNX) ($0.4B), and Seattle Genetics (NASDAQ:SGEN) ($5.8B) listed alphabetically with market cap. Of these six biopharmaceuticals, two are focused on the critical process of linking antibody to the drug: $1.4B Immunogen and $5.8B Seattle Genetics. ADC development has been rapidly growing and so has the 5-year market cap of these two companies: IMGN by 580%, and SGEN by 620% as of January 20.
The purpose of this article is to compare the ADCs marketed by both companies and their FDA approval status. Also, we will compare the drug pipelines, financial strength and manufacturing capabilities of these two companies that are engaged in the critical process of conjugating cancer-specific antibodies to cell-killing drugs.
Technology Platforms.
ImmunoGen: IMGN scientists have developed a family of linkers to conjugate humanized mAbs to highly potent drugs of the maytansinoid class [DMx]. One linking technology uses easily cleaved disulfide bonds. After the antibody portion of the ADC attaches to its surface target and gets the entire ADC inside the cell, the disulfide bonds are cleaved to release the DMx drug. Other ADCs such as in Kadcyla use a thioether linker that is non-cleavable, and the drug is only released after the ADC is digested in a cellular structure called a lysosome. IMGN's ADC design is patented as TAP or Targeted Antibody Payload. As of June 30, 2013, IMGN's patent portfolio had a total of 459 issued patents worldwide and 477 pending patent applications. These patents cover certain maytansinoid and other cell-killing agents, mAb-maytansinoid conjugates, and are expected to remain in force until after 2020. Patents on the composition matter of Kadcyla do not expire in the US and Europe until after 2023.
Seattle Genetics: To make ADCETRIS and some of its other ADCs, SGEN conjugates chimeric (derived from fused mouse and human gene fragments) mAbs to a highly potent drug of the auristatin class with a protease-cleavable dipeptide (valine and citrulline) linker. To make other ADCs, SGEN conjugates mAb engineered to have a specific number of cysteine molecules which can then through dipeptide linkers have the desired number of pyrrolobenzodiazepine [PBD] cell-killing drugs on each mAb. This design has been used in its anti-CD33 and anti-CD70 mAbs. SGEN's non-cleavable linker is maleimidocaproyl. This linker is used in some of its pipeline ADCs. For ADCETRIS and related ADC technology, SGEN has 27 issued patents expiring between 2014 and 2026 in the US and Europe. Of these 27 patents, SGEN own rights to sixteen patents eleven of which are exclusive. SGEN has 78 patents related to four ADCs in its pipeline.
Comparison: both companies can claim leadership in conjugating drugs to antibodies, and I am not in a position to differentiate between them.
Products on the market.
IMGN: in February 2013, Roche (OTCQX:RHHBY) received FDA approval to market Kadcyla for previously treated patients with metastatic breast cancer. Kadcyla is comprised of Roche's mAb Herceptin® trastuzumab and IMGN's DM1 cell-killing agent attached using thioether-engineered linker. In 2000 IMGN granted Genentech/Roche exclusive license to develop and commercialize ADCs using maytansinoid compounds DM1 and DM2 as the conjugated chemotherapeutic. IMGN received $2M upfront and is entitled to up to $44M in milestone payments plus royalties on sales of Kadcyla for at least 10 years. In its 2014Q1 report, IMGN recognized $2.1M in royalties on sales of Kadcyla for the 3-month period ending June 30, 2013. IMGN revenue is currently derived from fees, payments and royalties, and not directly from its own sales which is okay. Revenue from sources other than sales seemed to be a predictor of subsequent success among seven profitable biopharmaceutical companies with the highest 3- and 5-year earnings growth that I reviewed here.
SGEN: The lead product is ADCETRIS brentuximab vedotin. The mAb in ADCETRIS targets the tumor cell surface marker CD30. ADCETRIS received accelerated approval by the FDA in 2011 for patients with relapsed Hodgkin lymphoma or relapsed systemic anaplastic large cell lymphoma. The package insert indicates that the FDA approval for these indications was based on tumor response rate, and there are no data demonstrating improvement in patient reported outcomes or survival with ADCETRIS. If none is forthcoming, the approval could be withdrawn. ADCETRIS has been approved in 38 countries. SGEN sales of ADCETRIS generated $138M or 66% of revenue for 2012; for the first 9 months of 2013 sales were $106M or 53% of revenue.
Comparison: In the international phase 3 EMILIA trial, IMGN/Roche Kadcyla was found to improve survival in patients with HER2-positive metastatic breast cancer. This trial was published in the New England Journal of Medicine 3-months preceding FDA approval of Kadcyla. An accompanying editorial can be read here. Kadcyla ADC is gaining wide acceptance and will be used in many patients.
On the other hand, the FDA accelerated approval of SGEN ADCETRIS means the approval is conditional on post-marketing trials that demonstrate improved outcomes, not just tumor responsiveness. Pivotal Trials of ADCETRIS are showing survival in relapsed, previously transplanted patients with Hodgkin lymphoma is markedly better than for historical controls (median of 3.4 years vs 1.3 years). In a T-cell lymphoma called anaplastic large cell lymphoma, the historical survival has been 5.5 months. The estimated survival of relapsed patients treated with ADCETRIS is estimated at over 3 years. This data should allay some of the concerns of investors about the conditional status of the FDA approval of ADCETRIS for these indications.
A 2011 article entitled "Accelerated Approval of Oncology Products: The Food and Drug Administration Experience" can be accessed here. Of 35 products that received accelerated approval for 47 new cancer treatment indications, 26 had clinical benefit confirmed in post-approval clinical trials and were converted to regular approval. In post-marketing confirmatory trials, three of the drugs that received accelerated approval failed to show clinical benefit: amifostine was withdrawn for the indication given accelerated approval, ADC gemtuzumab ozogamicin was voluntarily withdrawn, and gefitinib use was greatly restricted. Knowing that the historical risk of failure after accelerated approval was three of 35 or 8.5% should also allay some of the investor concern about the conditional approval of ADECTRIS.
Pipeline.
IMGN: In addition to phase 3 trials to expand indications for Kadcyla, IMGN provides the linking technology for eight clinical trial drugs with five collaborators as shown in bottom rows of the first table. SAR3419 is an ADC in Phase 2 testing with SNY against the CD19 marker on diffuse large B-cell lymphoma. IMGN has two TAP in phase 1 trials with SNY, two others with Amgen, one with Biotest (OTC:BTTAY), and two with Bayer (OTCPK:BAYRY).
In addition, IMGN has four of its own TAP programs:
IMGN901 consists of surface marker CD56-targeting mAb attached with a disulfide liner to DM1, and has activity against small cell lung cancer or SCLC. IMGN901 is now being assessed for SCLS in the phase 2 NORTH Trial, in other CD56+ solid tumors [phase 1] and in myeloma [phase 1]. IMGN estimated there would be 22,800 new cases of SCLC in the US in 2013.
IMGN853 mAb targets folate receptor-1 [FOLR1] and delivers conjugated DM4 via the disulfide-containing cleavable linker sulfo-SPDB. IMGN853 is in phase 1 testing for ovarian and other folate receptor-1-positive solid tumors, many of which are common.
IMGN529 is a mAb that targets CD37 on non-Hodgkin lymphoma [NHL] cells, and is conjugated to DM1 by their thioether linker. IMGN529 is in phase 1. The estimated incidence of NHL in the US is 69,700.
IMGN289 mAb targets surface growth factor receptors and is conjugated to DM1 by a non-cleavable thioether linker. IMGN289 is in phase 1 trial for EGFR+ solid tumors including head and neck cancers with an estimated yearly incidence of 53,600 most of which are EGFR+, and non-SCLC with an estimated yearly incidence of 194,000 a large portion of which are EGFR+.
IMGN has nine preclinical TAP programs with various collaborators.
The number of personnel in research increased from 207 (total headcount 280) for year 2012 to 226 for the year ended 2013. Fifty-six hold doctoral degrees. $87M of R&D expenses were 245% of $35.5M of total revenue for FY2013.
SGEN: Seattle Genetics provides the linking technology for 12 clinical trials ADCs with six collaborators listed in the upper rows of the table below. ADCETRIS is in four phase 3 trials. SGEN has six phase 1 programs: SGEN-CD19A for acute lymphoblastic leukemia and non-Hodgkin lymphoma, SGEN-CD33A for acute myeloid leukemia, SGN-LIV1A for breast cancer, ASG-22ME for various solid tumors, ASG-15ME for urinary tract cancers. A phase 1 trial still in planning for SGN-CD70A.
As of year-end 2012, SGEN had 538 employees 365 of them in or in support of research. For the first nine months of 2013, SGEN spent on R&D as much as it did for entire 2012: $168M which was 83% of revenues.
Comparison: Both companies developing drugs that will benefit very large numbers of patients with cancers. The pipeline in clinical trials are listed - only for the most advanced trial for each drug - for the two companies in the figure below. SGEN pipeline is deeper.
| | | | | |
| --- | --- | --- | --- | --- |
| Sponsor | ADC partner | Phase 1 | Phase 2 | Phase 3 |
| Millenium | SGEN | | | ADCETRIS |
| Progenics | SGEN | | PSMA ADC | |
| Celldex | SGEN | | CDX011 | |
| Genentech | SGEN | | DCDT2980S/RG7593 | |
| Genentech | SGEN | | DCDS4501A/RG7596 | |
| Agensys | SGEN | AGS-15E | | |
| Agensys | SGEN | AGS-16C35 | | |
| Agensys | SGEN | ASG-5ME | | |
| OTCPK:ALPMY/SGEN | SGEN | ASG-5ME | | |
| Astellas | SGEN | AGS-22M6E/ASG-22CE | | |
| Genentech | SGEN | DEDN6526A/RG7636 | | |
| Genentech | SGEN | DMUC574A/RG7458 | | |
| Genentech | SGEN | DNIB0600A/RG7599 | | |
| Genentech | SGEN | DSTP3086/RG7450 | | |
| SGEN | SGEN | SGN-CD19A | | |
| SGEN | SGEN | SGN-CD33A | | |
| SGEN | SGEN | SGN-LIV1A | | |
| Genentech | IMGN | | | Kadcyla |
| Sanofi (OTCPK:SNYNF) | IMGN | | SAR3419 | |
| IMGN | IMGN | | IMGN901 | |
| Amgen | IMGN | AMG 595 | | |
| Amgen | IMGN | AMG 172 | | |
| Bayer | IMGN | BAY94-9343 | | |
| Bayer | IMGN | BAY 79-4620 | | |
| Biotest | IMGN | BT062 | | |
| IMGN | IMGN | IMGN853 | | |
| IMGN | IMGN | IMGN529 | | |
| IMGN | IMGN | IMGN289 | | |
| Sanofi | IMGN | SAR650984 | | |
| Sanofi | IMGN | SAR566658 | | |
Financial strength.
IMGN revenue declined from 2011 to 2012 then increased in for FY2013 to $35.5M which represented a 2-year increase of 184%. IMGN reported an FY2013 net loss of $72.8M or $0.87/share which was less than the losses of $73.3M or $0.95/share the prior year. Share count increased 14% from 2012 to 2013. As of September 30, 2013, IMGN net current asset value is $201-$92=$109M.
SGEN yearly revenue increased 37% for the period ending September 2013. For the same period the prior year, revenue increased 320% from to $146.9M from $45.9M which represented a 2-year increase of 440%. SGEN reported a $46.8M loss or $0.39/share for the 9 month period ending September 30, 2013, which was about 8% greater than the loss for the same period a year earlier. Share count increased only 2% to 122.4M on September 30, 2013 from 119.7 at year's end 2012. Net current asset value as of September 2013 was $435M-$243.3M=$191.8M.
Comparison: Revenue for SGEN surged in 2012 due to ADCETRIS sales. By comparison, revenue for IMGN just began to accrue royalties from KADCYLA in 2013Q3. A comparison is best appreciated graphically.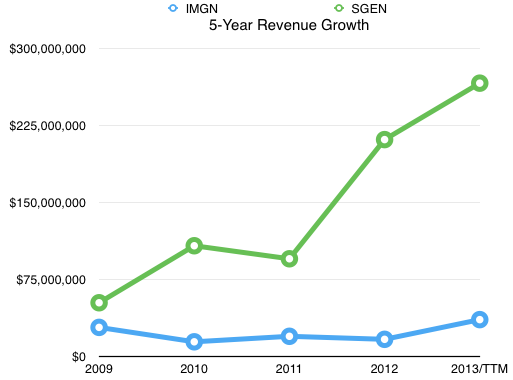 In addition, SGEN share count has increased less, and its net current asset value is greater.
Manufacturing capabilities.
IMGN signed a lease in 2007 for 89,000 square feet of laboratory and office space, and increased space by 43,850 and 7,507 square feet in March and April of 2013. IMGN has only $10M of PP&E or 5% of total assets. IMGN operates a conjugate manufacturing facility but is not currently in a position to manufacture its own drugs on a commercial scale. IMGN relies on contract manufacturing organizations to provide both antibodies and the chemotherapy drugs to which they are linked.
SGEN leases three buildings totaling approximately 195,000 square feet of office space that we use for laboratory, R&D, SG&A. SGEN has $37.2M of PP&E or 7.8% of total assets. SGEN depends on Takeda to manufacture ADCETRIS.
Comparison: neither of these two companies is asset heavy, and both depend on partners for commercial manufacturing. I believe the lack of manufacturing on a commercial scale imposes some constraint on the earnings growth and profitability of both companies. That belief is based on my prior observation that six of seven profitable biopharmaceutical companies with the highest 3- and 5-year earnings growth had organic, commercial scale manufacturing capability. That article is found here.
Valuations. Despite much greater 5-year revenue growth for SGEN, its market cap growth of 525% through September 2013 was less than the 607% 5-year market cap growth for IMGN (source: Ycharts.com).

Market cap:revenue ratios (or P/S) are 22 for SGEN and 28 for IMGN compared to a median P/S of about 27 for the 273 Biotechs listed in my stock screener. A P/S of 22 for SGEN is thus lower than the industry median, and comparable to biopharmaceuticals with similar, consistent revenue growth: 19 for Alexion (NASDAQ:ALXN), 30 for Halozyme (NASDAQ:HALO), and 24 for Incyte (NASDAQ:INCY). I believe price appreciation for SGEN has been constrained by concerns about the conditional approval status of ADCETRIS. I believe the pivotal trial data and the track record for other products with accelerated approvals should allay those concerns.
CONCLUSION: IMGN revenue will accelerate on royalties from Roche sales of Kadcyla. At a market cap of $1.4B and P/S of 27, its valuations are reasonable. I considered the risk:reward as favorable in the short-term, and even better in the long-term because of the acceptance of ADCs, Kadcyla in particular, by the oncology community. I became a long-term shareholder last week. SGEN revenue surged 2 years ago on sales of ADCETRIS. Its market cap of $5.8B is 4x that of IMGN, but it should be even higher given its 5-year revenue growth of 57% per annum compared to -2% for IMGN. I believe SGEN share price has been constrained by concerns over the approval status of ADCETRIS. I acted on that belief and became a shareholder just before submitting this article.
Disclosure: I am long IMGN, SGEN. I wrote this article myself, and it expresses my own opinions. I am not receiving compensation for it (other than from Seeking Alpha). I have no business relationship with any company whose stock is mentioned in this article.