I woke up yesterday morning expecting the futures to be heavily red with a bad report from Research in Motion (RIMM) Wednesday afternoon and even worse reaction to said report. The market, just hanging out up here, looked vulnerable to getting smacked hard and all at once. So instead of the obvious, I woke up to the futures flying.
The market opened extremely strong with energy and materials leading the way, but the clamps were quickly placed on the market as RIMM began to tank ().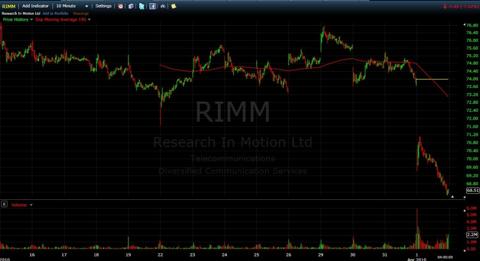 Although RIMM is only a little more than 2% of the QQQQ, it still weighs heavily on investors minds for some odd reason. It's not really a bell weather stock anymore, it's growth has slowed considerably due to its inability to innovate. Apple (NASDAQ:AAPL) on the other hand is more than 16% of the Qs, 16!, while no other stock is greater than 4.5%. How this is the case I have no clue, but it's true, which means that Apple really is the Qs ().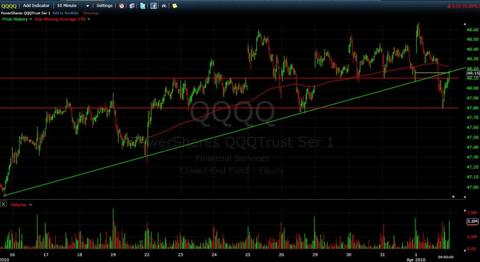 And because of RIMM, the QQQQ broke some important levels yesterday, ultimately closing flat. Technical damage was done though with the uptrend broken and the 48.10 level breached. There is major distribution going on here no doubt, the question is, will energy, materials, and financials be able to hold this market together while tech lags?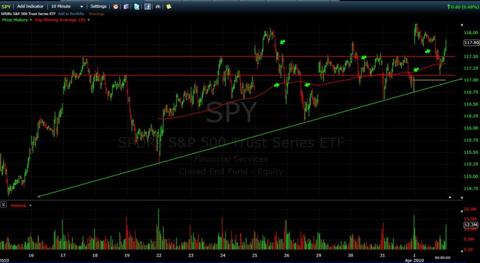 Each of those 6 green arrows (click on chart above to enlarge) represents a major bout of selling and distribution. The SPY did manage to hold the support level at 117.10 yesterday and did recapture the all important 117.50 level into the close, as well as holding the uptrend line. Technically the broader S&P 500 is still healthy short term and looks to go higher next week.
I loaded the boat yesterday morning at around 11:30 after the first pullback, buying a large position in Dril-Quip (NYSE:DRQ), more Nu Skin (NYSE:NUS), and a position in gasoline via UGA. By the end of the day all three were well in the green, especially DRQ which landed me greater than 3%. I've been wanting a piece of that stock for a long time. I did sell a 1/4 of my Volterra (NASDAQ:VLTR) position which broke out huge this morning.
I may be a little bit more paranoid than is warranted here because I am completely loaded, 2% cash now, but my guard is up for a quick strike on this market by equity holders with big gains to protect like myself. If next Monday opens strong this market should be clear for 1200, if we open weak, especially in tech, I may begin to lighten up.