Introduction
2013 was a great year for U.S. small-cap investors as the S&P 600 and the Russell 2000 up 40% and 37% respectfully. However, the concern here is if the U.S. stock market is currently overvalued. A recent Wall Street Journal article reported that portfolio managers have had a hard time finding bargains. Additionally, Nobel Prize laureate Robert Shiller warned of the U.S. equity market bubble a few weeks ago. I believe that investors should seriously reconsider their strategies as Professor Shiller and professional managers are concerned about the valuation.
The Hunt for Value
Many investors may be trying to look for the perfect fund or index that can offer sufficient value forever. Because the market runs in cycles and people are emotional, I believe there wouldn't be a particular index or a fixed set of stocks that can offer enough value indefinitely. I will illustrate my view with the magic investment style box.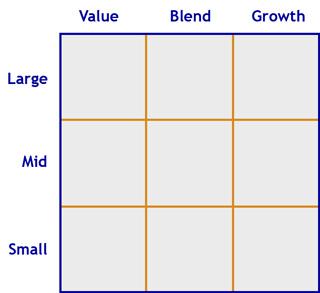 For investors who are looking for optimal returns, they should always prefer a portfolio with small-cap value stocks. However, when stock prices grow exponentially and fundamentals improve linearly, the same portfolio would become large-cap growth style. In the real world, index constructors and portfolio managers could always find replacements to meet the size requirement. But if the entire market's valuation becomes elevated, the style would inevitably shift to the right, no matter how the index or portfolio is ranked or weighted. I believe this is what is happening to the market right now. Buying the same index at a different valuation could mean tremendous differences in terms of returns. One extreme example is to buy the Nasdaq Composite at 2000's peak when its price/earnings ratio was as high as 200.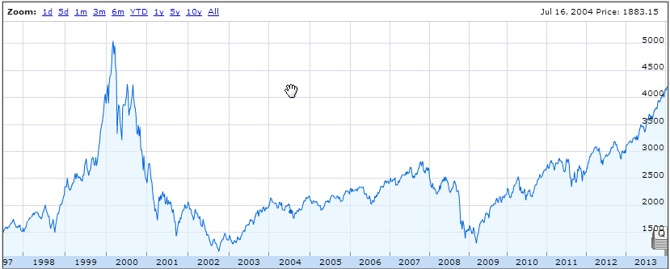 Source: Google Finance
If investors bought the index at that time, they would still record a loss even after 14 years. On the flip side, investors would be able to reap 220% gain over past 11 years if they bought into the same index when the valuation had come down to earth in 2003. In my opinion, it is better to look beyond the borders as the U.S. equity market is no longer cheap.
Why Europe?
As the U.S. economy gains traction and the Fed scales back assets purchases, the consensus is that the U.S. dollar is likely to rise in the next a few years. Therefore, it should be the start of a new dollar bullish cycle.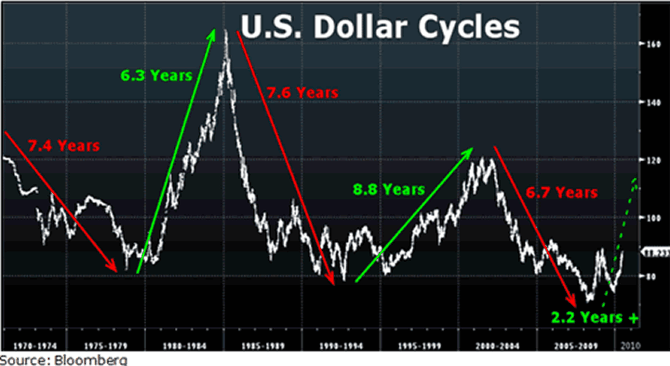 Generally speaking, emerging markets are not great places to invest in the beginning phase of a dollar bullish cycle. Capital outflow combined with falling commodity prices would usually put mounting pressure on these countries.
Source: Barchart.com
Back in 1997, the Asian financial crisis was triggered when the dollar started to rise and capital withdrew from this region. One year later, the all-star Long-Term Capital Management's failure as the result of its wrongful bet on Russia shocked the financial markets momentarily. Of course, emerging economies are much better prepared than 17 years ago; the BRICS countries even set up a $100 billion FX Fund in response to the Fed policies. I believe that is not very likely to have a massive scale of crisis this time. However, if indeed there is a crisis, it is likely to happen in China. China's unsustainable growth model that heavily relies on debt growth would eventually come to a end. The recent spikes of China's Shibor seem very similar to the spikes of Libor in 2007 in my opinion. Being aware of the potential danger, Mr. Market comfortably labels 80% of Chinese large banks below their book value. In my view, emerging markets overall will stay sidelined for another year or two. When the developed world becomes fully valued and the situations in emerging markets become stabilized, there will be massive bottom fishing opportunities.
Japan had a strong year, as the Nikkei was up 57%. Unlike the United States stock market where most of gains were from multiples expansion, Japanese market's gains were mainly from earnings growth due to margin expansions. If Japanese economy can be successfully jump started by Abenomics and absorb the shock from the 3% sales tax increase, Japanese stocks, especially small-cap stocks, can be a powerful candidate for investors' portfolio later this year.
Europe is in much better shape now. As borrow costs for Italy and Spain are drifting lower, there is no imminent threat for a debt crisis in this region.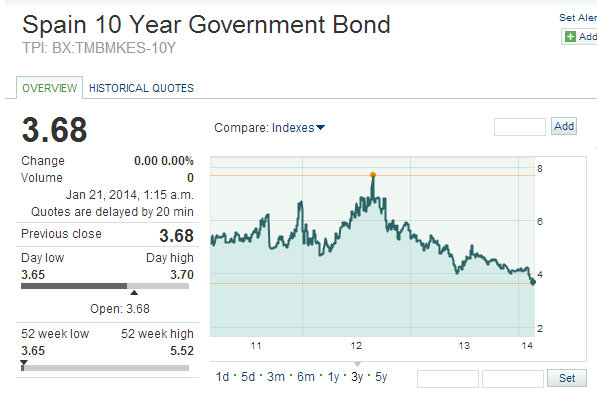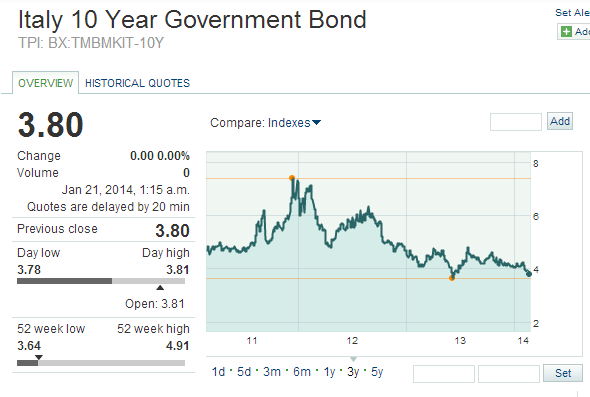 Source: MarketWatch
One of the PIIGS countries, Ireland, recently received investment grade from Moody's, which is another encouraging sign for Europe's outlook. On the GDP side, many of the important European economies are expecting better growth this year.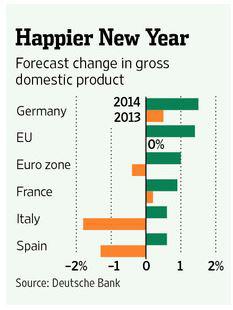 In my opinion, Europe is one of the only places that investors can comfortably buy right now. I believe small-cap stocks is best positioned to take advantage of the trend.
Why DFE?
I believe WisdomTree Investments (NASDAQ:WETF) has the answer for investors.
The WisdomTree Europe SmallCap Dividend Fund (NYSEARCA:DFE) is the only overall Europe small-cap ETF available for American investors; so I would just go ahead and explore it.
DFE is tracking the WisdomTree's proprietary WisdomTree Europe Smallcap Dividend Index.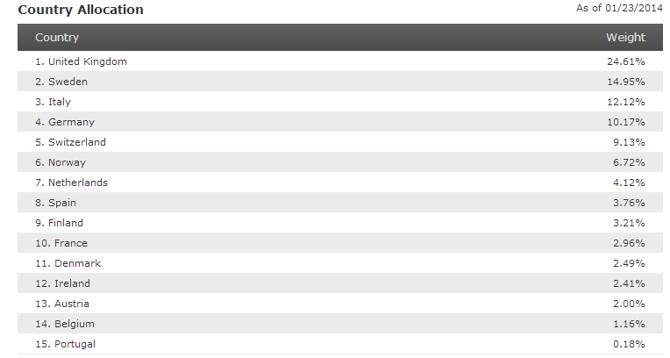 In terms of country allocation, DFE has about 19% weight on PIIGS countries. The other allocation is mainly from the U.K., Germany and Nordic countries.

In terms of sector breakdown, DFE has about 83% in cyclical sectors, which is the right theme for recovery.
Next I would compare valuation between DFE and the two major U.S. small-cap indices.
| | | | |
| --- | --- | --- | --- |
| | WisdomTree Europe Small Cap dividend index | Russell 2000 | S&P 600 |
| Price/Earnings | 27.30 | 33.6 | 28 |
| Price/book | 1.75 | 2.4 | 2.3 |
As shown in the table, European small caps are trading at a 25% discount to their American counterparts in terms of the P/B ratio. As the European economy begins to recover, I believe it is just the beginning of the earnings cycle for Europe. Therefore, European small-cap stocks are more attractive in terms of valuation. Additionally, DFE's 2.3% dividend is another bonus for investors.

Europe small-cap stocks' outperformance actually started from the second half of 2013. I believe this trend should continue well into 2014.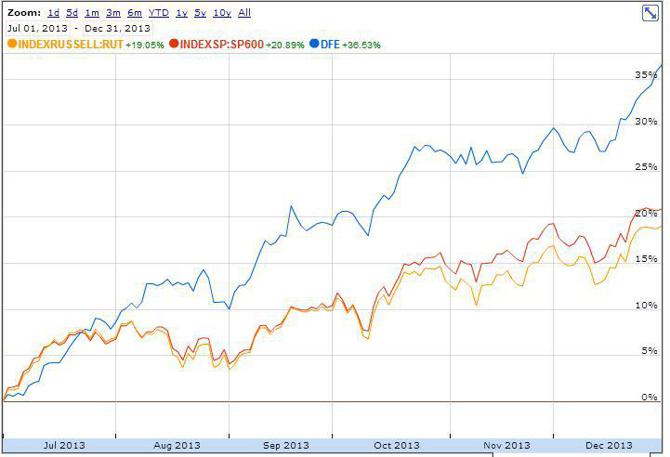 Final Thoughts
As the U.S. possesses higher growth and Europe has better value, I believe both markets should offer upsides in 2014. As always, I am more inclined to the value. Can value beat growth this time around? We will see by the end of year.
Disclosure: I am long DFE, WETF. I wrote this article myself, and it expresses my own opinions. I am not receiving compensation for it (other than from Seeking Alpha). I have no business relationship with any company whose stock is mentioned in this article.