AT&T (T) finally decided to waive off service contracts and switch to its Next early upgrade plan, which allows users to upgrade their phones after six months, whereas earlier they had to wait for completion of a contract to switch. The users can also move to Mobile Share Value plans, which the company launched last month, allowing them to use more data and reduce their mobile expenses. Although these plans are meant to save users money each month, users actually end up paying more because they will have to pay the full price of the phone (in case of BYOD); before, they paid a subsidized price.
The trend of service-contract waivers was started by T-Mobile (TMUS) through its Un-carrier strategy last year to acquire customers from other subscribers. Since then almost every carrier has adopted this model to entice users towards its network. This week Verizon (VZ) allowed customers to upgrade to a new phone in just 30 days provided they pay half the phone's price. Offering early upgrades and cheaper plans shows that AT&T is gearing itself for the competition from other mobile carriers. This move by AT&T was necessary to counter T-Mobile, which was offering cheaper plans with unlimited data.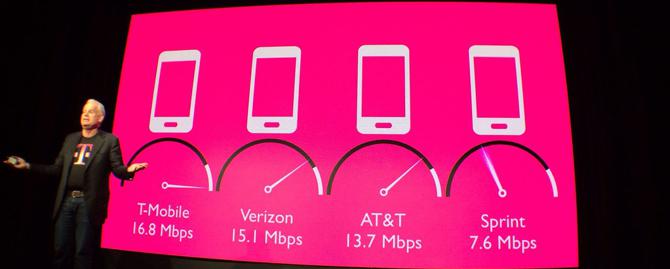 (Source: slashgear) (Source: CIRP)
In the CES 2014, T-Mobile demonstrated it has on average faster speed than the top three carriers in the U.S. T-Mobile's efforts are paying off as it had the highest customer-base growth among the four largest carriers at 8% in the fourth quarter of 2013. Regarding customer retention, AT&T leads the market with more than 90%. AT&T's decision to be more aggressive on pricing and upgrade plans is a positive move and will pressure Verizon and Sprint (S) to respond as well. After coming on par with other carriers in price, AT&T will hold an edge as users look toward network quality. AT&T has superior network coverage compared to T-Mobile, and this will be a differentiating factor.
Growing demand of connectivity in cars
AT&T has struck a multi-year exclusive deal with Tesla (TSLA) to provide high-speed wireless connectivity in all current and future Tesla vehicles in North America. AT&T will provide Tesla with engine diagnostics and all the latest features such as Internet Radio, Web browsing , live traffic, weather, etc. The announcement was made a day after AT&T also signed agreements with Audi and Chevrolet to offer 4G LTE connectivity in certain models. Audi will become the first automaker to offer customers AT&T's Mobile Share Data plan, which will be available in Audi A3 sedans in 2015. Apart from offering infotainment services, passengers will also be able to connect their mobile devices through the Wi-Fi hotspot created in vehicles.
AT&T is not the only one lured by the emerging demand of Internet connectivity in cars. Verizon has also signed a partnership with Hyundai to provide wireless connectivity and connected services such as safety, security, and infotainment. This service will be available from 2015 car models and will use 3G technology initially before eventually shifting to 4G. Verizon acquired Hughes Telematics in 2012 to enhance its automotive capabilities and transportation connectivity, and with the help of Hughes' technology the company hopes to partner with more automakers.

(Source: Audi)
The concept of "connected cars" is getting popular as automakers are partnering with service providers to equip vehicles with high-speed Internet. In December, 39% of car buyers indicated in-vehicle technology (connected cars) to be their top selling point, while only 14% of car buyers indicated speed and power as top selling points. This technology has now become the distinguishing factor among automakers. As a telematics (technology for conveying information over networks) leader, AT&T is leading the initiative with AT&T Drive and AT&T Drive Studio. AT&T Drive is a connected car platform, which allows automakers to add service and features in their vehicles. Drive Studio is a 5,000-square-foot facility, where automakers can bring vehicles to test AT&T's wireless features and services. The connected-car business is a lucrative opportunity and could generate additional revenue for the company, especially when competition is heating up in its core business. AT&T Drive platform and Studio show that it is aiming not only to provide wireless connection in cars but also tap into the business of offering managed services.
Bottom line
AT&T is yet to announce fourth-quarter results, but it has disclosed it will record a non-cash pre-tax gain of $7.6 billion due to a change in assumption related to pensions. In the last three quarters, the company has seen an improvement in customer trends due to its investment in its wireless networks. AT&T's new upgrade initiatives and pricing plans could help with the ongoing price war in the industry and allow it to add a larger share of price-sensitive customers.
Disclosure: I have no positions in any stocks mentioned, and no plans to initiate any positions within the next 72 hours. I wrote this article myself, and it expresses my own opinions. I am not receiving compensation for it (other than from Seeking Alpha). I have no business relationship with any company whose stock is mentioned in this article.