On TSMC's (NYSE:TSM) most recent earnings call, Co-CEO Mark Liu had the following to say with respect to the company's upcoming 10-nanometer process:
And so in the summary, our 10 FinFET technology will be qualified by the end of 2015. 10 FinFET transistor will be our third-generation FinFET transistor. This technology will come with industry's leading performance and density.
Now, what's interesting is that TSMC's management tried to convince investors that it would have a 10-nanometer process ready to go around the same time that Intel (NASDAQ:INTC) would have its own 10-nanometer process. Intel, of course, promised that 10-nanometer would be ready for high volume production by the end of 2015, as shown here: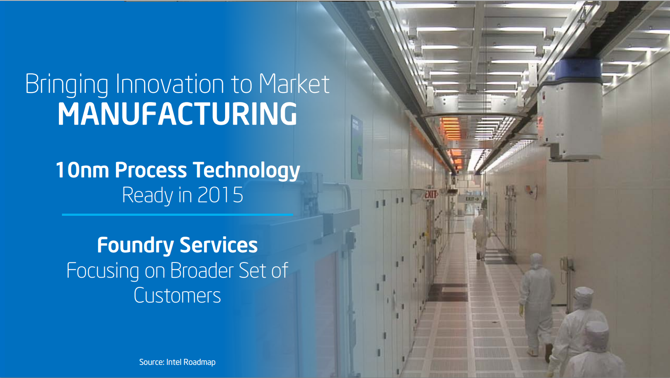 Now, with TSMC claiming that its 10-nanometer process would be "qualified" by the end of 2015, one would think that investors would see Intel and TSMC generating revenues from 10-nanometers at roughly the same time, right?
Well, no. Intel and TSMC have wildly different definitions.
Read/Listen Very Carefully
In a recent EETimes article that went ahead and talked all about TSMC's next generation process technology, TSMC CTO Jack Sun had the following to say about the 10-nanometer node:
The good news is TSMC believes it can offer the full advantages of a new process node with a 10nm FinFET process, including a doubling in the density of logic gates relative to the 16nm node. Designers could start early work in the 10nm process before the end of 2015, Sun said.
Now, compare this to what Intel's manufacturing GM, Bill Holt, had to say at Intel's Nov. 21 analyst day (view the whole presentation here). Essentially, he claimed that Intel's product teams were already beginning to be designed on the 10-nanometer node (the next generation Core product on 10-nanometer is known as "Cannonlake") and that the company already had a test chip in-house.
So, while TSMC is claiming that "10-nanometer will be qualified by the end of 2015", what this really means is that its customers can begin designing products on the 10-nanometer node. This is in stark contrast to Intel which is designing next generation 10-nanometer parts now. Intel is very clearly ahead at 10-nanometer.
Conclusion
While TSMC is the world's leading foundry, be very careful to read between the lines. Intel, no doubt, has a manufacturing lead over TSMC and the rest of the industry, and it's clear that TSMC and its customers are very afraid of Intel actually fully utilizing this technology for mobile products. At 22-nanometer, Intel was late to the party and its designs still needed some work, but if Intel can actually deliver at 14-nanometer, then the landscape will rapidly begin to change. If Intel also delivers 10-nanometer parts in volume by the beginning of 2016 (since 10-nanometer is claimed to go into high volume production during Q4 2015), then it's going to get exceptionally tough for Intel's competitors to really compete longer term.
It all rests on Intel's product definition teams now. The transistor lead is in place, the density lead imminent, but it's still not clear if the product team can get world-class products out on-time and on-target. My bet is that at 14-nanometer "Broxton" will finally show us what Intel can do, but as always, time will tell.
Disclosure: I am long INTC. I wrote this article myself, and it expresses my own opinions. I am not receiving compensation for it (other than from Seeking Alpha). I have no business relationship with any company whose stock is mentioned in this article.