On January 23, 2014, Union Pacific Corporation (NYSE:UNP) provided their fourth quarter and year-end earnings report. The information below is meant to illustrate how the company's financial and operating trends have adjusted based on the initial released information. All year-to-date, or YTD, information assumes Union Pacific's closing stock price of $171.64/share as of January 24, 2014. Please refer to the Seeking Alpha transcript for this report for additional information.
Union Pacific's peer earnings announcement comparison to date:
STOCK PRICE PERFORMANCE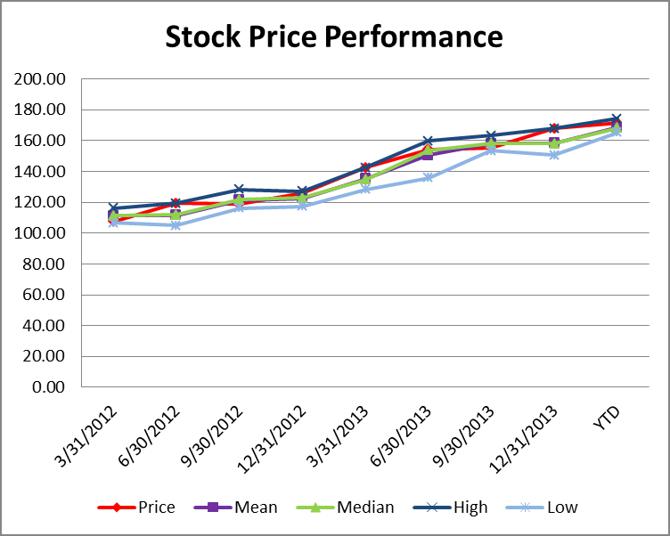 Union Pacific's stock price has closed near the quarter-end high four out of the past nine times. The company's stock price has closed near or above the mean and median all but one time during the same period. Since the earnings announcement, the stock was able to buck the market's negative trend this past Thursday with a strong gain. And on Friday, the company's stock price was one of the least impacted when compared to its rail peers. It is also worth mentioning that in the case of Union Pacific, we can tell from the performance chart above that the company has traded in a much more narrow range compared to CSX and Norfolk Southern.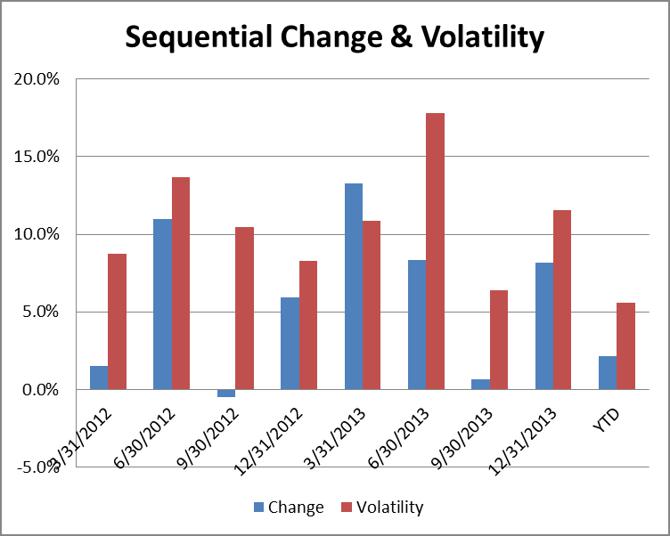 Union Pacific has continued to generate very positive and stable stock price growth over the past two years. The 2013 fourth quarter provided excellent top and bottom-line growth for a company of Union Pacific's scale. On a quarter-over-quarter basis, stock price change has declined only one time out of the past eight full quarters. Volatility (expressed as the difference between the high and low stock prices for the quarter) has remained at over 10% five times out of the time period. The company has topped 15% volatility only once. This table clearly displays the distinction that Union Pacific has outperformed both CSX and Norfolk Southern during this period with stock appreciation and achieved this result with less volatility.
REVENUE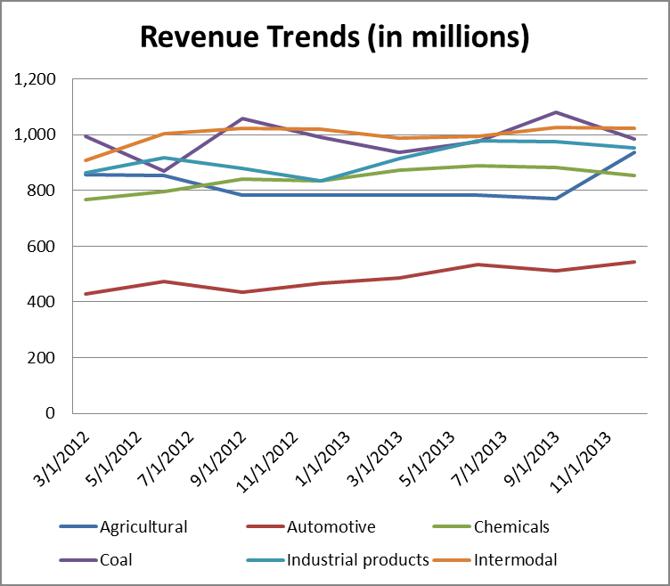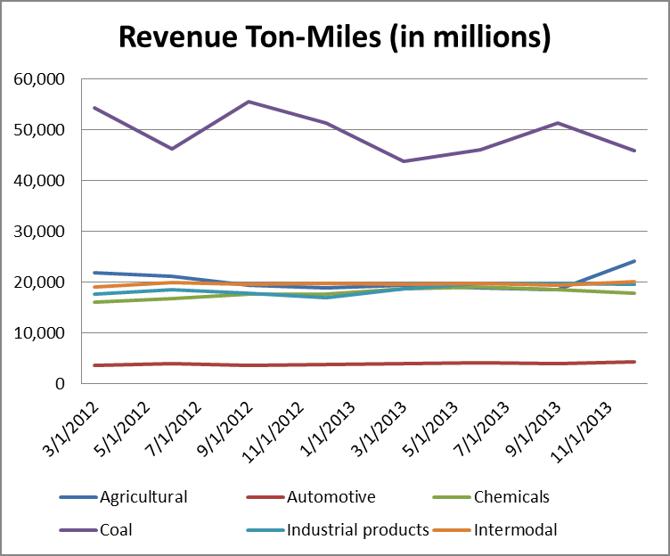 The trend for Union Pacific's revenue has been negatively impacted by reduced coal volumes and pricing issues similarly as both CSX and Norfolk Southern. However, the company significantly has outperformed these peers via coal revenue and revenue ton-miles. On the positive side, Union Pacific has maintained stable trends for intermodal, industrial, and chemicals segments, while both agricultural and automotive segments have moved higher.
When considering coal revenue for Union Pacific as a percentage of total revenue, the company is the first to have a freight transport category, intermodal, outperform coal (by 4%). Additionally, coal only reflects 3% more revenue than industrial products, 5% more revenue than agricultural, and 15% more revenue than chemicals; and reflects nearly 16% of total freight revenues on a trailing twelve-month, or TTM, basis.
Management's statements related to the fourth quarter coal weaknesses included the following:
"Coal revenue declined 1%. Fourth quarter volume was down 10%, which was mostly offset by a 10% improvement in average revenue per car. You can see from the chart of weekly carloadings that unseasonably early snow impacted shipments from the Southern Powder River Basin in October, with the tonnage down 12% for the fourth quarter. River infrastructure projects and low water levels on the Ohio River curtailed barge traffic at St. Louis, which also reduced shipments. Also contributing to the decline were inventory management initiatives by select utilities and the continued impact of a contract lost from the beginning of the year. Despite growth in West Coast exports, Colorado/Utah tonnage declined 10% based on soft domestic demand and mine production issues."

"Providing some good news, tonnage from other coal-producing regions increased 10% from a relatively small base, driven by gains from Southern Wyoming and other regions."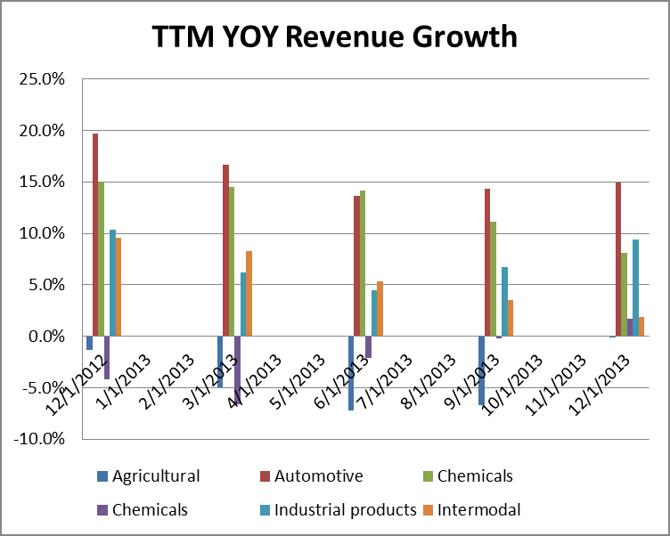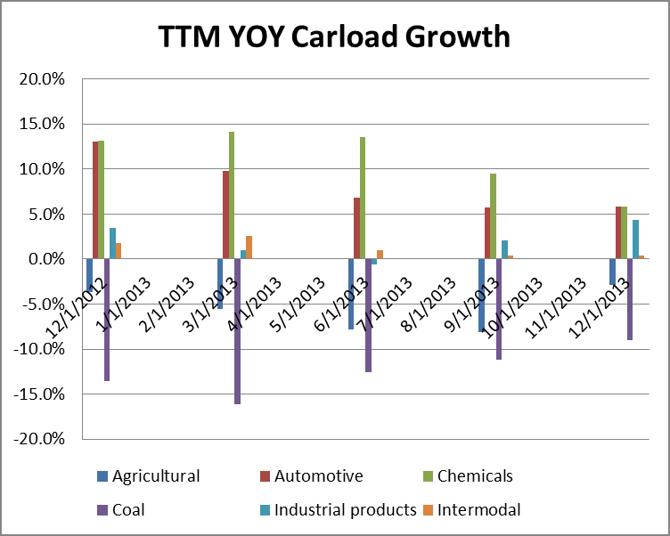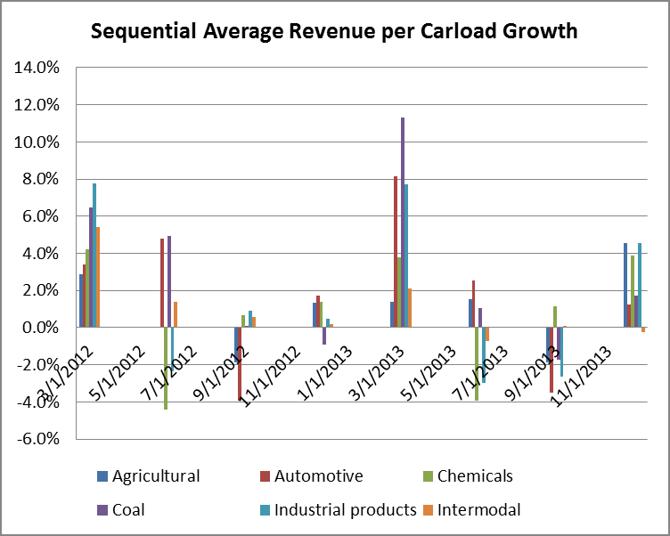 The tables above provide a break-down of TTM year-over-year, or YOY, revenue growth and similar information for carload growth. Carload growth is synonymous with unit growth and encompasses the number of railcars moving merchandise (agricultural, automotive, chemicals, industrial products), coal, and intermodal containers for a particular period. Trends from the fourth quarter point to stable carload demand for both automotive and chemicals and an increase in industrial products, and an improving decline rate for both agricultural and coal. When combining Union Pacific's equivalent merchandise categories, the company is in-line with CSX and Norfolk Southern. On the revenue side, Union Pacific is the first reporting rail company to achieve positive coal revenue growth at year-end. Pricing also appeared to be very strong at year-end. Management provided key guidance for 2014 expectations for core revenue categories:
"Automotive manufacturers expect sales growth to continue, and Global Insight has raised its full year light vehicle sales estimate to 16 million vehicles. This should be good news for our finished vehicles and auto parts business. Crude oil spreads, a growing Gulf crude supply and increased pipeline activity are expected to have a continued impact on our crude-by-rail volumes. Most other chemicals markets should remain solid."

"Turning to Coal. The previously mentioned legacy contract loss will impact volumes, but low inventory levels and increased exports should help offset this. Volume growth for the year will depend on weather conditions, economic activity and natural gas prices. Industrial Products should continue to benefit from shale-related activity, with increased drilling supporting growth in frac sand and pipe shipments. Housing starts are projected to exceed 1 million units for the first time since 2007, which is expected to demand -- drive demand for lumber shipments. Increases in commercial construction are expected to support growth in rock, metals and other highway-related markets."

"Highway conversion should continue to drive growth in Domestic Intermodal. International Intermodal may be challenged in the first quarter by a difficult comparison to 2013, but an improving economy and strengthening housing market should keep International Intermodal ahead of last year."
Overall, Union Pacific's diversified franchise seems well positioned to continue 2013's success into this year. The company has significant connections with Mexico via land port of entries and this is expected to be a strong driver for growth. In a stable economic environment, the company expects to deliver profitable revenue growth yet again in 2014, driven by modest volume and core pricing gains.
OPERATING PERFORMANCE AND EFFICIENCY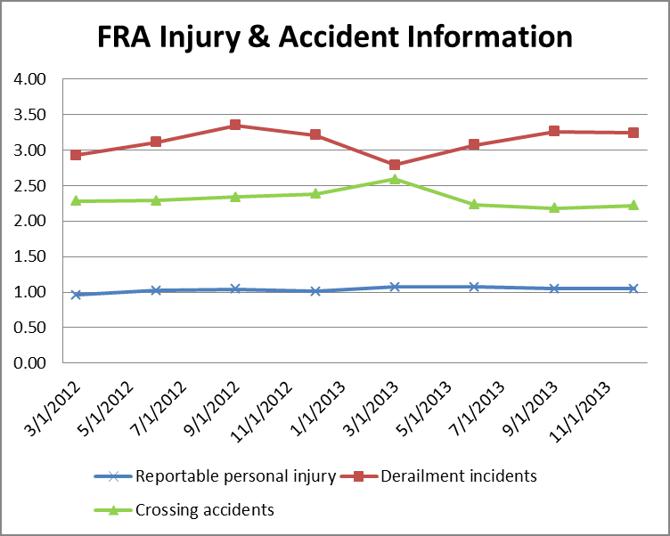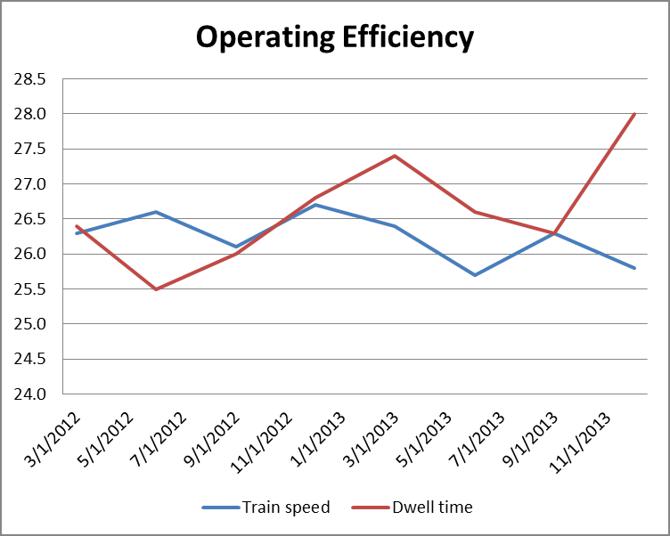 Personal injury, derailment incidents, and crossing accidents are reported on a first quarter, first half year, nine month year, and annual basis for each respective period. The chart above should be compared only on a YOY basis. Personal injury and derailment incidents displayed YOY increases while crossing accident rates declined. Management stated that the increase in train accidents was related to switching and storm-related occurrences in the year. Management also provided the following personal injury update:
"Not shown is the number of severe injuries, which declined to a new record low. We focus our attention on risk and severity because these injuries have the greatest human and financial impact. Our goal is for every employee to return home safely after every shift, and we will get there using a robust safety strategy that includes the Courage to Care, Total Safety Culture and risk identification and mitigation."
Operating efficiency has taken a turn for the worse in the fourth quarter. Both train speed and dwell times are at or near two-year lows and highs respectively. It appears that Union Pacific had more issues than Norfolk Southern from an operational standpoint, and performed more similarly to CSX. Weather played a significant factor in this as expressed management:
"Our safety strategy helps keep our network strong and resilient, particularly in the face of recent winter weather challenges. Recall that in October, a winter blizzard in Wyoming severely impacted shipments out of the Powder River Basin. In early December, we were hit with the most severe winter weather interruption in the past 7 years. The storm covered 2/3 of our network and generated a 33% increase in the number of days with major service interruptions during the quarter. As a result, average train speed declined 3% in the fourth quarter compared to 2012 but remained within a solid service range. These weather interruptions also drove a decline in our Service Delivery Index."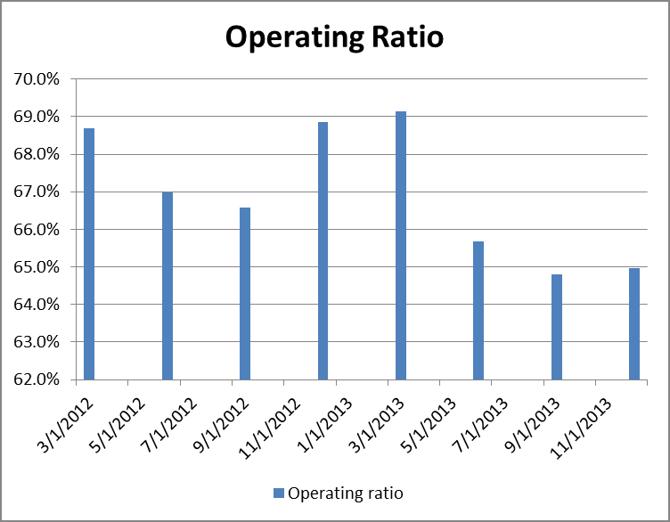 Union Pacific was able to maintain its operating ratio below the 65% mark for the second consecutive quarter. The company is second to only Canadian National Railway (NYSE:CNI) in this category. Management provided the following commentary regarding some of its operational efficiencies:
"We efficiently handled the volume growth across each region of our network, effectively utilizing our workforce. We leveraged growing manifest volumes within UP's existing terminal infrastructure, as reflected by an improvement in car switch per employee day. The improvement was particularly evident in our southern region, where car switch per employee day increased 5%. These productivity gains were generated by our men and women in the field as they leveraged their expertise to improve safety, service and efficiency using the UP Way."
CASH FLOW AND DIVIDENDS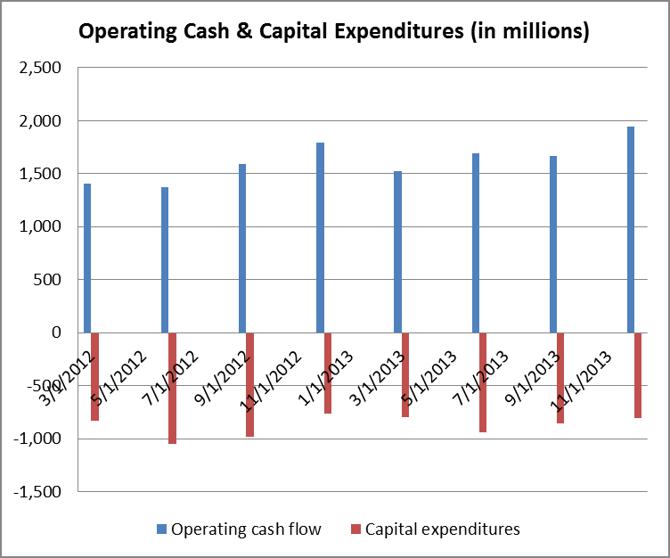 From this chart we can clearly see that Union Pacific substantially generates sufficient operating cash flow to cover all of its capital expenditures. The company has averaged generating between $600 million and $1 billion more operating cash flow over the previous six consecutive quarters.
The company stated the following for its 2013 project investments and 2014 capital budget:
"Major projects included are $400 million investment in our Santa Teresa, New Mexico facility and more than $200 million of capacity work in the South to support our diverse and growing book of business in that region. In addition, we invested another $420 million in Positive Train Control during the year, bringing our cumulative PTC investment to $1.2 billion of our estimated $2 billion projected spend."

"For 2014, our plan will likely exceed last year's spending. We'll continue to make capacity investments in our southern region while also advancing capacity projects across other parts of our network. Although some buckets will fluctuate year-over-year, our core investment thesis will not, which is to maintain a safe, strong and resilient network and invest in service growth and productivity projects that meet our aggressive return thresholds."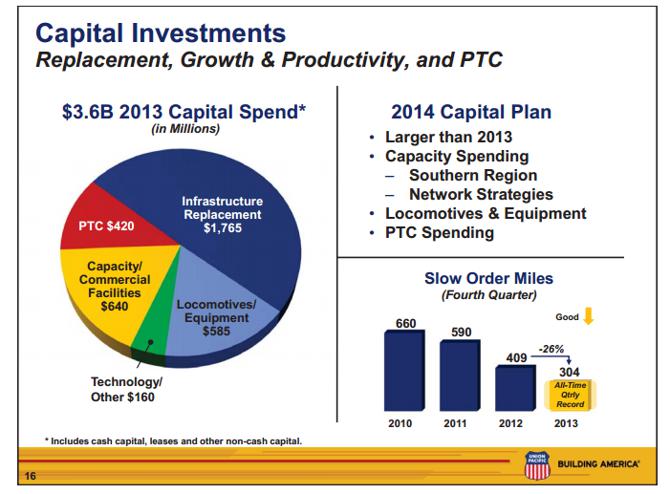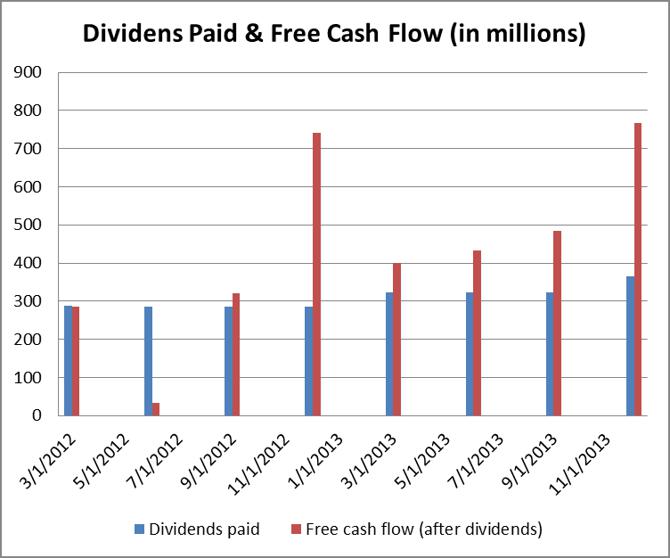 After paying out dividends, Union Pacific is the first reporting company to generate free cash flow during every quarter during the time period. The fourth quarter was a record as the company generated nearly $775 million in free cash flow.
Management did caution regarding cash flow headwinds for 2014:
"Taking a closer look at 2014, we will not see the benefit of bonus depreciation. In fact, we'll see a headwind to free cash flow of about $400 million due to tax payments associated with prior year programs. However, we don't expect this to impact our cash allocation strategy or our ability to grow shareholder returns."
In 2012 Union Pacific increased their quarterly dividend by 15%. For 2013 it was raised an additional 14.5%. The company has stated that it has moved up its targeted dividend payout ratio range between 30 and 35%.
The current TTM dividend payout ratio for Union Pacific is at 30%, which has been the average over the past couple of years. Union Pacific has consistently been at a competitive low-level for this category.
BROAD MEASURES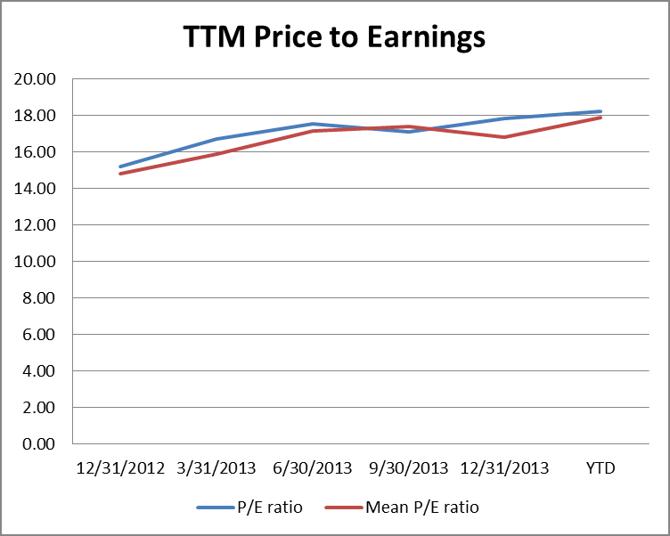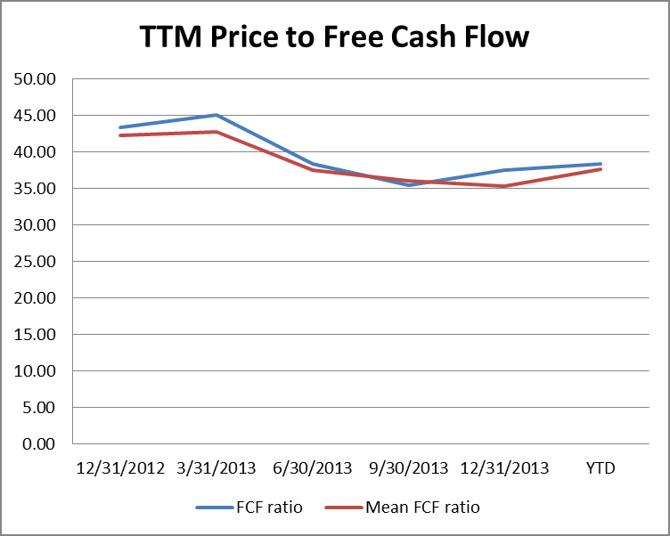 Over the past two years, Union Pacific's stock price has traded at a premium to both CSX and Norfolk Southern. The company's trend has involved its stock price usually trading at a premium to the mean, and coming back to parity as earnings improve. Union Pacific has been able to outperform these two peers in both top-line and bottom-line growth over the past few years and is most likely going to trade around the 17-18 P/E level as fair value. The P/FCF ratio displays a similar pattern when compared to the mean. Union Pacific's substantial free cash flow generation is why the company is the leader for the rail industry when considering the P/FCF ratio.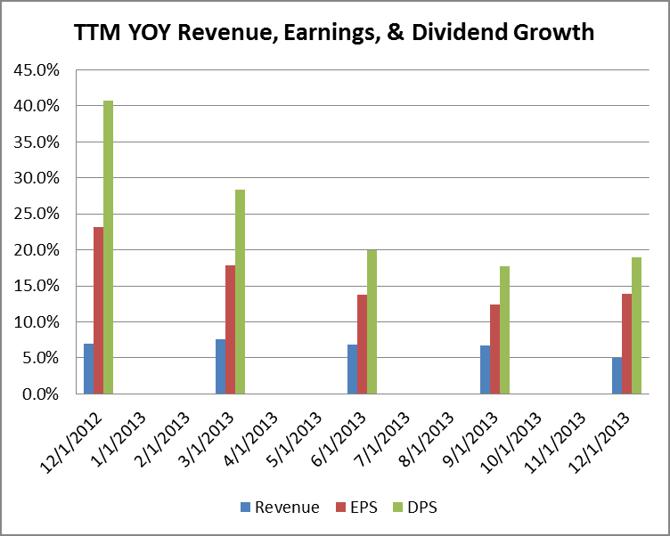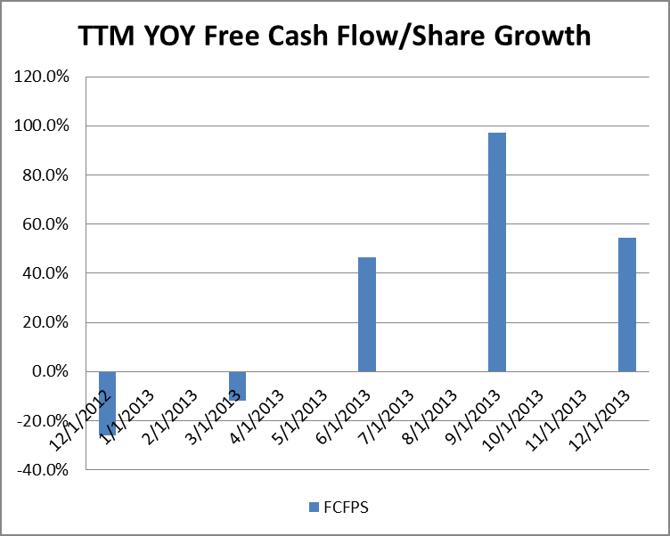 On a TTM annual basis, the first chart above clearly reflects Union Pacific's outperformance of both CSX and Norfolk Southern when comparing revenue, EPS, and DPS; Union Pacific has maintained strong consistency, despite declining trends. Both EPS and DPS growth displayed improved growth for the quarter. Both CSX and Norfolk Southern have grown free cash flow more robustly than Union Pacific, however, Union Pacific has still maintained excellent growth for its scale and has been much more stable. Getting back to DPS growth, Union Pacific continues to maintain dividend growth at a high rate near 20%. This places the company as the leader for dividend increases over the past few years. Based on the company's dividend payout ratio and cash flow generation, it would appear that Union Pacific is well positioned to continue to lead the industry; and with a yield just under 2%, it will potentially outperform peers with higher yields.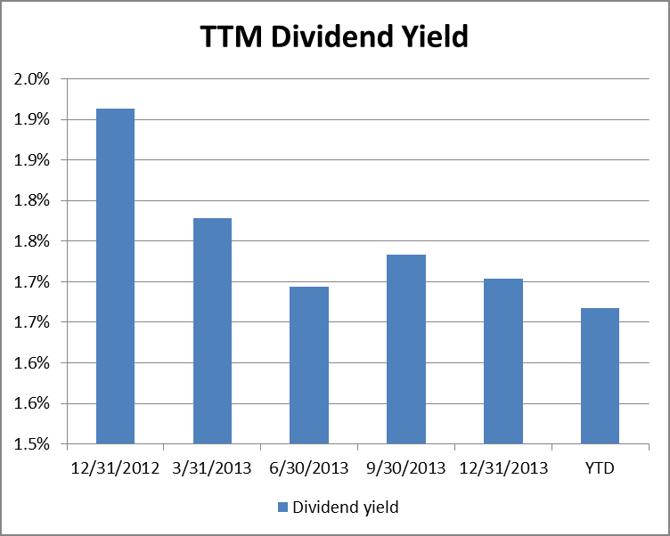 CONCLUSION
When considering Union Pacific's overall revenue performance, it must be mentioned again that the company was able to generate revenue increases across the board, even for coal despite the challenging environment. As the third rail company to report, Union Pacific trades at a premium to both CSX and Norfolk Southern. Union Pacific has executed very well through maintaining the second best operating ratio in the industry. Management believes that the economy is continuing to slowly improve and that 2014 will be another solid year for the company assuming this trend continues.
It seems that weather definitely has been a significant factor when considering these three companies. Union Pacific's diversity of its franchise is a primary factor of how the company has been able to continue to outperform most of its peers in the rail industry. Kansas City Southern (NYSE:KSU) will be the last rail company reporting for the week.
Disclosure: I am long UNP. I wrote this article myself, and it expresses my own opinions. I am not receiving compensation for it (other than from Seeking Alpha). I have no business relationship with any company whose stock is mentioned in this article.