Emerging markets are facing crises on a daily basis. North American investors have been blissfully unaware of the risks those crises impose on capital markets. Smart money pays attention.
Let's review the bidding:
Argentina's peso has fallen almost 13% in two days. The financial crisis in the country was evident before Christmas with civil disobedience, demonstrations and mass looting. When people are desperate enough to take to the street, not much good happens. OK, so who cares about Argentina?


But wait, it is not just Argentina. Venezuela has broken down into violent outbursts and looting as well. Fortunately, Venezuela only ships 750,000 barrels of oil a day to the United States, down from 1.3 million in 2008, and even that is falling. So who cares about Venezuela anyway? So what if they devalued their currency by 40% last week and their inflation is now over 50%. That is their problem, right?
How about Brazil? Its stock market and currency are now falling pretty quickly. But that is manageable, is it not?
I hear about violence in the Ukraine. Is it important? It's pretty far away from Chicago.
But what about the rumors of a run on a bank in China? Will that have legs?
We haven't heard much about Europe lately, but the data show increasing unemployment in Italy, Spain and France, and while unemployment is falling in the United States, it continues to march higher in Europe where it pushed through 12% in November according to the U.S. Bureau of Labor and Statistics.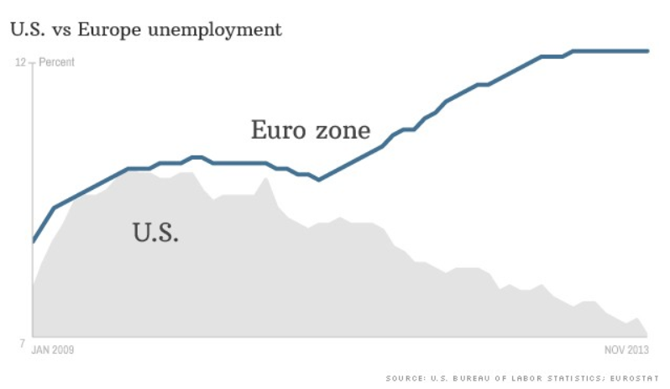 Should investors be concerned? I think so. Business Insider's headline Friday was "It's A Bloodbath In The Global Currency Markets Today".
Investors entered 2014 on the heels of 30% plus return from key indices in 2013 and basking in a bullish sentiment. Markets have touched all time highs and many pundits are saying valuations remain within normal ranges for price to earnings ratios. That is pretty well what you always hear at a market top in my opinion.
The fact is the market is overvalued at about 116% of GDP and quite vulnerable to any shift in either sentiment or economic data.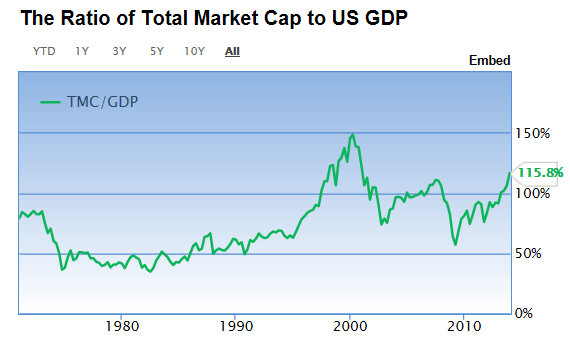 Henry Blodgett thinks the market is overvalued. Goldman Sachs thinks the market is "lofty". I think it has already hit its top. The problems that saw the market drop some 300 odd points Friday are not going to go away Monday. Contagion will become a watchword.
It is time for investors to move some money into cash, buy some put protection and have a reasonable short book. I do and on Friday amid all the angst, my shorts made me a lot of money. I am short CRM, LL, WHR, CP, HD, AAPL and a handful of others.
Disclosure: I am short AAPL, CRM, WHR, CP, HD, LL. I wrote this article myself, and it expresses my own opinions. I am not receiving compensation for it (other than from Seeking Alpha). I have no business relationship with any company whose stock is mentioned in this article.