On January 23, 2013 Starbucks (NASDAQ:SBUX) reported strong operating results for its first fiscal quarter of 2014. Starbucks' performance was driven by strong holiday sales which helped drive revenues by 12% to $4.2 billion compared to $3.8 billion in the year ago quarter. Starbucks' operating income increased to $814 million vs. $631 million in the first quarter of fiscal 2013 (an increase of 29%) while its operating margin increased to 19.2% vs. 16.6%. Starbucks also reported earnings per share of $0.71 which compares against $0.57 in the year ago quarter (an increase of 25%). The coffee chain posted healthy comparable store sales data with consolidated sales growth of 5%. A breakdown of Starbucks' sales growth data is provided below: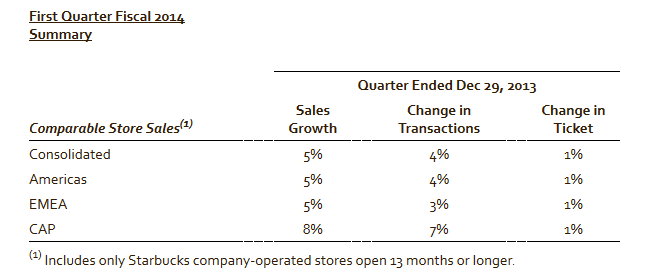 Starbucks also added 417 new stores (net) in the first quarter of 2014 compared to 212 in the year ago quarter and total store count now stands at a massive 20,184. Starbucks also issued a detailed outlook with respect to its 2014 operational and financial goals:
Revenue growth of 10% or higher
Comp sales growth in the mid single digits
Operating margin improvement of 150 to 200 bps y-o-y
1,500 net new stores
Full-year earnings per share of $2.59 to $2.67.
Twelve month trailing share performance
Starbucks has done well for shareholders with a return of 32% over the last year. Sales and operating income growth have driven Starbucks' share price to a new 52-week High at the end of 2013 though the stock has trading weaker over the last two month.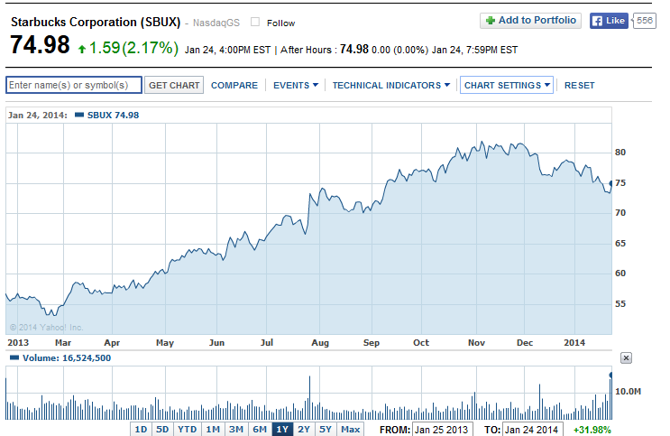 Starbucks' shares rose 55% over the last two years only surpassed by shares of Dunkin' Brands Group (NASDAQ:DNKN) which returned 69%. Panera Bread (NASDAQ:PNRA) increased 13%, Yum! Brands (NYSE:YUM) 10% and McDonald's (NYSE:MCD) lost 5%. It is noteworthy, though, that Starbucks had an even better run over a five-year measurement period: The stock is up almost 700%.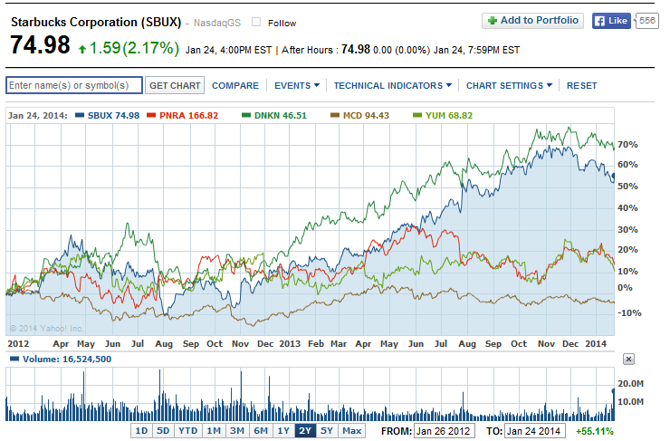 Free cash flow
In light of Starbucks' optimistic revenue and store guidance I have adjusted my estimates for Starbucks' 2014 operating- and investing cash flows. Fiscal year 2013 was impacted by a $2.8 billion litigation charge that affected full-year results and distorted historical performance comparisons. I estimate the Starbucks can achieve $2.2 billion in operating cash flow as my previous OCF estimate is likely to be too low on a normalized basis. I estimate that Starbucks, without any changes to its capital structure, can achieve a free cash flow to equity of $1.0 billion in 2014 which translates into a forward P/FCFE ratio of 57. Even with materially revised cash flow estimates Starbucks still trades at a massive free cash flow multiple.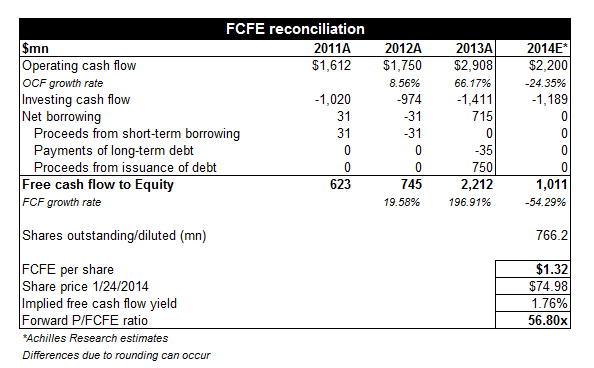 Market valuation
Like the fast food retail sector, specialty eateries and coffee chains like Starbucks trade at very rich P/E multiples. The average P/E ratio for the peer group below stands at 21.44 which makes it unlikely that investors find a real bargain in the sector. Even McDonald's, which trades at the lowest forward P/E ratio of 16, also isn't a bargain when considering its more or less flat sales- and operating income growth. The following two charts depict the P/E and P/S ratios of selected coffee and food retailers.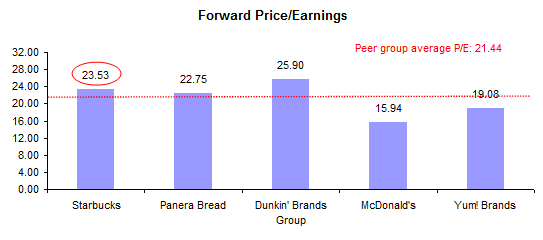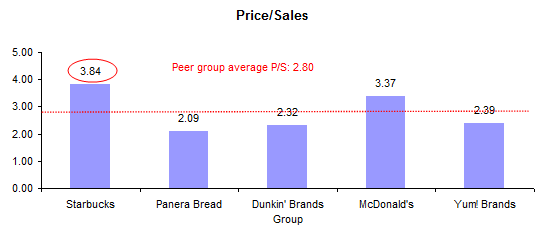 The summary table below shows that Starbucks trades at a 10% premium to the already expensive average company in the peer group. Starbucks' dividend yield also is anything but exciting.

Conclusion
Starbucks has had a good run and I think that the bulk of capital appreciation has already happened even though the company posted good quarterly results. The fast food and coffee chain sector trades at high earnings multiples and comparatively low yields (the average dividend yield for the peer group stands at just 2.16%). The free cash flow to equity reconciliation above shows that Starbucks trades at a massive free cash flow multiple of 57. While sales growth and operating income might continue for a while, I don't think that the premiums in the market are justified. Starbucks is an investor darling where investors focus extremely on store count growth. At $75 per share Starbucks clearly isn't a bargain and investors pay a substantial growth premium upfront. Better priced investment opportunities can be found in other segments of the stock market and investors should avoid the coffee and food retail sector altogether.
Disclosure: I have no positions in any stocks mentioned, and no plans to initiate any positions within the next 72 hours. I wrote this article myself, and it expresses my own opinions. I am not receiving compensation for it (other than from Seeking Alpha). I have no business relationship with any company whose stock is mentioned in this article.