It has been eight months since I exited my long position in Herbalife (NYSE:HLF), but the story continues to fascinate me. This time around, bad news came in rapid sequence for HLF. Interestingly enough, like 2012, a good number of bears well-anticipated the carnage. I will start with the options action.
According to Schaeffer's Investment Research, the open interest put/call ratio on HLF leapt noticeably in the first half of January from 1.0 to about 1.25 at the peek. After the bad news started rolling, this ratio plummeted, suggesting a combination of put players cashing in on their foresight and perhaps hopeful bulls taking advantage of cheaper call options.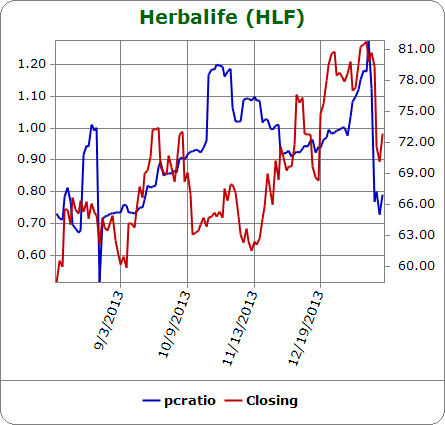 The put/call ratio still has a knack for rising ahead of swoons in HLF stock
Source: Schaeffer's Investment Research
One of these days, I will notice one of these spikes in the open interest put/call ratio ahead of a fresh stock swoon…
HLF's recent troubles have already been extensively covered: January 15th headlines about a China Daily story suggesting Nu Skin (NYSE:NUS) had run afoul of Chinese authorities for alleged questionable business practices (HLF fell in sympathy); a January 23rd press release referencing letters from Massachusetts Senator Ed Markey calling for an investigation of HLF as a potential pyramid scheme (the same Markey who teamed up with other lawmakers to question Living Essentials about its 5-Hour Energy Drink); and then headlines on January 24th about Chinese media coming after HLF.
Put buyers surely cashed in handsomely as the stock has fallen 26% in seven trading days. Note that the biggest drop in the open interest put/call ratio came AHEAD of the Markey press release: from 1.13 on Jan 17 to 0.77 on Jan 21. The ratio has held relatively steady since.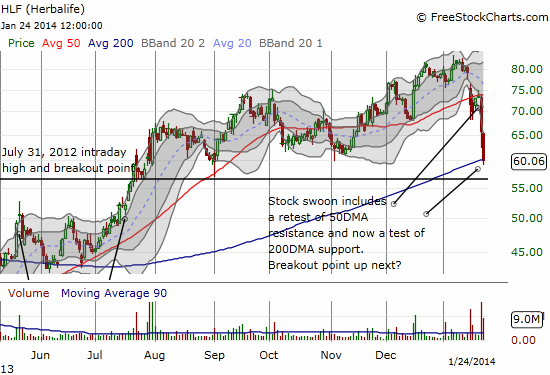 Herbalife swoons in the wake of multiple bad headlines
Source: FreeStockCharts.com
When the latest data is released on short interest, I will be interested to see whether there is a renewed interest in shorting HLF. Ever since Ackman backed out (and converted) about 40% of his position late last year, short interest has remained flat.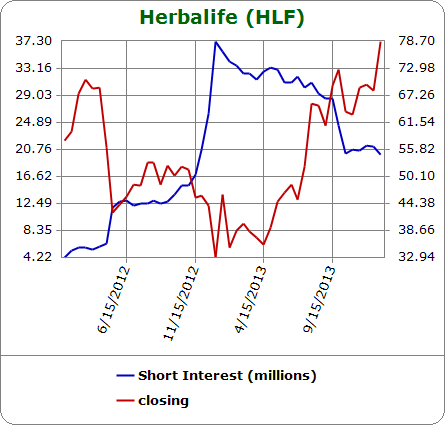 Herbalife short interest has remained static for several months
Source:
Schaeffer's Investment Research
The bad week+ was appropriately capped with after hours news of an SEC Schedule 13G filing indicating Dan Loeb had dumped his entire position. It turns out this is likely old news. The SEC requires fund managers like Loeb and his company Third Point, LLC to regularly publish their positions (form 13F-HR). Third Point last disclosed owning a position in Herbalife on February 14, 2013 to the tune of 3.3M shares. The next filing on May 15, 2013 covering the quarter ending March 31, 2013 shows no Herbalife shares. No HLF shares have appeared on any subsequent filings.
I am not sure why there was such a time lag in filing the 13G, but I am guessing news of the filing could add enough incremental angst in HLF to punch it through the 200-day moving average shown above for a retest of the breakout point around $56.50.
I still think HLF is more of a trading stock than investable one. Paying attention to signals from options trading and short interest seem to provide sufficient guidance to future headlines.
Be careful out there!
Disclosure: I have no positions in any stocks mentioned, but may initiate a long position in HLF, over the next 72 hours. I wrote this article myself, and it expresses my own opinions. I am not receiving compensation for it (other than from Seeking Alpha). I have no business relationship with any company whose stock is mentioned in this article.
Additional disclosure: I could also initiate a short position depending on trading conditions mentioned in this article.