The Week Past
Earnings are likely to set the tone for the week to come and investors who watched the sell off to end last week are going to be very interested in how the market responds in the coming week.
So far this year, earnings have been a mixed bag with companies like Bank of America (NYSE:BAC) and Netflix (NASDAQ:NFLX) impressing and companies like Intel (NASDAQ:INTC) and McDonald's (NYSE:MCD) leaving investors ambivalent, at best.
Here are five earnings for next week that I think will have the most effect on the larger markets.
Monday - January 27
Apple, Inc (NASDAQ:AAPL)
Analysts are expecting the company to report $14.32/share in earnings on revenues of $57.9 billion. The company had guided for between $55 and $58 billion.
The company's guidance is made several quarters after CFO Peter Oppenheimer informed analysts that he was roping in their expectations and no longer sandbagging guidance.
Carl Icahn recently upped his stake in the company, as reported last week.
The most important metrics that investors will be looking for will be iPhone sales, Chinese progress, and (yet again) gross margins.
Although the topic of buybacks is still bouncing around, I feel its unlikely that the company announce further buybacks on top of what they've already announced.
QTR is predicting a beat on revenues and margins, based on iPad Air sales and accompanying margins. Any corrections should be viewed as a long-term buying opportunity for investors.
Other notables reporting: Caterpillar (NYSE:CAT), Wynn Resorts (NASDAQ:WYNN)
Tuesday - January 28
Ford (NYSE:F)
Analysts are expecting Ford to report its sole YOY net income decline in this quarter.
Analysts are expecting $0.28 cents per share on revenues of $36.2 billion.
This quarter marks the end of one of Ford's best years in the company history.
Ford has consistently beaten analyst expectations through 2013.
An eye is going to be on the economy overseas, as well as whether reports of the auto market bottoming hold water.
Bears will be keeping a close eye on incentivized sales and their effect on the bottom line for both Ford and GM (NYSE:GM).
Other notables reporting: Pfizer (NYSE:PFE), Yahoo (YHOO)
Wednesday - January 29
Boeing (NYSE:BA)
Boeing continues to work towards becoming number one seller of commercial aircraft in 2014 - it was outdone by Airbus in 2013.
It was reported last week that GE's capital aviation division ordered another 40 of Boeing's 737s.
Analysts are expecting 30%+ YOY gain in earnings compared to 2013. Analysts also believe revenues will rise as much as 10% in the coming year.
Boeing continues to pay a 2.1% dividend.
Analyst estimates are for $1.57/share on revenues of $22.74 billion.
Other notables reporting: Hess (NYSE:HES), Philips 66 (NYSE:PSX)
Thursday - January 30
3M (NYSE:MMM)
3M has had an impressive past 12 months, yielding 29.5% in addition to its consistent dividends.
It increased its dividend 35% on December 17, 2013 and its dividend yields 2.5%.
3M has offered guidance of $7.30 and $7.55 for its 2014 fiscal year.
3M currently carries a P/E of 20 and a market cap of $87.67 billion - and is trading near it's 52 week high of $140, closing at $130.22 last week.
Analyst estimates for the reporting quarter average at $1.61/share EPS and revenues of $7.7 billion.
Other notables reporting: Chipotle (NYSE:CMG), Exxon (NYSE:XOM), Visa (NYSE:V)
Friday - January 31
Chevron (NYSE:CVX)
Chevron recently released an earnings update and failed to impress, as it's stock shed 2% afterwards.
Chevron also announced on January 17 that it was working with Jefferies Group to help it shed certain assets as part of a cost-cutting plan.
Analysts are expecting Chevron to earn $2.69/share on revenue of $63.68 billion.
Chevron is one of the few stocks that failed to move with the markets over the last year. It's down 7% in 2014 alone and posted an increase of only 0.1% in the last twelve months while the macro markets prospered.
U.S. natural gas production for the company was down leading into December and Chevron continues to work on bettering its bottom line through efficiency while the top line falters.
Other notables reporting: MasterCard (NYSE:MA)
The Week Upcoming
Additionally, here's what your economic calendar for the week looks like, courtesy of Bloomberg: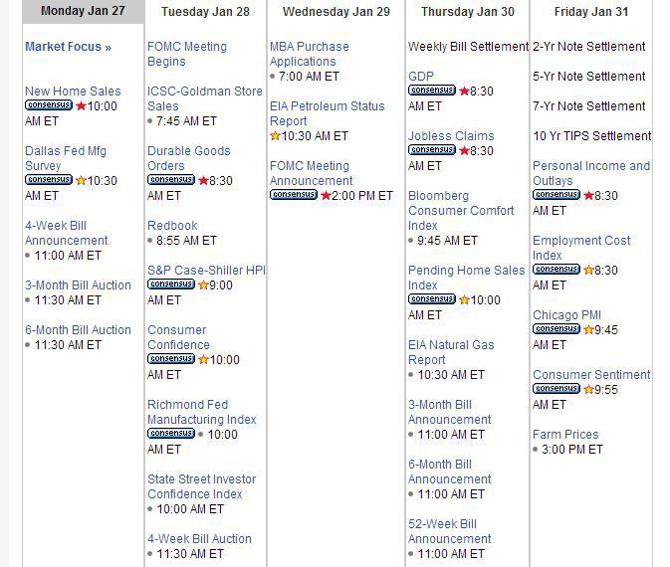 As earnings season continues, the companies reporting in the coming week will create the directional tide in which the market should sway. All eyes will be on Monday's pre-market reports and new home sales to try and start this week on the right foot.
Best of luck to all investors, especially if your positions report this week.
Disclosure: I am long BAC, GM, INTC, . I wrote this article myself, and it expresses my own opinions. I am not receiving compensation for it (other than from Seeking Alpha). I have no business relationship with any company whose stock is mentioned in this article.