The purpose of this series is to highlight stocks with long-term potential, which are undervalued, profitable, have underperformed the market, and have a favorable technical outlook. I apologize for missing two weeks of my series, as I was busy with work and other projects. The stock that I will be covering for my undervalued series this week is PetSmart (NASDAQ:PETM). PETM stock has fallen 10.68% in the last quarter compared to the S&P 500 (NYSEARCA:SPY), which has gained 4.77% in the last quarter. I believe PetSmart is a solid undervalued long-term choice to gain exposure to the U.S pet supplies industry. The table below from the American Pet Products Association shows that spending on pets in the United States has steadily increased year after year. Even during the great recession when retail spending was falling off a cliff, spending on pets increased during that same time, which shows the underlying strength of the pet market even in the worst markets. PetSmart provides pet supplies for a wide variety of pets, along with pet services like grooming, pet hotel, and training services. With many retail stocks of late having serious declines because of poor sales, The CEO of PetSmart in the most recent earnings report commented on the consumer environment in relation to PetSmart:
"Given the challenged consumer environment during the quarter, we are pleased with our results and level of execution, "Our performance demonstrates the strength and stability of our business."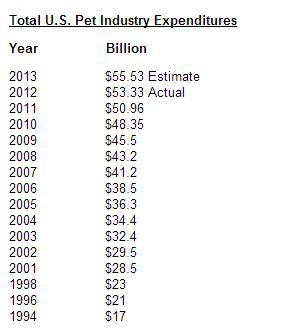 (Image from American Pet Products Association)
Value
To value PETM I will be using a DCF calculator, with data for earnings and growth coming from Zacks.com, benchmark data from longrundata.com, and CPI data from the BLS. The DCF table shows shares of PETM are undervalued by 53.08%, which represents a good opportunity for price appreciation for shares of PETM.
EPS [ttm]: $3.99
Long-term Growth Rate: 15.59%
Earnings grow for next: 5 years
Level off: to 1% after
Benchmark return: 10 yr annualized SPY return of 6.94%+1.50% inflation= 8.44% benchmark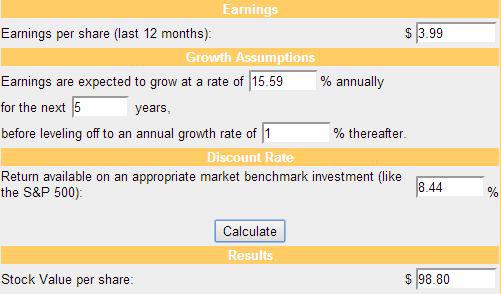 Technical Outlook
The chart below shows that shares of PETM have been steadily declining since the stock made a new high of just over $77/share at the beginning of October 2013. Shares of PETM have closed down eleven out of the last fifteen days, which shows the recent extreme downward pressure the stock has been facing over the last couple of weeks. However, after this recent decline, shares are near two important levels of support, both of which are medium to long-term levels of support. The first important support level [Blue Line] is at $60/share. This level is important because shares failed to trade above this level in the early part of 2012, but were finally able to break through this level at the end of May, and the stock has been above that support level ever since. The other level of support [Red Line] that is important is the upward trending support, which has been in place since the end of 2008, has been tested multiple times over the last 5 years and held each time. Going forward with the recent bearish activity in the stock, I expect that these two levels of support will be tested in the near future, and I believe shares will hold both levels of support and move toward my fair value of $98.80.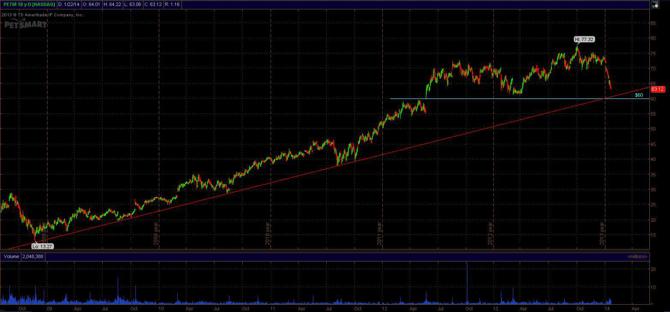 (Image from ThinkorSwim Platform)
Catalyst
The biggest catalyst for PetSmart going forward is the continued growth in the pet supplies market. The first chart below from a recent investor presentation shows that pet ownership has fallen over the last five years, which you would think would cause revenues at PetSmart to decrease, however, that was not the case. PetSmart was able to increase revenues during the recession, and during that same period, pet ownership fell. Now the recession is over and pet ownership is on the rise again creating a strong tailwind for the PetSmart.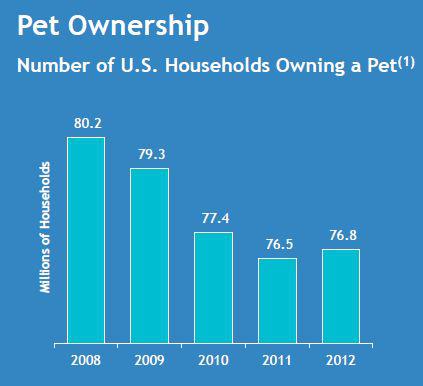 (Image from PetSmart Investor Presentation)
Another catalyst for PetSmart is its movements towards lessening its real estate footprint by building smaller stores. Starting in 2009 for new stores, PetSmart favored building less large stores and more small stores. The evidence of this is seen in the chart below showing that the percentage of the new stores built in 2009 was overwhelmingly large stores. Then when you compare that to this year where only 10% of new stores are large stores, you can clearly see that PetSmart has been phasing out large stores in favor of smaller stores. With these small stores, PetSmart has been able to reduce its operating costs, and thus increase profitability.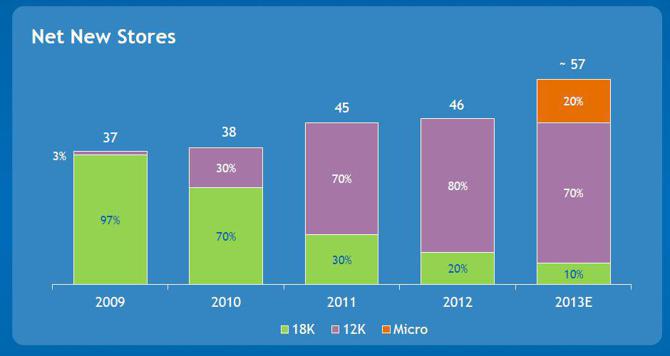 (Image from PetSmart Investor Presentation)
Risks
The biggest risk to PetSmart going forward is the change in management that took place earlier this month. President & COO Joseph O'Leary decided to retire and the current CEO David Lenhardt will take over as President. Even though Lenhardt is an insider, there are always risks when there is a management change. In a recent press release, it stated: "PetSmart does not intend to replace the COO position and will realign these responsibilities among four newly created Executive Vice President Positions." With four new positions that were previously made up of duties of the COO, there could be a risk because of the decentralization of responsibilities, which could lead to inefficiencies in the management structure.
Closing thought
I believe shares of PETM are poised to move higher from current levels, because the stock is undervalued, the stock near two levels of strong support, and the company is well positioned to take advantage of the continued growth in pet supplies and services spending. Another positive is PETM is that they have been generating a large amount of free cash flow, which PETM is using to pay a dividend, which has increased 95% over the last 4 years. In addition, PETM has been using free cash flow to buy back stock, and over the last five years, PETM has bought back just over 16% of shares outstanding. Based on all these factors, I believe going forward shares of PetSmart in the long-term will move higher to my fair value estimate of $98.80.
Disclosure: I have no positions in any stocks mentioned, and no plans to initiate any positions within the next 72 hours. I wrote this article myself, and it expresses my own opinions. I am not receiving compensation for it (other than from Seeking Alpha). I have no business relationship with any company whose stock is mentioned in this article.