Editors' Note: This article covers a stock trading at less than $1 per share and/or with less than a $100 million market cap. Please be aware of the risks associated with these stocks.
We are now increasing our estimate of James River Coal's (JRCC) chances of bankruptcy to 95%. The metallurgical coal market remains weak and CAPP thermal coal has failed to increase much despite higher natural gas prices and extreme cold temperatures. The strong US dollar has also not helped with US coal export prospects.
We remain positive about the long-term recovery of other coal companies, but James River Coal's situation is very precarious and likely only salvageable through unexpected events. As it stands, only its Midwest operations are significantly above its cost of production. That business provides about $20 million EBITDA per year, but needs to support $100+ million in interest costs, capital expenditures and SG&A expenses.
As well as our previous articles about James River Coal, please check out Stephen Simpson's excellent article as well.
Q4 2013 and Q1 2014 Expectations
We are reiterating our expectations for James River Coal's liquidity to be maintained above $70 million in Q4 due to a major drawdown in inventory. However, working capital will likely be around $60 million to $65 million at the end of FY 2014.
As both its metallurgical coal and CAPP thermal coal are providing little positive contribution at current prices, we expect James River Coal to post an adjusted EBITDA loss of $5 million to $10 million during Q1 2014. Combined with the effect of $20 million in cash interest and capital expenditure costs, James River Coal's liquidity is likely to decrease by an additional $25 million to $30 million during Q1 2014 (excluding other working capital changes). This will bring James River Coal's liquidity down to approximately $45 to $50 million at the end of Q1 2014. As well, working capital will fall to the $35 million to $40 million range.
Unrestricted cash is on track to be approximately $35 million at the end of Q1 2014 in this scenario, plus another $11 million available under its revolver. James River Coal announced an amendment to its loan covenant that reduces the combined unrestricted cash and revolver availability it needs to maintain to $23 million to avoid a trigger event. However, with negative free cash flow of $25 million to $30 million per quarter, unrestricted cash plus revolver availability is likely to fall from $46 million at the end of Q1 2014 to $16 million to $21 million by the end of Q2 2014, triggering a requirement for a minimum Fixed Charge Coverage Ratio of 1.10 to 1.00. As James River Coal's Fixed Charge Coverage Ratio for Q3 2013 was -1.63 to 1.00, it is unlikely to meet this requirement.
As stated in its Q3 2013 10-Q filing:
"If the Company falls below the $35 million availability threshold and fails to meet the Fixed Charge Coverage Ratio under the Revolver, this failure would constitute a default under the Revolver, permitting the lenders or the administrative agent under the Revolver (if they are unwilling to waive such default) to accelerate the obligations thereunder. If the obligation under our Revolver were to be accelerated, then the indenture trustees under our existing indentures (or holders of 25% of such indenture notes) could declare a cross default under those indentures (if the Revolver lenders did not rescind such prior notice of acceleration within 30 days), and could accelerate all our payment obligations under these indentures."
James River Coal indicated in that 10-Q filing that it would likely need to secure additional sources of liquidity to avoid triggering the minimum Fixed Charge Coverage Ratio requirement by the 1st half of 2014.
No Viable Rescue Options
As we noted in the previous article, even a cold winter would not help James River Coal much. CAPP thermal coal is at a competitive disadvantage to Illinois Basin coal and PRB coal even if natural gas prices surged. As a result, despite a very cold winter and strong natural gas prices, CAPP thermal coal prices have not moved significantly and appear to be still too low for James River Coal to restart its idled mines. Forward prices for CAPP thermal coal are no better than near-term prices.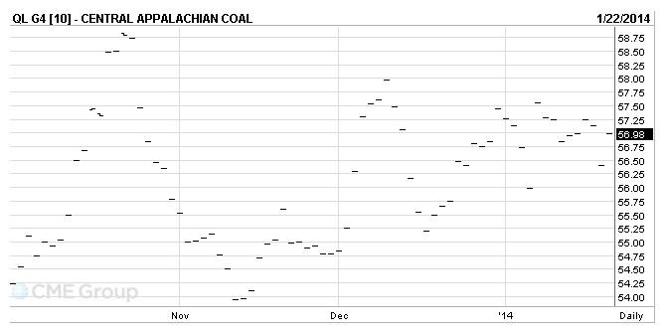 Source - February 2014 Contract
Metallurgical coal prices have settled at a relatively low level and Whitehaven Coal indicated that it expected a stagnant market into 2015.
James River Coal mentioned that sale of assets, reductions in capital expenditures, or reduction in operations were ways they could attempt to avoid falling below the $35 million minimum requirement for unrestricted cash plus revolver availability limit.
Below are James River Coal's current quarterly requirements for SG&A expense, interest expense and capital expenditures. Offsetting the $35 million in expenditures is approximately $5 million per quarter in EBITDA from its Midwest operations, leading to the negative cash flow of $30 million per quarter.
| | |
| --- | --- |
| Quarterly Requirements | $ Million |
| SG&A | $13 |
| Interest | $12 |
| Capital Expenditures | $10 |
| Total | $35 |
James River Coal's capital expenditures are already at very low levels, so reducing that below $7 million per quarter is unlikely. Perhaps SG&A can be reduced a bit as well, but James River Coal has already been focusing strongly on costs for a long time. Even with significant further cost reductions, James River Coal is likely to have negative cash flow of around $25 million per quarter.
James River Coal's most attractive asset is its profitable Midwest operations, but selling that would leave James River Coal with only mines that often can't even cover cost of production in the current market. For that reason, we see the sale of the Midwest operations as unlikely. There is likely little demand for James River Coal's CAPP mines given that many of them are idled due to market conditions.
Additional funding appears to be largely out of the question. James River Coal's bonds are trading at exceptionally high (45+%) yields and have been on a steady downward trend. As well, even if an equity offering was possible, doubling James River Coal's share count would only buy another 1-2 months of runway.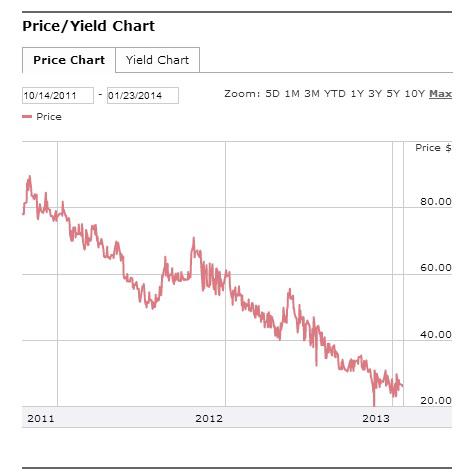 Conclusion
We anticipate that the only way James River Coal can avoid bankruptcy at this point is through an exceptional event (such as extreme flooding in Queensland causing a metallurgical coal supply shock). While that has happened before, Queensland producers are more prepared for floods now, reducing the likelihood of a supply shock even with heavy flooding.
James River Coal is likely to trigger the minimum Fixed Charge Coverage Ratio requirement by the end of Q2 or early in Q3, which would result in a default under its Revolver. Even if the lenders waived the default, liquidity would be at very low (sub $25 million) levels at that point too. Therefore, a bankruptcy filing is a high probability event by the end of Q2 or early in Q3.
James River Coal's management has done an excellent job cutting costs and reducing debt, but there is only so much that can be done with the majority of James River Coal's production being structurally uncompetitive cost-wise in the current market.
One thing to note is that James River Coal can be an extremely volatile stock, with occasional price swings of over 10% on no apparent news.
Disclosure: I am short JRCC. I wrote this article myself, and it expresses my own opinions. I am not receiving compensation for it (other than from Seeking Alpha). I have no business relationship with any company whose stock is mentioned in this article.