After finally breaking out of its $20-$30 range, which Qihoo (NYSE:QIHU) was stuck in for at least two years, since April 2013 it has gained a respectable 214%. Investor sentiment is of course divided as usual. Facing the likes of Baidu (NASDAQ:BIDU), Google Hong Kong (NASDAQ:GOOG), Sohu (NASDAQ:SOHU), and Yahoo (YHOO), is there any more room for revenue growth? Will consumers use Qihoo instead of Baidu? In my previous article, I outlined the risks and competition Baidu is facing. With a similar business model, there are some risks, but if Qihoo's management can continue their gains in market share, allocate capital correctly, poach talent, increase revenue from advertisement budgets, focus on brand, and customer satisfaction for its products, then there should be considerable success in the future in the context of a developing economy.
Overview of Recent News Related to Qihoo
With the recent slowdown of manufacturing activity leading to a global selloff, investors today ask themselves whether China's GDP growth is sustainable. With continued efforts by the central government to solve their GDP vs. environment dilemma, it seems the only way out is to revise their determined all out effort to charge head-on with economic growth regardless of the environment. There isn't any easy answers to how to fix their environmental woes. It can't be resolved overnight. This isn't just a Chinese issue, however, as investors everywhere worry over manufacturing data.
If Qihoo, or Chinese equities, want success in the future, GDP growth is inherently necessary which includes the increased demand for energy that comes along with it. The charts and data does not support the decrease in GDP and that this is happening.
Assuming that there is GDP growth and most forecasts aren't abysmally inaccurate, identifying key sectors of the economy and investing in them now should net considerable profits as it becomes a function of growth. That is of course considering other things like if there isn't shareholder dilution. To answer the question of revenue growth or if Qihoo can compete with Baidu and Google Hong Kong we'll have to very trivially look at future GDP growth, future revenue growth, and future market share. After considering these three issues a better long-term picture should arise in the minds of investors on the future prospects of Qihoo.
Another issue which keeps investors away from Chinese equities is the perception of lax accounting standards. Interestingly enough in addition, there was a new report today that mostly US accounting firms were suspended from auditing US listed Chinese tech companies by the SEC for accounting issues. This is likely a pitched battle by regulators over unfair business practices and different standards. It is certainly an issue to pay attention to as it has given many companies a decent 4% haircut.
Just a few days prior, two members of Qihoo's board were or will be ousted as one resigned and another will resign in May. There was speculation as to why two board members would resign from a company that is seemingly on an exciting upswing. Their replacements should have the interest of shareholders in mind which includes following accounting standards which will give investors confidence in light of recent news.
Following rumors of an increased stake by the Chinese internet/e-commerce giant Alibaba, Qihoo soared 10% on 1/08/2014. On 1/09/2014, it had a precipitous hangover which dropped the stock down 10%. Qihoo has started the year off well with a 18% gain.
The Online Advertising Market Is Still Growing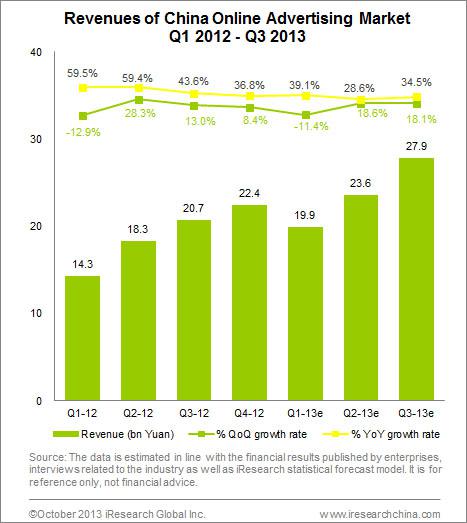 Qihoo generates revenue mostly from online marketing services and advertisements that come from a portion of their clients' advertisement budgets. This is directly related to how well businesses are doing and how much they are willing to commit in terms of expenses. This could be related to GDP. The latest data on online advertising revenue in China indicates that the market is still growing rapidly. Recent Q3 revenue increased 30% year over year to almost $4.4 billion. Data on the online advertising market has been great for search engines like Qihoo.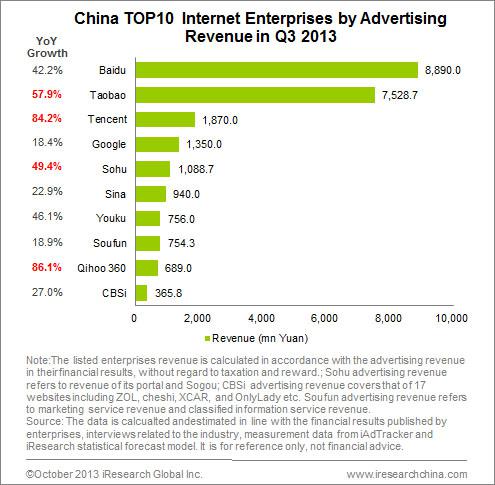 Baidu is of course still the leader of the pack of Chinese internet companies. If Qihoo can continue gaining market share or even hold onto what it has right now it will bode well for investors in the future if the market for online advertisement continues with its current trend in growth.
Revenue Growth and Market Share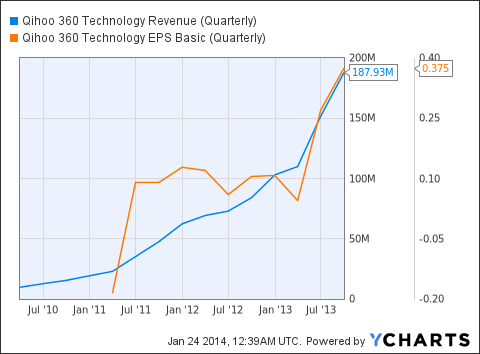 From January to July is where we see a spike in revenue and EPS growth which fueled the 200% climb to around $90. Since September, Qihoo has traded sideways as investors wait on earnings in March. In order for Qihoo to move higher, it has to gain a bigger share of the online advertising market through winning over clients and increasing the value of its services by having a larger internet user base to advertise to. It will move higher if it gains a larger market share, more investors, or releases a new product.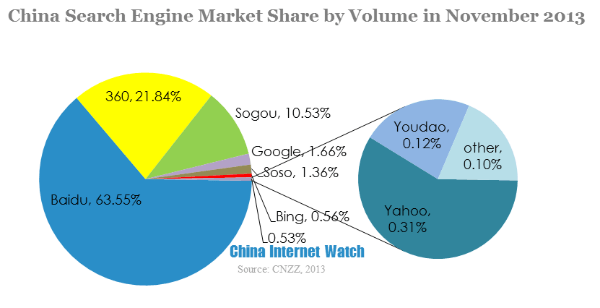 Not many investors had faith in Qihoo at the start of last year as Baidu certainly was king of the Chinese internet search realm. Since then it has lost almost 20% of its market share to its competitors. Qihoo now has a sizable 22% of the market similar to the market share Bing has in the US economy. Qihoo's management has high hopes for 2014 as they have publicly stated that they will reach 35% by the end of the year. It will be a battle to win over the hearts and minds of Chinese internet users, or even those in Korea, Taiwan, or South East Asia. At current prices, it is not likely that the market has priced in online advertising budgets several years down the road.
Conclusion
Qihoo has to maintain or grow its market share to see further success. Given the unpredictability of technology, consumer satisfaction, habits, and how products are advertised is key. It is hard to predict winners in the technology space given Qihoo was a dark horse candidate and Baidu the clear frontrunner at the start of last year. These two companies dominate the Chinese internet search engines.
Qihoo is in a great position to grow profits if China's online advertising market and internet continues to grow in the future. There has been major gains in a relatively short period of time. Those who have missed out in the great run at the start of the middle of last year are likely to remain in the sidelines. The future is always uncertain and it's not clear whether Qihoo has a business model that will do well in the future. Current investor sentiment is that some are still fully invested while others have taken some profits off the table. Many are willing to jump back on before earnings in March in the $70-$80 range if they have confidence in Qihoo's management and if the management is able to maintain their market share which their revenues rest upon.
Disclosure: I have no positions in any stocks mentioned, and no plans to initiate any positions within the next 72 hours. I wrote this article myself, and it expresses my own opinions. I am not receiving compensation for it (other than from Seeking Alpha). I have no business relationship with any company whose stock is mentioned in this article.