Himax Technologies Inc. (NASDAQ:HIMX) should stay on the radar of every techie in 2014. It is a company that stokes curiosity for various reasons - growth potential, alignment to tech trends and for having an intimate relationship with major original equipment manufacturers (OEMs).
With a return above 400% in 2013 Himax inexplicably managed to evade the hype and headlines of stocks with similar returns. The truth with Himax's growth in 2013 is that it was fuelled by expectations that are a harbinger rather than the attainment of a promise. Another 400% may not be in the cards for 2014 but Himax is at the junction of huge opportunities that may finally come to fruition in 2014. Himax will either deliver in 2014 or be exposed for expectations that are priced into the stock price but outsized for the realities of the market. 2014 is crucial because Himax is going through a critical transformation in both its revenue and product mix.
The transition in revenue and product mix leaves Himax with no chance of sleepwalking through 2014. Himax's early entry into the liquid crystal on silicon (LCOS) micro-displays enabled it to become part of the Google (NASDAQ:GOOG) glass story. Himax provided a critical component to the Google glass which accounts for part of the reason why the company has done so well. Himax is a proven player in the integrated circuit (IC) design and liquid crystal display (LCD) manufacturing. It is an established company that started 2013 flirting with irrelevance before a strong resurgence in revenue, relevance and reputation. 2013 was a showcase year and 2014 is the year for delivery. Himax will either deliver or flatten out in 2014. There is very slim chance of a crash mostly because Himax is still after all a company on a solid and strengthening foundation.
The Company
Himax is a fabless semiconductor provider dedicated to engineering display imaging, digital camera and processing technology (chipsets, CMOS image sensors, touch panel controllers, LCOS micro-displays, ICs and timing controllers) for various OEM's. Himax operates display, imaging, analogic and media solutions units either as separate entities or subsidiaries. This setup enables Himax to service a diverse customer base of direct competitors while maintaining clear boundaries across the different business lines. Clear delineation between its business units allows Himax to safeguard the relationships it has with these customers. The ability to work under one umbrella but in silos facilitated and expedited the progress recorded in 2013 even though some reporting segments actually stagnated. Reporting revenue by different business units allowed analysts and the market to better understand the opportunities within the company.
There are many aspects to Himax's business per the reporting structure below.
Breakdown by Product Line (USD in millions) (unaudited)

Q3 2013

% of Net

Q3 2012

% of Net

% Change

Display drivers for large-sized panels

$57.70

29.90%

$76.50

40.20%

-24.70%

Display drivers for small/medium-sized panels

$100.50

52.10%

$87.30

45.80%

15.10%

Non-driver products

$34.60

18.00%

$26.60

14.00%

30.50%

Net Revenues

$192.80

$190.40

Gross Profit

$48.70

$50.90
Display drivers for large sized panels (TV's, monitors and laptops) accounted for 29.9% of total revenues from 40.2% in the same period in 2012.
Small/medium-sized panels (smartphones, tablets, automotive display applications) grew by 15% from Q3 2012 and accounted for 52% of total revenue from 46% in Q3 2012.
The non-driver business (CMOS image sensors, LCOS microdisplay solutions, touch panel controllers, timing controllers and ASIC service) was up 30.5% from the same period last year and up 4% as a percentage of total revenue from Q3 2012.
The non-driver segment is clearly the growth and high potential area. This is the area that is expected to provide the components that go into next generation of gadgets. At current revenue and market trends the revenue mix for Himax is expected to skew towards non-driver products and displays for small/medium-sized panels. Success in non-driver products should, from a strategic standpoint, enable Himax to provide comprehensive solutions to its customers and cross pollinate across segments as OEM's start using Himax for one-stop solutions. In addition, as products become thinner, lighter and smarter Himax will be best positioned to use its expertise in small/medium sized panel and non-driver products to make its components for large panels more attractive. Non-driver product revenues accounted for 18.0% of total revenues and more importantly grew by $8M in Q3. Main contributors to the small/medium-sized panels sector includes CMOS (Complementary metal-oxide-semiconductor) image sensors, video SOCs, touch panel controllers, power management ICs, LED drivers, and LCOS micro-displays. Below is a graphic for the applications that Himax supports across the above revenue categories.

Market Trends and Himax:
The CES and other dedicated electronic events might point you some direction but predicting market trends in the tech sector is a fool's game. The pace of change and the ability of competitors to mimic successful products are so high that trends can be fleeting. For investors the best way to invest in trends is to find companies that underlie a trend. In this case I am referring to Himax. Trends provide revenue and growth opportunities but above all provide an opportunity for companies to redefine themselves. Early entry provide an opportunity to develop relationships, polish out design, fine-tune engineering and manufacturing, establish the necessary supply chain relationships and be ready to scale as the trends catch on.
Currently, the common denominators of recent trends are heads up displays (HUD), biometrics, evolving interfaces, advanced cameras, wearable devices, LCOS micro-displays and touch panels. Himax already services key OEM's in these categories and in addition has capability, competency, relationships, with proximity to manufacturers like Foxconn and Pegatron. Himax also brings a cost structure that allows its partners the pricing flexibility they seek to attain their intended margins. As the market evolves away from the stagnation with cellphones and tablets the desire for new form factors and higher interaction will ensure that devices like Google glass and other micro displays and touch panel products continue to gain relevance. This attention translates to participation with other large OEM's like Apple (NASDAQ:AAPL), Microsoft (NASDAQ:MSFT) and Samsung to name a few. With the customers list below and consolidations of its head start in these areas expect Himax to become a bigger contender as the market shifts.
Display Technology:
As with most companies many little factoids can change the outlook on a stock. There are many articles that cover the possibilities for Himax so I will focus on how display technology is showing signs of becoming more pervasive.
One or another form of the many devices related to Himax's display technology (Google glass, Google glass 2 and/or HUD displays in cars) will almost inevitably launch in 2014. These gadgets could be a hit or a miss commercially but the early buzz generated in the media, early adopters and OEM's will bring more participants to the market and extend the scale of possibilities for Himax. In July 22, 2013 Google agreed to invest in Himax's subsidiary, Himax Display Inc. ("HDI"). The purpose of the investment, as announced, was to fund production upgrades, expand capacity and further enhance production capabilities at HDI's facilities that produce liquid crystal on silicon ("LCOS") chips and modules used in applications including head-mounted display (HMD) such as Google Glass, head-up display (HUD) and pico-projector products. These capabilities are similar to those in next generation car dashboards, projectors, navigational systems, helmets, and in general applications that are expected to be more fluid and more interactive. In addition to liquid crystal on silicon ("LCOS") chips Himax is also touting a gen II 8 mega-pixel CMOS image sensor that will allow it to be a bigger player in the estimated $11.3B (2016) premium sensor market for smartphones, tablets and automotive markets. CMOS image sensors were the highest revenue contributors in the non-driver product group for Himax and present a huge potential for revenue growth as Himax's revenue mix changes away from dependence on large panel displays. Himax is developing advanced wafer-level optics for camera modules and lens components with small features which lines up with the transitions to more capable handsets and installing advanced cameras in a wide range of hosts from medical to automotive.
An equity investment from Google in Himax's display unit signals intent and growth potential with the added advantage of inroads into the crowded android network of OEM's. Himax is not entrenched in older technologies and also of not seeking to recoup capital expenditure on products that may no longer be relevant. Himax has a keen familiarity with the white label segment, the Chinese/Taiwanese market and also has a geographical advantage due its proximity to foundries and manufacturers. Himax with its recent resurgence and by virtue of being fabless is best positioned to serve companies across the price spectrum from low to high.
Analyst Sentiment & Valuation:
The accuracy of forward looking ratios for a company like Himax is bound to be speculative to a certain extent. Himax is going through a significant change in its revenue mix and also dependent on the success of LCOS display products to catch on in the market. Recent revenue trend (see chart below) should clear any suspicion that Himax's recent resurgence is a fluke.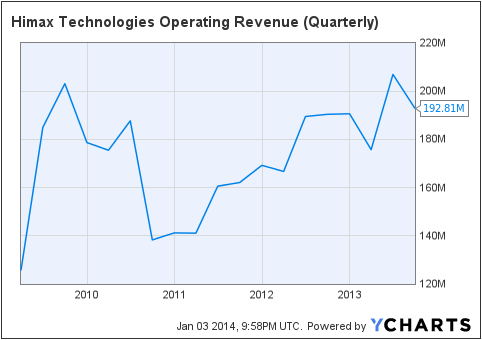 The table below clearly indicates that Himax's valuation is lofty against its peers and the industry.

Source: Scottrade
The reality is that as revenue continues to grow these numbers will normalize and create room for additional growth. When Northland Capital pegged Himax as its top of 2014 and raised the price target to $15 from $12, it seemed at the time like Northland Capital was just piling on a company that had shown dramatic growth in 2013.


Source: Yahoo Finance
Northland capital's price target and rating update hit the market on 12/16/13 and the stock instantly rallied 8% to close at $11.83. The stock has since then eclipsed Northland's price target of $15. In addition to Oppenheimer's "outperform" rating it is worth noting that all recommendations from the above chart are either "Strong Buy" or "Buy". Rumors abound that BofA (BOA) Merrill Lynch has also raised Himax's price target to $17.58.
To arrive at a price target for Himax here are a few factors that I considered:
Positive trends in revenue growth and EPS beyond industry averages
Improving ROE and cost stabilization
Heavy volume when the stock moves
The down and up pattern of the stock
Low debt-to-equity and a favorable quick ration that allows the company to be flexible in the short term
Potential stabilization in the large panel business segment
Expected annual and Q4 revenue improvements
Launch of Google glass/Google glass 2
Himax Display Inc. partners - Kleiner Perkins Caufield & Byers, Khosla Ventures, Intel Capital and obviously Google
Relatively speaking Himax already trades at higher multiples than its peers and the industry. Intrinsically, Himax's recent track record and possible growth trajectory skew the accuracy of most valuation methods. Display Imaging initiatives could grow as high as 50% in 2014 if expected products hit the market. The non-driver segment grew by 30% while drivers for small and medium sized products grew by 15%. With the stock comfortably above its 50 and 200 day moving averages and with continuous momentum I will peg Himax at a price target of $18 predominantly on the expectations of a healthy Q4 to round out the fiscal year and increased penetration of Google glass as a device and an ecosystem of related products.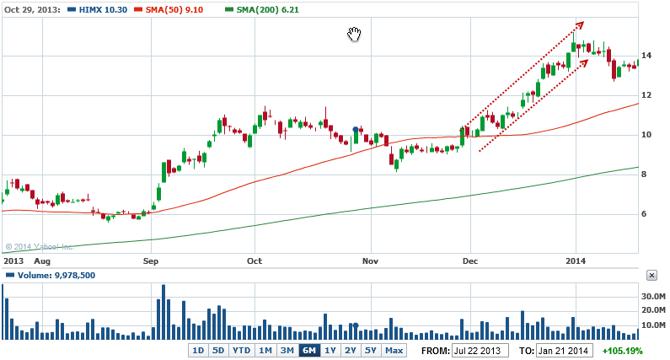 Source: Yahoo Finance
Current Customer List:
Himax boasts an impressive list of customers to match the breadth of its product segments. Note that Himax has made tremendous gains for a company that was founded in 2001. The reason the stock has been considered a hedge or a barometer of the tech sector is because its relationships stretch from testers to manufacturers. I am only going to include the bigger and more popular brands but a complete list is available on Himax's website - SHARP, Panasonic, Dell, HP, INNOLUX, SAMSUNG, Asus, Sony, Lenovo, ZTE, Huawei, MOTOROLA, NEC, Nikon, 3M, and PHILIPS. Apple's absence from the list of customers is conspicuous. As time passes and no viable alternatives emerge Himax's advantage will only grow.
Conclusion:
There are a few things that play into the hands of Himax as a company. The first is obviously display imaging and the second the least talked about is advanced camera technology for small and medium sized devices. There is no pretense to the list of customers that Himax currently serves. If Himax continues to penetrate new and emerging areas it would not be too bullish to call them the "Beast of the East". I would go as far as saying that Himax is a great way to hedge on the tech sector but as all the companies on its customer list go so does Himax. As Google continues stockpile companies like Nest and with continuous echoes that Motorola will once again be on the forefront of next generation cellphones it is hard to not imagine that Google will find a way to converge around its distinct advantage in the Google glass. Himax is positioned to play with American, European and Japanese OEM's. It is also positioned to play with Chinese OEM's and white labels which puts Himax is a rather enviable position. Himax may not gain another 400% but 29% or 43% growth will get you to %18 or $20 and that will still be a great return.
Disclosure: I am long HIMX. I wrote this article myself, and it expresses my own opinions. I am not receiving compensation for it (other than from Seeking Alpha). I have no business relationship with any company whose stock is mentioned in this article.