For as long as we can remember, humankind has been telling stories, whether they be painted on cave walls or told by firelight. Often these stories reflect a desire for something more, for super-human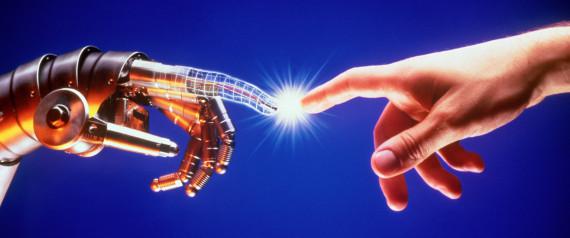 performances, often with the help of technology. We can see that the desire is still prevalent when we look at the resurgence in popularity of superhero franchises like the Walt Disney Company's (NYSE:DIS) "Iron Man" or "The Avengers." (Image source)
This desire to reach, to attain the current state of technology are providing new opportunities for human enhancement every day. Wearable computing is one such advancement that is starting to enter mainstream awareness; its journey has only just begun. Google Inc. (NASDAQ:GOOG) is already developing products to take part in the trend. However, I would like to take a moment and look past the trend to what lies ahead; after all, this is what good investors should be doing. Our desire for human enhancement (for something more), and the latest technology will ultimately push us towards implanted computing and transhumanism. Wikipedia defines transhumanism as:
An international cultural and intellectual movement with an eventual goal of fundamentally transforming the human condition by developing and making widely available technologies to greatly enhance human intellectual, physical, and psychological capacities.
I believe that Google is one of the best investments to take part in the burgeoning trend.
Whether you realized it or not, Google is already on its way to pushing the boundaries of what it means to be a technology company. Here are a few of the examples that showcase their work towards enhancing the human body.
These examples and Google's other products show not only an understanding of the human body but also the desire to integrate technology with the body in more seamless and unobtrusive ways (e.g., skin and eye contact). Eventually, the goal will be implanted computing.
If these reasons aren't enough to convince you of their future plans, let me remind you that Ray Kurzweil, Google's director of engineering, has stated that in the future, humankind will "enhance our own intelligence by merging with the intelligent machines we are creating."
So, what are the advantages of, as Kurzweil puts it, "merging with the intelligent machines we are creating"?
As I have already explained in depth in my science fiction investing series, people want to be enveloped by the internet, to become one with their data; a full-time, seamless enhancement is the next logical step.
Just like in today's world where the latest phone/gadget signifies prestige, wealth, and access to the tools of the modern era, human enhancement through implanted computing caries this to the next level.
In the days of "lights out factories" and artificial intelligence writing news articles, humans may also decide to "upgrade" as a way to stay competitive, to maintain employment in this rapidly changing world.
People have always enjoyed expressing themselves through their clothing, phone covers, profile pictures, and, of course, their body art like tattoos, piercings, etc. This is will be the newest frontier in self-expression and customization.
As previously stated, wearable technology is just beginning, but we have to remember that product adoption cycles are speeding up (see chart below and visit this great explanation of the trend). My guess is that implantable devices will be ready for purchase within the next five to ten years.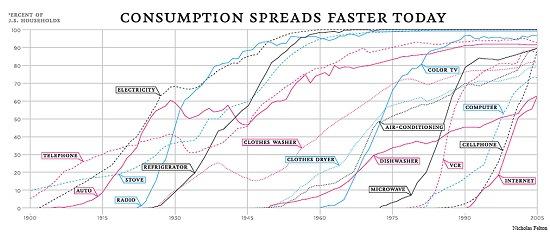 Closing Thoughts
There are some who may be reviled by the idea of implanted technology, but children are being born each day to whom this will seem natural. They will see this technology as a way to upgrade themselves, to become like the heroes in their favorite stories.
Buy Google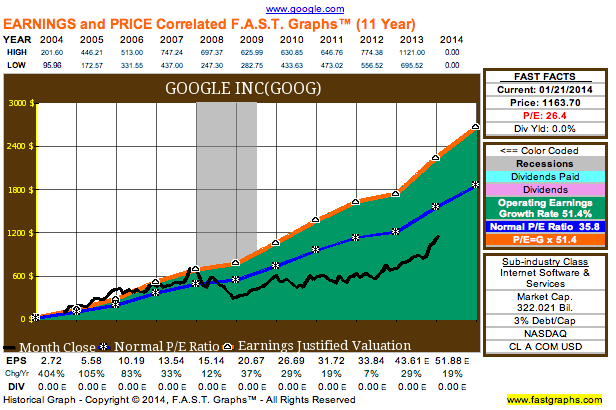 We can see from the F.A.S.T. Graph that Google's stock price (black line) is way below, not only the valuation usually afforded to such high growth companies (Orange line), but also the usual given since it first went public (Blue line). The chart also reminds us that the company only has 3% debt to capitalization.
Google also has a ton of cash ($56 billion), which will allow them to keep making acquisitions, innovating, and shooting for the moon. In the near term, analysts expect Google's growth to continue. They are forecasting an EPS growth rate of 18% for next year and 15.75% for the next five.
Despite all that, I believe that with the recent performance and the slew of upgrades, Google is priced for perfection. So, the stock may sell off unless they beat guidance when they report on Jan. 30. Since I already own Google, I plan to wait for a pullback before buying again.
Investment Summary
If you look at the fundamentals of a number of large-cap technology stocks like Apple, Inc. (NASDAQ:AAPL) or Microsoft Inc.(NASDAQ:MSFT), you will notice that they have relatively low P/E multiples. Often this is attributed to the fact that investors are more concerned about their future direction, new product innovation, etc.
I believe the positive performance of Google's stock price over the last two years or so has to do with the fact that not only has Google increased profitability, but they let it be known that they are never short on innovation, that no matter what, they have a plan for the future. So, whether you believe in the trend toward transhumanism or not, this is just one area of Google's innovative and profitable future.
Disclosure: I am long AAPL, GOOG, . I wrote this article myself, and it expresses my own opinions. I am not receiving compensation for it (other than from Seeking Alpha). I have no business relationship with any company whose stock is mentioned in this article.