Almost a month into 2014 and we have started to see the sobering effects of a market correction. We all knew 2013's bull market had to end at some point. On Friday, the S&P 500 dropped 2.09%, alongside a hefty 31.74% jump in the S&P 500 Volatility Index (VIX). As any market maker knows, volatility can be your best friend; it creates opportunity. Yet, it can be your worst enemy if it finds you unprepared.
That being said, here are my top strategies for 2014, the so-called "year of volatility." I will discuss two industries that are perfectly situated to take on a volatile outlook, and conclude with a portfolio strategy for detaching investments from the inevitable equity market correction.
Uranium Will Double In 2014
Looking back at 2013, unless you found yourself dabbling in shrimp (62%), fish (36%), lamb (32%), peanuts (236%), coconut oil (53%), or propane (33%) futures, you probably didn't do too well in the commodity sector. I'm not the biggest fan of commodity plays, since there tends to be far too many moving parts, and practical exposure to spot price is difficult for retail investors to capture, but it cannot be denied that commodities are a more effective way to reduce systematic risk than by simply adding more low-beta equities, especially since rising volatility has given high beta equities a poor outlook. Combine that with the major underperformance of commodities overall in 2013 and you're led to the logical conclusion that this year will be a major opportunity for certain classes within the sector to correct themselves in a big way, and a good time to increase commodity exposure in the right places.
As we start 2014, the stars are quietly aligning for spot Uranium to make a major comeback after being beaten down to just around $35/lb in the wake of Fukushima and waning sentiment toward nuclear power. Japan's latest Prime Minister Shinzo Abe has been outspoken about facing the reality that Japan cannot continue to spend twice as much in yearly energy costs as it might be under full nuclear reactor utilization. The cost of importing fossil fuel energy sources to compensate over the past 3 years has been a major contributor to Japan's trade deficit. Resumed operation of Japan's 50+ nuclear reactors would mean an 11% increase in global demand for commercial grade Uranium.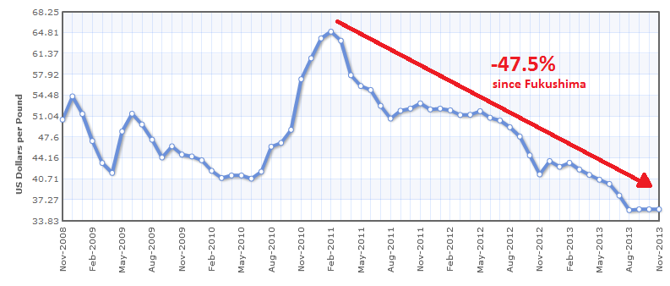 December, 2013 saw the end of the US-Russia HEU Agreement through which both governments agreed to convert approximately 20,000 nuclear warheads into commercial grade Uranium and MOX (mixed oxide fuel from Plutonium), that satisfied 13-19% of the world's demand for nuclear fuel. With the end of the agreement last month, USEC estimates that converted fuel is only adequate for the fuel needs of the United States for the next 2 years. As it stands, production from Uranium miners meets only a fraction of the world's nuclear fuel demand, with the remaining deficit being met by rapidly shrinking stockpiles.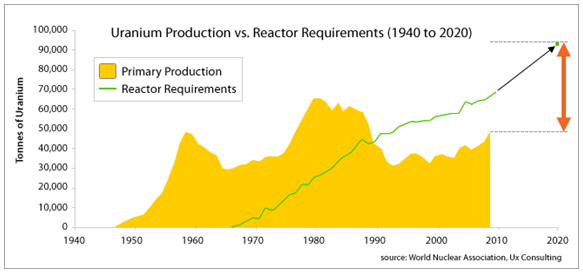 This brings us to who benefits from a hike in Uranium prices. Obviously, Uranium miners will benefit but to what extent? For ISU process miners, the total direct cost of extracting Uranium is around $35/lb, and a bit higher for all other methods of extraction. At these costs, miners are looking at margins close to zero, and operating costs in the red. As the price of spot Uranium rises, gross margin will expand very rapidly and grow income at a much faster rate than the price of Uranium grows. In other words, a given percent rise in Uranium will result in a much higher percent growth in net income for Uranium miners. Therefore, miners are not only a good form of exposure to Uranium, but a good way to leverage this growth as current prices.
I suppose you would call Uranium my wild card play for 2014. There really isn't much room for spot Uranium to go lower than it already is before miners are universally unprofitable and unable to produce, but Uranium has historically moved very quickly, sometimes in the wrong direction. Here is a comparison of what would have happened to a 2003 investment of $100 in the stock market (S&P 500) versus Uranium (as represented by monthly change in spot Uranium Oxide price) over 10 years.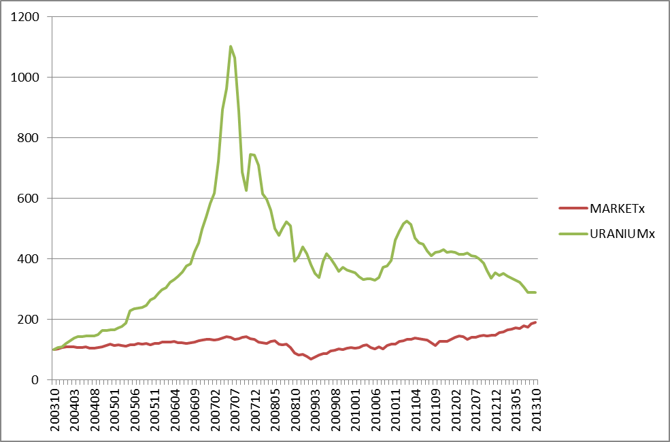 Price movement in Uranium over the past 10 years has dwarfed price movement in the S&P 500 at every interval, but the two are highly uncorrelated. If you don't like seeing big numbers in the change column of your portfolio, its best to steer clear, but at least for 2014, I expect to see those numbers consistently displayed in bright green.
You can grab a position in the Global X Uranium ETF (NYSEARCA:URA) for a general stake in the Uranium industry, but this is probably the only sensible ETF play. The Market Vectors Uranium+Nuclear Energy ETF (NYSEARCA:NLR) does have some stated Uranium exposure, but leans heavily toward nuclear power production, which is an industry that sits on the buy-side of Uranium and benefits from decreases in price. A better strategy would be select individual value plays, especially among Uranium miners.
By far, my top pick for Uranium exposure is Uranerz Energy (NYSEMKT:URZ), an ISU Uranium miner that expects to begin production in Q1 2014 after a decade of exploration and preparation. In addition to being a strong takeover candidate, the company secured major advantages in December, including a $20 million bond issue from the state of Wyoming, and the hiring of competitor Cameco's (NYSE:CCJ) former President. If the price of Uranium doubles, the market will have no problem bidding up this sleeper to several times its current price. Since I sang Uranerz' praises in an article published January 2nd, the stock has leaped over 30%.
Pet Retailers: Two-Headed Beasts
I'll go out on a limb and say that PetSmart (NASDAQ:PETM) is my highest conviction pick of any stock out there. Yes, that's right... a mid cap pet retailer is my top pick for long term returns.
This one is pretty simple to understand. When there's excess cash in the bank account, mom and dad start buying premium doggy chow for Fido, but when the market goes south, Fido still needs to eat, even if cash is tight. When mom and dad end up at the pet store in both cases, it's the pet store that wins. Pet retailers have carved out the ability to resist recession and take advantage prosperity, making for a risk profile unmatched by any other retail industry. I won't be retiring for a few decades at least, but you can bet this is an industry that will have a place in my portfolio for the long haul. As the S&P 500 climbs to new highs, it's time to start thinking about ways to make sure these gains don't disappear at the next sign of a downturn. My answer is pet retailers.
Probably the second biggest advantage of owning a piece of the pet retailer industry is that it's highly centralized. Consumers buy their pet products (which are different than veterinary products) overwhelmingly from a few places: Amazon (NASDAQ:AMZN), Wal-Mart (NYSE:WMT), Petco (privately owned), PetSmart, or mom-and-pop pet stores and grocery stores. Amazon and Wal-Mart are massive conglomerations of many retail industries and their pet related sales amount to only a fraction of sales and earnings. For this reason, there's only one place to put your money for pet retailer exposure: PetSmart. IBIS World Data reports that PetSmart accounted for 40% of specialty pet retailer sales.
It may be the only option, but I have no complaints. PetSmart is one of the best run companies I've ever seen. Over the past 10 years, PetSmart's revenue growth has had the second lowest standard deviation of all S&P 500 constituents at an average annual growth rate of 9.65% and a standard deviation of 2.53%. In other words, statistically speaking we should expect that 95% of the time, PetSmart's annual revenue growth will be between 4.59% and 14.71%. In fact, the company has never recorded a quarterly decline in organic revenue over the past 5 years.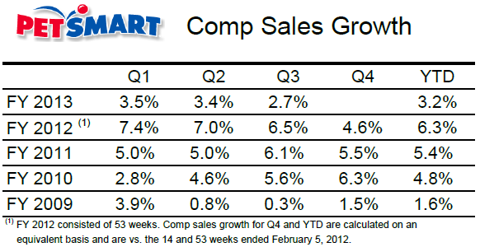 This level of consistency comes from not only a great management team and dominance of the pet retail industry, but from the ability to adapt product offerings to both bull and bear markets. PetSmart CEO David Lenhardt has been touting the strength of sales "across top channel exclusive brands." These exclusive, premium brands offer products with high margin and highly cyclical demand that have caused sales to soar in the bull markets we've seen recently. Lenhardt also reports, "about 75% off pet parents plan to give their pet a special treat or present for the holidays," another perfect example of how consumers look to pet retailers to satisfy cyclical demand. Yet, during the bear market in 2008, stores had no problem reverting to sales of staple products (54% of revenue on average), for which demand grows steadily, even during a recession.
These exclusive product agreements, along with a powerful brand name and 1250+ stores may just be the best long term assets you can buy. Over the past 5 years, management has squeezed an incredible amount of organic growth out of existing assets without incurring more debt or equity, pushing return on assets from around 8 to around 15 in 2013. Pair this with the fact that the population of pets grows faster than the population of people (60% of people own more than 1 pet), and you are left with the conclusion that this company is perfectly positioned in a perfect industry.
As part of an income portfolio, investors have enjoyed 5 years of aggressive dividend growth and share buybacks. In the past 5 years, PetSmart has quietly reduced shares outstanding from 127 million to 104 million and steadily raised annual dividends from $0.12 to $0.68 per share. Exceptional consistency in revenue growth and disciplined cash usage mean PetSmart is a decent bet to become the smallest Dividend Aristocrat someday. The difference is that there is a wide open playing field for PetSmart, which currently operates only in the United States. Almost all Dividend Aristocrats have tapped the global playing field for revenue growth, leaving them much less room for organic growth. Add the fact that recent downgrades have given investors an 11% off coupon for a new position in PetSmart and this becomes an even more compelling play.
Reduce Correlation To The Market
2013 has been called the "year of rotation out of fixed income into equities," leading some to believe that equities may be a bit saturated going into 2014. I think equities always have room to run, but the rest of the market's opinion is another matter. If the market smells a ceiling to the current bull market, I don't want to be caught in the middle of its bull market hangover and subsequent selloff. This poses the question... how can you detach your assets from exposure to market movement without losing an aggressive outlook for 2014?
The logical solution is to identify stocks with a low degree of correlation to the market, but a high degree of correlation to other factors. Most investors turn to commodities to reduce exposure to the market, and indeed this seems like a smart move at the moment. Commodities are down across the board, but each commodity requires its own analysis. It's a mistake to think of each commodity as a piece of a "greater commodity market," in the way that most investors think of stocks as part of a greater stock market. Most commodities are not only uncorrelated to the market, but more importantly they are uncorrelated to each other. With the exception of precious metals, commodities are the result of separate industries' supply and demand. Above, I highlighted the catalysts that will drive the Uranium/nuclear industry's supply and demand in 2014, but assuming that this is the case for all commodity sectors is obviously a terrible idea. That being said, if you see promise in another sector, now is one of the best times to get in. The systematic risk that is reduced by adding commodity exposure is well worth buying on what might be just a strong hunch.
Commodities are a good play, but you can do better. Those of you who read my article, How I Can Explain 96% Of Your Portfolio's Returns, have a good idea of how beneficial it can be to align some of your portfolio with Fama and French's SMB and HML factors. According to Kenneth French's most recent reporting of research factors, SMB was clocked at 1.32% in November (very high), 2.82% over the trailing 3 months (very high), and 10.71% over the trailing 12 months (very high), indicating that we have seen a strong and steady flow of funds into small caps through 2013. Meanwhile, HML hit -0.38% for November (very low), -0.58% for the trailing 3 months (somewhat low), and 4.93% for the trailing 12 months (average), indicating a recent flow of funds from value into growth, though somewhat small.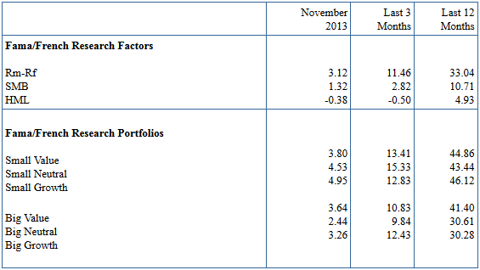 Based on these 2013 trends, now is definitely the time to exit small and micro caps. Event driven and well researched picks may continue to buck the trend and outperform, but small caps as a whole have become dangerously oversaturated through the course of 2013. In other words, making stock or ETF picks based solely on the fact that they are small caps (passive investing) should be avoided.
At present, French's 50% breakpoint for size is sitting around $2.5 billion in market cap. What this means is that the factor considers everything under $2.5 billion to be small and everything over that value to be large. In this case, the supposed rotation out of fixed income has come streaming into small companies much more quickly than for large companies, hence the outperformance of small caps in 2013. As 2014 is expected to be a year of volatility, it seems likely we will see many of these small cap names lose their inflated prices in favor of more steady large cap names. Investors will seek shelter from the rapid price movement of illiquid small caps and pull SMB back down to normal levels, possibly to a negative value. For this reason, it would be prudent to limit micro and small cap exposure in 2014 and take a more neutral, mid cap approach to this year.
As I mentioned, the laggard of 2013 was the HML factor, which was still slightly above average (value outperformed) through 2013. The market seems undecided on whether to favor value or growth lately, but historically it has favored value by far. For this reason, aligning assets with the HML factor appears to be the strongest allocation going into 2014, and the only factor that did not see oversaturation in 2013.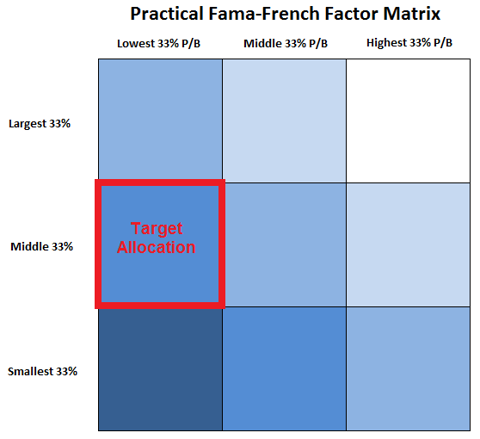 Of course, allocating in this manner does not completely eliminate correlation to market returns. As a general rule of thumb, a low beta indicates a lack of correlation to the market rather than correlation to the market at a low value as most investors assume. In other words, low betas are usually the result of an insignificant regression output rather than an indication of low volatility. There are certainly ways of calculating the exact numbers on your own, but the process is both highly complex and time consuming. A more practical solution is to simply allocate based on the matrix above (align with SMB and HML factors accordingly), and look for stocks with low reported betas.
Final Thoughts - "Fortune Favors The Bold"
It's a good bet that the theme of 2014 will be volatility (or at least a lot more than we saw in 2013). Friday was proof of that. A major struggle for retail investors in the coming year will be finding the courage to let go of investments that have run their course. Yet, even more so, retail investors will struggle to find new ways to be aggressive once they have exited old positions. After all, it seems outwardly counterintuitive to exit an aggressive position only to enter another aggressive position. I would try not to think that way; every market condition has room for certain aggressive investments. The key is knowing which are most likely to be successful.
The widespread growth that we saw in 2013 has to be considered in the context of what is reasonable. At a level of growth many times the annual average for the S&P 500, the odds of seeing anywhere near a repeat for the broad market are slim. Any aggressive approach should assume that first, some protection from downside risk is paramount, and second, passive investing is unlikely to bear fruit after a year in which the S&P 500 ETF Trust (NYSEARCA:SPY) posted 31.89%. For these reasons, 2014 may be a year of volatility, but it may also be the year of individual conviction picks. It will be the perfect opportunity for portfolio managers to showcase their alpha prowess with specific, skillfully-selected picks as the flagships of their portfolios. There will be less emphasis on diversity and more emphasis on single-pick alpha. Due diligence and well conceived stock theses will be investors' best friends. ETFs with high alpha will make names for themselves their managers. The two conviction picks and allocation strategy presented in this article are just a few that support the above profile for 2014 quite well and will certainly be the anchors of my portfolio moving forward.
Disclosure: I have no positions in any stocks mentioned, and no plans to initiate any positions within the next 72 hours. I wrote this article myself, and it expresses my own opinions. I am not receiving compensation for it (other than from Seeking Alpha). I have no business relationship with any company whose stock is mentioned in this article.