The legendary investor Peter Lynch attributed mall-shopping trips to uncovering some of his best investment ideas. While simply counting up the customers and bags within a given store is an oversimplified way of evaluating a company, it can give you insight into new stores as well as what's hot. Innocent retail clerks are almost always willing to give you too much insight, unless they've been coached against it (as is the case with Michael Kors).
Francesca's (NASDAQ:FRAN) has been on my radar since its IPO in mid-2011, though its share price has actually fallen 26% since. Earnings ramped significantly in 2012, but it looks like 2013 earnings are going to be relatively flat. Let's take a look at Francesca's and what we can expect going forward.
What is Francesca's?
Francesca's is a boutique retailer with 350 global boutiques across 45 states. The concept started in Houston just 15 years ago, and growth truly accelerated when the company went public in 2011. The store successfully achieves a balance of a reliable experience while at the same time not looking or feeling very corporate. Though there are stores in nearly every state, each location feels like it could be an independent shop. Oddly enough, Francesca's feels just at home in Downtown Ann Arbor as it does in Woodfield Mall. Because of its unique, small-store format, Francesca's will be better able to adapt to urban migration than its larger format peers.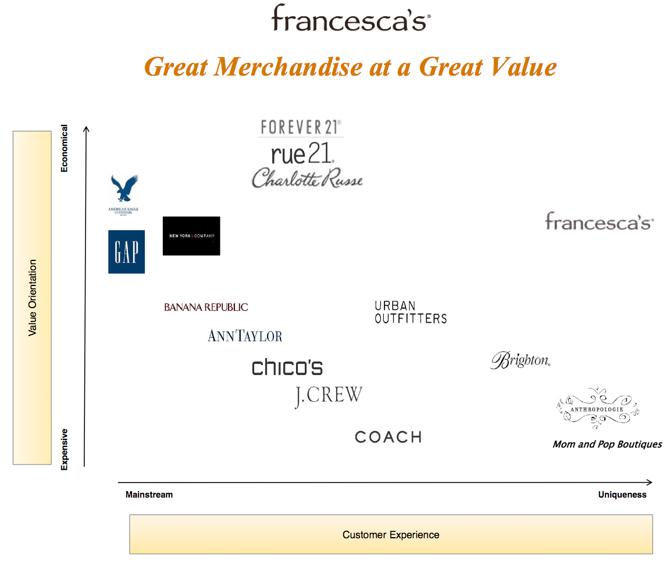 Source: FRAN 2013 Investor Day Presentation
As we can see in the above image, Francesca's, which is geared almost entirely towards women, is positioned as a relatively unique value. Urban Outfitters (NASDAQ:URBN) used to be more towards the unique end of the spectrum, but its explosion over the past several years has made the brand less unique in the perception of consumers. Thus, Francesca's doesn't have a great deal of direct competitors, though the likes of Forever 21, Gap (NYSE:GPS), and h&m are all competing for the same consumer dollars.
Francesca's is primarily an apparel company, which accounts for 49% of sales. However, the firm also generates 23% of its revenue from jewelry, 16% from accessories, and 12% from gifts. The store experience can best be described as walking into a chic, walk-in closet. There aren't racks of deep inventory; rather everything appears to be in limited quantities.
Additionally, Francesca's doesn't rely heavily on any single brand. Rather, it uses 400 different sources with fast lead times (time to market) in order to capitalize on changing trends and tastes. More importantly, relying on smaller brands gives Francesca's better negotiating leverage, allowing for a solid gross margin profile.
Recent Sales Trends
Because its store format and business model was so unique, the firm had an explosion in popularity. 2012 was absolutely fantastic for Francesca's, with same-store sales growing at a double-digit pace for most of the year, with revenue up over 40% every quarter.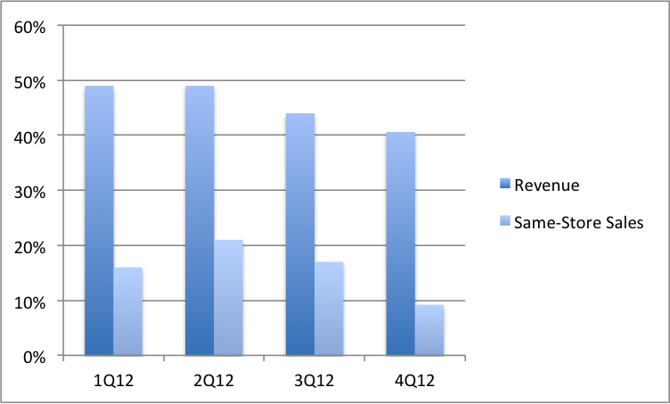 Source: Company filings, Detroit Bear
2013 has not been so kind.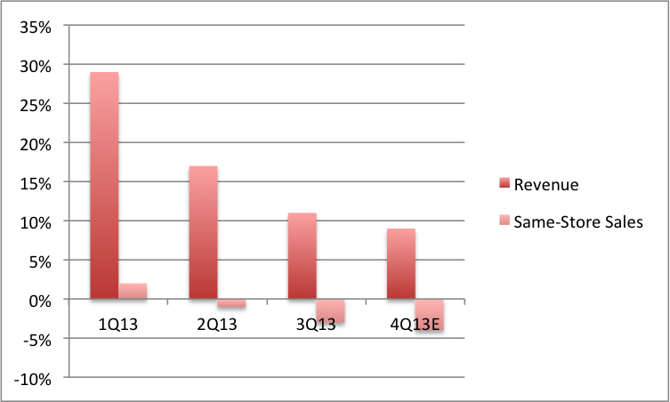 Source: Company filings, Detroit Bear
Comps have been mostly negative, with revenue growth slowing materially even as the firm adds tons of new boutiques. In fact, Francesca's will add 91 stores in FY13. That's an increase of 25% compared to the end of FY12; yet, I am not seeing comparable sales growth.
Margins
Year-to-date, gross margins are down 130 basis points to 52.2%. SG&A has concurrently rose 120 basis points to 29.3% of sales, thus overall operating margins are down 260 basis points to 22.8% of sales.
Now, that operating margin is still pretty good. Urban Outfitters, for instance, currently has a gross margin run-rate of 38% and an operating margin run-rate of 13.7%. Department store Kohl's (NYSE:KSS) has a 37.7% gross margin with an 8.8% operating margin. Interesting, Francesca's closely mirrors lululemon (NASDAQ:LULU), which has posted a 52.4% gross margin and 22.2% operating margin year-to-date. lululemon has struggled recently, but the firm has still created a tremendous business over the past few yeas.
What's Right at Francesca's?
Small Stores Fit Everywhere
Not all is dire at Francesca's, in fact; I generally like its strategy. Small boutique stores and differentiated product make Francesca's expansion strategy flexible. The company can enter malls as well as densely populated urban areas. Plus, there is little competition for such small mall real estate, as many of the big mall players like h&m, Forever 21, and Abecrombie & Fitch (NYSE:ANF) require significantly larger amounts of real estate. Few stores can operate in such a small space.
Management Understands the Importance of E-Commerce
On Starbucks' (NASDAQ:SBUX) most recent conference call, CEO Howard Schultz noted that the movement away from bricks and mortars to online retailing is happening faster than most imagined. Francesca's e-commerce sales jumped 80% y/y during its most recent quarter, and the company has a solid mobile website as well as traditional website. Plus, Francesca's has a young customer base that is comfortable using e-commerce instead of the traditional medium.
What's wrong at Francesca's?
Management's Growth Plan is Too Bold
Management's target of 900 boutiques suggests that Francesca's can double its store base. With slowing comps and seemingly less productive new stores, I think its safe to say this target is too optimistic. Cannibalization is definitely occurring, and it will continue if Francesca's keeps opening stores at such a robust pace.
CEO Neil Davis came from the Men's Wearhouse (MW) in 2012 where he served as CFO for 10 years. He came to Francesca's originally as president, becoming CEO in January of 2013. Presumably, the growth strategy was largely in place before Davis came aboard. Nevertheless, he has an interesting decision to face, particularly as fourth quarter results look relatively mediocre.
Not only are new stores cannibalizing existing locations, but it is also leading to elevated costs. SG&A jumped a startling 440 basis points during the third quarter to 32.4%. Management noted that this increase was due to new boutiques as well as investments in staff to support the long-term expansion infrastructure. Unless new stores become more productive, it seems some of the incremental investment in SG&A may have been a waste.
Francesca's (Oddly) Isn't Great at Social Media
Social media definitely is the most meaningful item to measure, but it is helpful to identify how popular a brand is. At the moment, Francesca's only has about 35,000 Instagram followers, 110,00 Facebook likes, and 7,000 Twitter followers. This greatly lags the Urban Outfitters-owned Free People that has 1.1 million Facebook likes, 951,000 Instagram followers, and 143,000 Twitter followers. Clearly, one company is leveraging social media much more effectively than the other.
I think Francesca has a lot of room to improve in this area, and I also think it needs to improve. With a mediocre social media presence, the company can seem behind the times, if not old. That hurts the firm's reputation as unique and trendy. It indicates that consumers simply are not that passionate about Francesca's. Free People is also smoking Francesca's in Google search trends.(Free People in blue; FRAN in red)

Valuation
At 16x next year's earnings of $1.25, Francesca's looks semi-interesting, particularly since earnings are expected to grow 17-20%. Still, Francesca's needs to execute a few strategy changes before I'd become convinced that long-term earnings growth will be strong.
I think it is better positioned to survive the seismic e-commerce revolution than some of its larger peers; however, I would like to see the company increase its use of social media and develop apps for iOS and Android. Why not slow the store-opening pace and focus on some investments in mobile technology and social media?
Unfortunately, like most of the market, Francesca's is trading about where it should be. Nonetheless, I'm anxious to listen to the conference call when the company posts fourth quarter results. A change in direction or strategy could make the risk/reward much more compelling.
Disclosure: I have no positions in any stocks mentioned, and no plans to initiate any positions within the next 72 hours. I wrote this article myself, and it expresses my own opinions. I am not receiving compensation for it (other than from Seeking Alpha). I have no business relationship with any company whose stock is mentioned in this article.