We've now closed the books on a very prosperous 2013, a year in which the markets saw a greater than 20% gain among the various indices. Even though the market is once again knocking against all-time highs as we proceed into 2014, there are still plenty of opportunities in the market to build a portfolio at attractive valuations.
As a self directed investor I follow the adage that we invest in a market of stocks, not the stock market. A prudent shopper should always check the weekly ads to find the best deals before heading out for groceries at the local supermarket. Unfortunately for investors, finding those "blue light specials" can be a little tougher to come by when searching the stock market. Of course we could blindly grab items off the shelf with no regards to prices on individual items, aka "index investing", but I can't see paying full price for a stock when I can periodically get them on sale instead.
With that in mind I thought it would be a great exercise to walk the proverbial "aisles" of the market to try to find some bargains in the mix and share those ideas with you.
My shopping cart will be strolling through ten different aisles of the stock market, representing 10 different sectors of the economy:
Consumer Discretionary
Consumer Staples
Energy
Financials
Health Care
Industrials
Information Technology
Materials
Telecom
Utilities
With this series of articles I would like to review a few companies from each of these sectors trading at attractive valuations that could be used to build a diversified dividend growth portfolio that offers decent yield, dividend growth, and opportunity for capital appreciation.
The majority of the companies listed are members of David Fish's CCC List and are provided based on a quick glance at fundamentals and price history using F.A.S.T. Graphs. I have not performed in-depth due diligence on these companies but present them as ideas for further research for those interested.
Sector #1 - Consumer Discretionary
According to Investopedia the definition of consumer discretionary is:
A sector of the economy that consists of businesses that sell nonessential goods and services. Companies in this sector include retailers, media companies, consumer services companies, consumer durables and apparel companies, and automobiles and components companies.
Consumer discretionary investing can be a bumpy ride as the tastes of the fickle consumer can change from year to year. However, companies with a strong brand and loyal customers can produce excellent results over a long holding period.
Some of the stocks below, such as Coach (COH) and GameStop (NYSE:GME), have dropped below fair value because of concerns that their brand is tarnished or threats of a changing industry. Others are at fair value as they've sold off along with the rest of the sector, such as The Gap Inc. (NYSE:GPS) in retail.
The challenge is in determining whether headwinds are temporary or a long term secular change, which is why I encourage readers to continue with due diligence before buying these companies.
Now, on to the companies that made the list.
Tupperware Brands Corp. (NYSE:TUP) is headquartered in Orlando, Florida and is a direct seller of household goods through an independent sales force. It manufactures and distributes kitchen cookware and tools as well as beauty and personal care products.
As shown on the F.A.S.T. Graph below, the company has produced an 8 year earnings growth rate of 18.4% and since 2010 has increased the annual dividend aggressively from $0.88 to $2.48 per share, which provides a yield of around 2.8% at current prices.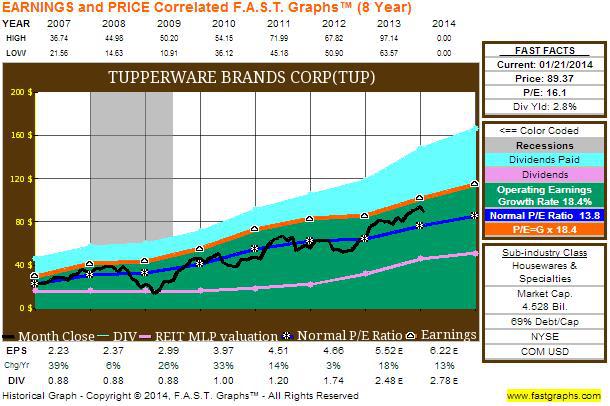 Looking ahead, analysts are projecting earnings growth of 12% over the next 5 years and the company itself is projecting long term growth in the double digits between sales growth and a lower share count due to stock buybacks. According to a Morgan Stanley Conference presentation held in November, the company states a commitment to maintaining its recent dividend growth at a rate similar to earnings growth.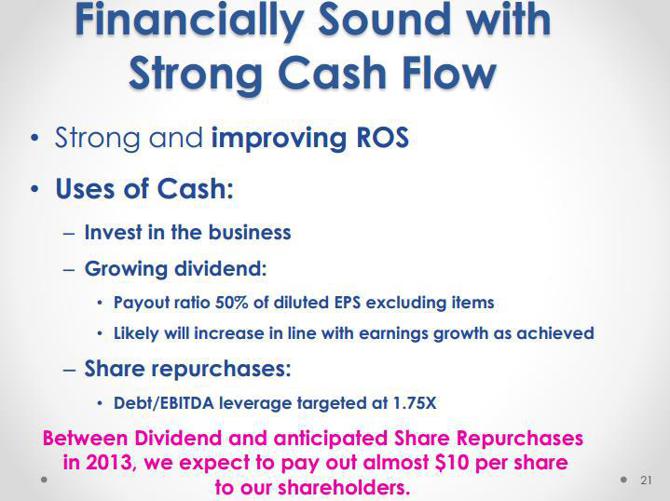 PetSmart, Inc. (NASDAQ:PETM) is headquartered in Phoenix, Arizona and operates as a specialty retailer of products, services, and solutions for pets in the United States, Puerto Rico, and Canada.
The company has produced an EPS growth rate of 19.3% over the last 6 years and has grown annual dividends from $0.12 per share in 2008 to $0.78 at the current rate.
The current yield of 1.2% is lower than many dividend investors require but as a growth stock with a low payout ratio of around 20% of expected earnings, there is plenty of room for the dividend to continue rising. The rising dividend coupled with the impressive growth rate comes at an attractive price of just 16 times earnings.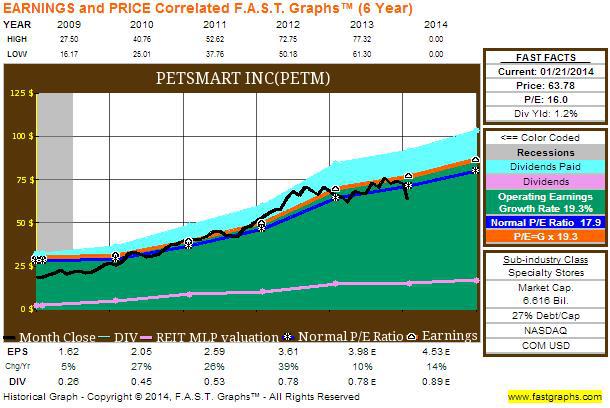 In addition to the growing dividend, the company has also been an aggressive buyer of its stock as the company has decreased the share count from 127 to 106 million since 2009. This slide from the 2013 Analyst Presentation shows how the company has been increasing returns to shareholders as capital expenses have decreased.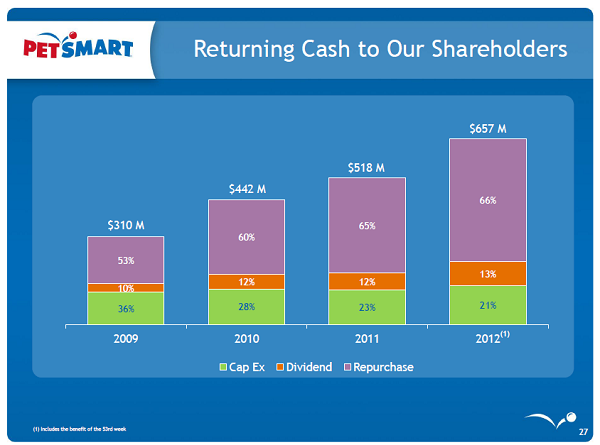 With a low debt load and great cash flows the company looks to be a great value play that should hold up well if the markets turn down.
Coach, Inc. designs and markets bags, accessories, footwear, jewelry, watches, and fragrances in the United States and internationally. The company was founded in 1941 and is headquartered in New York.
Coach has a 6 year EPS growth rate of 10.6% and is projected to grow earnings at a 12% rate over the next 5 years. Since instituting a regular dividend in 2009 the company has raised the quarterly payout from $0.075 to $0.3375, which provides a yield of 2.6%.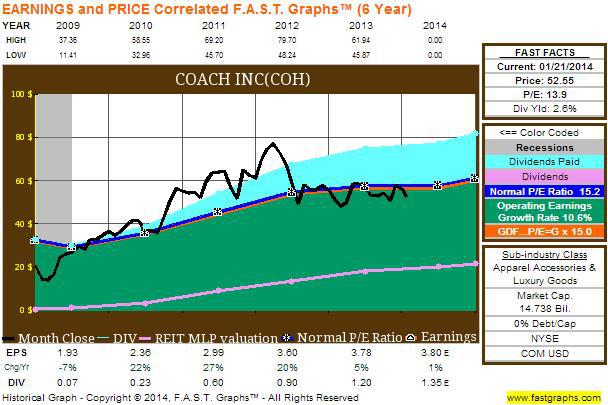 With very little debt, $854 million in cash on the balance sheet and impressive cash flows of over $1 billion this stock is trading at an attractive valuation. The company has also been a buyer of its stock and has decreased the outstanding share count from 326 to 285 million since 2009 and reported on January 22 that another 3.3 million were retired during Q4 of 2013.
The stock price has been hit hard since the end of 2011 on slowing growth and fears of increasing competition from Michael Kors (NYSE:KORS). However, while U.S. sales have been dropping, they have been growing quickly overseas, with China sales posting 25% gains in the most recent quarter.
Time will tell whether this is a long term trend or just a short term hiccup, but the company appears to have strong enough financials to weather the storm.
GameStop Corp. is a video game retailer based in Grapevine, Texas that sells new and pre-owned video game hardware, personal computer entertainment, digital products, and video game accessories.
Over the last 10 years GameStop has grown earnings at an impressive 20.1% rate and since instituting the dividend at the beginning of 2012, it has increased the payout from $0.15 to $0.275 per quarter.
The company has an aggressive stock buyback program, through which the company has decreased the number of shares outstanding from 168M to 119M since 2010.
The company also has no long term debt, has generated $708M in free cash flow in the TTM and has $636M in cash.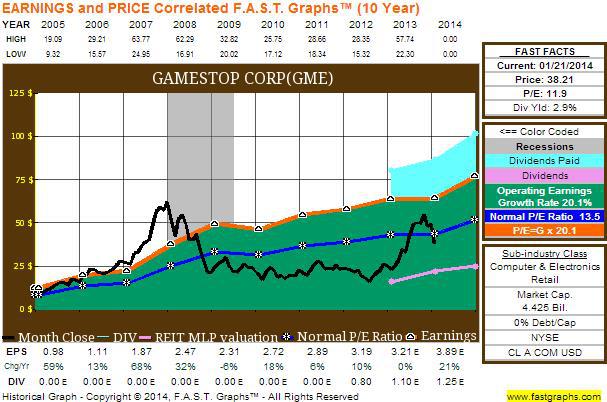 The Gap, Inc. is headquartered in San Francisco, California and operates as an apparel retail company offering apparel, accessories, and personal care products for men, women, children, and babies under the Gap, Old Navy, Banana Republic and other brands.
The Gap, Inc. has an 8 year earnings growth rate of 15.3% and is projected to continue growing at a 13.2% rate over the next 5 years.
The stock currently yields 2.1% and has grown the dividend at a 7.8% clip over the last 6 years.
The Gap has also been an aggressive buyer of its own shares and has reduced the number outstanding from 719M to 449M since 2009. The company renewed its commitment to the buyback on November 21 when it announced an increase to the program of $1 billion. This additional buyback could remove another nearly 6% of the shares outstanding based on current prices.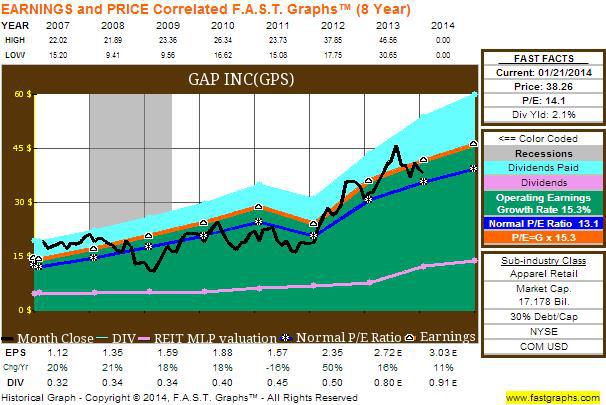 Between the aggressive buyback program and relatively low payout ratio of under 30% the company should continue to reward shareholders.
Summary
As I mentioned above, investing in the consumer discretionary sector is not without risk as today's hottest fad can quickly become tomorrow's dud. However, the companies above have shown a recent track record of providing solid growth in a challenging economic environment. The businesses have strong balance sheets that are throwing off great cash flow. Between the decreasing share counts from buying back stock and increasing organic sales, the EPS and dividend growth rates look to be sustainable.
Hopefully this look at the Consumer Discretionary Sector has provided some new research ideas for your portfolio. I hope to continue this series in the coming weeks and will be looking at some stocks in the Consumer Staples Sector with the next installment.
Disclosure: I am long COH. I wrote this article myself, and it expresses my own opinions. I am not receiving compensation for it (other than from Seeking Alpha). I have no business relationship with any company whose stock is mentioned in this article. I am a Civil Engineer by trade and am not a professional investment adviser or financial analyst. This article is not an endorsement for the stocks mentioned. Please perform your own due diligence before you decide to trade any securities or other products.