According to the Institute for Supply Management's Manufacturing Index released on Thursday, the factory sector finished the first quarter on an upbeat note and momentum appears to be building. The composite index moved up to 59.6 in March from 56.5 in February, which puts it at its highest level since 2004 and also close to highs recorded in previous cycles during the past 30 years
However, as reported by Clusterstock – Business Insider, a striking feature of the ISM report is a strong break-out by the ISM Prices sub-index, a component of the overall Index.
As shown by the black line in the graph below, the ISM Manufacturing Prices index jumped 8 points in March, to 75 from 67. The report said:
According to the ISM, 17 industries reported paying higher prices on average in March and no industry reported paying lower prices. Furthermore, as shown below by the Producer Price Index (PPI) for crude materials in orange below, a rise in the ISM Prices Index makes a rise in the PPI highly likely.
Although this data point will probably not put the deflation argument completely to rest, it certainly points to inflationary forces rearing their heads.
Click to enlarge: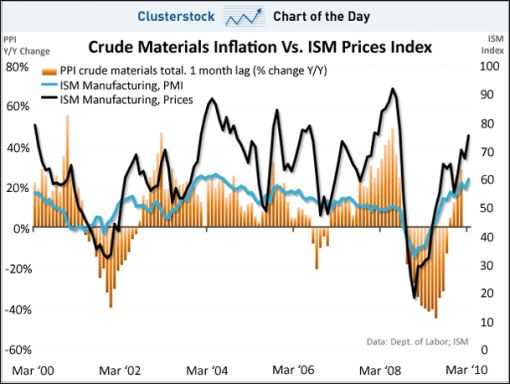 Source: Clusterstock – Business Insider, April 1, 2010.