After the bell last Thursday, technology giant Microsoft (NASDAQ:MSFT) reported its fiscal second quarter results. The report was a complete blowout, with the company handily beating analyst estimates for both revenues and earnings per share. Microsoft stock rallied on the news, although gains were limited due to the overall market selloff. Today, I'll discuss the highlights for the quarter, but explain why the report may have already been priced into this stock.
Second quarter results:
Microsoft came in at $24.52 billion for revenues, well above the $23.68 billion analysts were looking for. This was also well ahead of the company's guidance. The table below shows Microsoft's guidance per segment against actual results. Dollar values are in billions.

Four of the five segments came in towards the top end of the range, with the device and consumer hardware segment blowing past estimates. Unfortunately, the hardware segment is one of the lower margin ones, so Microsoft didn't get a complete bang for its buck. The company blew past earnings per share estimates, coming in at $0.78 versus expectations for $0.68. All around, a strong quarter. Some quarterly highlights taken from the press release are below:
Surface revenue more than doubled sequentially, from $400 million in the first quarter to $893 million in the second quarter.
The company sold 7.4 million Xbox console units into the retail channel, including 3.9 million Xbox One consoles and 3.5 million Xbox 360 consoles.
Commercial cloud services revenue more than doubled.
Office 365 commercial seats and Azure customers both grew triple-digits.
Guidance and post-earnings commentary:
If there was one weak spot in the report, it was guidance for fiscal Q3. Microsoft on the conference call guided to revenues of $20 to $20.5 billion, and analysts were looking for $20.47 billion. Since Microsoft has beaten estimates handily in the past two quarters, some might see the guidance as conservative. In three months, we'll find out. This guidance assumes no impact from the Nokia (NYSE:NOK) acquisition, a deal that's expected to close during the quarter.
As you can probably expect, most of the analyst community came out with positive notes after the report. There were not any real large price target hikes, as most analysts were in the high $30s and low $40s already. It seemed like the majority opinion was that results were strong, but the stock is mostly where it needs to be for now.
Balance sheet and capital returns update:
Microsoft finished the quarter with just under $84 billion in cash and investments. However, as stated on page 44 of the 10-Q filing, $75.7 billion of that is held by foreign subsidiaries and would be subject to material repatriation tax effects. Microsoft has about $8.3 billion in cash and investments located inside the US, the only resources that can be used for dividends and buybacks. At the end of fiscal Q1, Microsoft had just under $4.7 billion inside the US. While this seems like a positive jump, you must remember that the company issued more than $3.2 billion in dollar denominated debt in December. The company also issued $3.5 billion in Euro debt during the quarter. This was actually a necessary debt deal for the company in my view, to pay the dividend and buy back stock during the quarter.
During the second half of 2013, Microsoft raised its quarterly dividend from $0.23 to $0.28. The $1.12 annual payment yields 3.04% on an annual basis as of Friday's close. In terms of large cap technology, Microsoft's dividend yield slots into third place right now. Cisco Systems (NASDAQ:CSCO) is just slightly ahead of Microsoft, and Intel (NASDAQ:INTC) is a bit further ahead. More on the dividend yields later.
Microsoft bought back $2 billion of stock during the quarter, up from $1.607 billion in the prior year period. These values do not count shares repurchased to settle statutory employee tax withholding related to the vesting of stock awards. Through the first half of the fiscal year, Microsoft bought back $3.5 billion worth of stock, up from $2.607 billion in the prior year period, excluding the above mentioned items. At the end of the quarter, Microsoft had $38 billion left on its current $40 billion repurchase plan.
Current comparisons and valuations:
One of the reasons I see limited potential upside in Microsoft is that the valuation seems fair at this point, or even high when looking at some competitors. The following table shows some key growth and valuation estimates for Microsoft against top tech names, including Google (NASDAQ:GOOG), Apple (NASDAQ:AAPL), and others.

Microsoft's revenue and earnings estimates have risen since the quarterly report, and you would expect that. However, analysts have only raised the fiscal year earnings average (fiscal year ends in June) by 4 cents despite the dime beat. Earnings per share estimates for fiscal Q3 and Q4 have actually been cut.
Right now, Microsoft trades at nearly a 10% premium to Apple, and Apple gets its chance to prove itself on Monday. Microsoft doesn't have the earnings growth of Apple right now, partially due to declining margins. Apple also has a much stronger buyback that is boosting earnings per share as well. I really don't see Microsoft commanding too much more than a 14 or so P/E, which is why I think $38 to $39 is probably the top at the moment. The average and median price targets are in that range as well.
Is something holding down this stock?
I was a fan of shorting Microsoft stock as it rallied above $38 late in 2013 because I felt the stock had gotten ahead of itself, primarily in valuation. I also thought that a few key questions needed to be answered, and they still do. I'll recommend a potential trade in the next section, but here are some concerns that still linger for Microsoft.
First, the CEO search is still ongoing, and several promising candidates have dropped out. In this regard, Microsoft's promise has become a problem. While I didn't expect a new leader to be named along with the results, I was surprised that it didn't come up on the conference call. Perhaps the biggest issue is that candidates have been worried about Ballmer's and Gates' presence at the company. To some, it feels like a teenage kid who can only drive their new car when mom and dad are riding along with them.
The second item which gives some investors pause is the Nokia acquisition. How will Microsoft integrate the unit and be successful? Device sales for Nokia recently plunged, and hardware is always lower margin. Google's margins dipped a bit when Google acquired Motorola Mobility, so investors might need to expect lower margins from Microsoft going forward.
The other concern has been with the share count, and this has to do with the US cash constraint I mentioned above. Microsoft has spent $5.5 billion on share repurchases in the last calendar year, not including the other items discussed above. However, the share count is only down from 8.374 billion to 8.300 billion, and it was basically flat during the previous calendar year. Microsoft is buying back a large dollar amount worth of stock, but executive options and other dilutive securities are hurting the program. $5.5 billion and the share count did not even decline by a full percent. That's why Apple is such a favored investment right now, because Apple's repurchase plan is much more powerful.
My preferred trade this time:
In late 2013 I was pitching Microsoft as a straight short, arguing that you could just flat out short shares. My argument was that the fiscal Q1 beat was set up by a huge reduction of analyst estimates after the Q4 miss, so Microsoft needed to prove itself. A rising valuation, combined with a lengthy CEO search and a constrained cash position was not appeasing in my opinion. The short trade worked, and I came out and told shorts not to be greedy.
But now that Microsoft has beaten results again, I'm slightly changing my tune. I still think Microsoft is a short candidate above $38, and that price could be hit early this week if markets start to rebound a little. Shares could have hit $38 last Friday after earnings if not for the huge market selloff. However, I'm not arguing that investors just short Microsoft shares. I don't see the risk/reward potential being that great, cause at $38, shares could go to $40 as easily as they could go to $36.
So what's my way to play the short side? Well, I would wait until the stock gets back to either $38 or $39. I would then say to purchase at the money puts for either March or April expiration. In addition, I would sell a number of puts about $3 below your strike (so $35 or $36) that should basically equal the price you paid for your long put. So for instance, let's say buy a March $38 put for $1.80 and sell three March $35 puts for $0.60 each, hypothetically. If Microsoft's stock goes up, you don't lose anything, which is why I like the trade opposed to just shorting Microsoft stock. If Microsoft goes down, you can make some nice change all the way down to $35. At $35, your profits start to decline, and you go negative at $33.50 in this case. I don't see Microsoft going that low, which is why I like this trade. Remember though, options trades carry a bit of risk, and you should always find out any margin requirements from your broker before exercising any options trades. In the end, I think this trade is better than just shorting Microsoft stock. You have a better chance at profits, and shouldn't have to worry about losses if you can structure it right.
Final thoughts:
Microsoft announced a strong quarterly report, with revenues and earnings both handily ahead of estimates. However, some key issues still remain, primarily the waiting game for the announcement of a new CEO. As you can see from the chart below, Microsoft has been on a bit of a rally in the past year, which is why I think most of last week's report was priced in. I think Microsoft is approaching the high end of its range at $38 to $39, at which point I think the trade favors the short side. I think some options strategies are the best way to do, as they limit your potential downside. I would not short Microsoft stock at this point.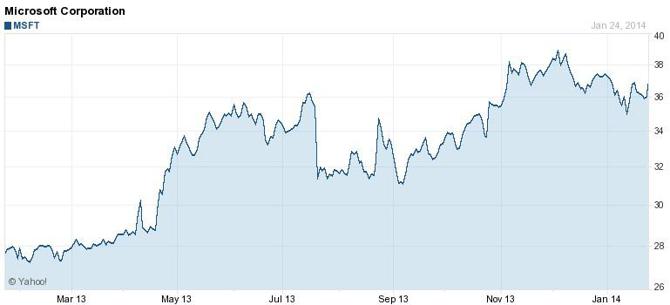 (Source: Yahoo! Finance)
Disclosure: I have no positions in any stocks mentioned, and no plans to initiate any positions within the next 72 hours. I wrote this article myself, and it expresses my own opinions. I am not receiving compensation for it (other than from Seeking Alpha). I have no business relationship with any company whose stock is mentioned in this article.
Additional disclosure: Investors are always reminded that before making any investment, you should do your own proper due diligence on any name directly or indirectly mentioned in this article. Investors should also consider seeking advice from a broker or financial adviser before making any investment decisions. Any material in this article should be considered general information, and not relied on as a formal investment recommendation.