In many aspects, NetApp's (NASDAQ:NTAP) stock has the makings of a rather conservative play. The company has beat on five of its past six earnings reports and expects another 12 percent growth in earnings in 2015.
Meanwhile, the short interest as of the end of 2013 currently stands at a miniscule 2.43 percent. Even in the largely risk averse nature of the computer storage industry, that mark stands below the short interest of competitors Datalink (NASDAQ:DTLK) and EMC Corporation (EMC).
If that isn't positive enough, shares of NetApp began their recent surge after Datalink raised its fourth quarter guidance on January 15. It was, after all, Datalink's third quarter miss that helped cause a drag on shares of NetApp in the fourth quarter. All of which led the stock to drop just over 4 percent during that period.
So with solid news, a continued improvement in earnings, and a growing industry, many might question even the thought about shorting the stock. However, what the figures fail to show, NetApp's chart clearly indicates. That is the nature of the stock to typically give back gains which come too big and quick.
Sure, any stock suffers a little profit taking after enjoying a nice run, but NetApp's chart shows just how noticeable and relentless that selling tends to be.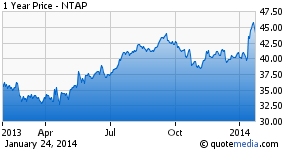 Last February, shares jumped 7.2 percent on the heels of an earnings report of $0.67 which came in $0.11 better than expectation. Within 12 days, however, the stock was trading below the $34 level shares had initially surged from. It would then take about six weeks for the stock to clear that level once again.
Once shares recovered, they rapidly shot up 8.5 percent as a result of heavy call buying on April 12. Exactly one week later, the stock was trading just over a percent under the initial price shares cost before the rapid buying took place.
By the middle of May, the stock had once again cleared $36 on the heels of a steadier climb in price. However, less than one week before another well-accepted earnings report, shares surged 7.5 percent. Even with buying after the eventual report, the stock was back near the $36 level within just over a week.
After a six week selloff that began in mid-September, shares again broke above $40. With the help of earnings, shares gained 6.3 percent before falling back below $40 in the span of nine days.
Fast-forward to the present and a similar trend is quickly developing. After having gained about 12.5 percent in a week, shares experienced their first retreat on Friday. Obviously, the widespread market losses were a contributing factor, but to think they were the only reason is naive.
In this case, history argues NetApp will retest $40 or the value shares traded before this recent and overdone jump in price. However, unlike most stocks worthy of a short position, investors would then be wise to cover around $40 and go long. After all, the financial numbers look strong and the stock has the opportunity to provide solid returns for investors.
It just must be remembered that this is a play in which the greatest return should come in the form of dividend payouts and a steady appreciation in price. Anything greater and the risk begins to outweigh the reward.
Disclosure: I have no positions in any stocks mentioned, and no plans to initiate any positions within the next 72 hours. I wrote this article myself, and it expresses my own opinions. I am not receiving compensation for it (other than from Seeking Alpha). I have no business relationship with any company whose stock is mentioned in this article.