I still have my lingering doubts about Apple (NASDAQ:AAPL), but today I concede that the company will again beat the Street. Its high-margin-only policy is still viable and will likely stay this way for at least 2 more years. Apple is due to report its Q1 FY 2014 earnings later today and strong sales of its high-end iPhones and iPad tablets convinced me that Apple will again deliver record earnings and will outperform the average $14.09 estimate.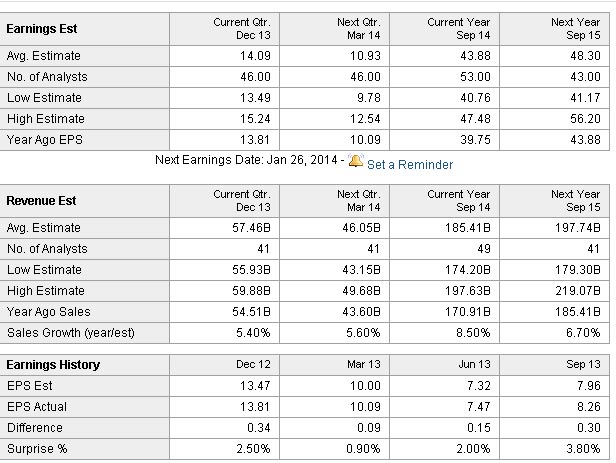 Record Quarter For iPhone Sales Predicted
An iPhone sales estimate chart from CNN published last January 19 showed a spike even before the China Mobile deal was signed. CNN's chart is from a survey of 44 analysts. The average consensus is 55.3 million iPhone units were sold last quarter.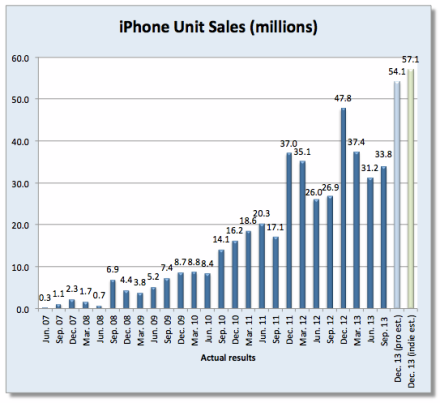 Here's the survey chart with specific projected numbers of iPhone sales from independent and professional analysts. Blue is pro and green is independent.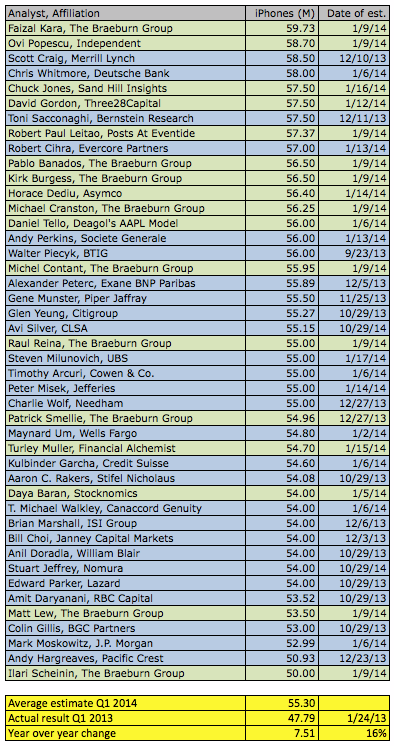 Charts Courtesy of fortune.cnn.com
Apple remains a certified cash machine as long as it keeps posting record sales number for its smartphones. The iPhone accounts for more than 50% of its revenue, so it's a no-brainer that its forthcoming Q1 EPS will beat estimates.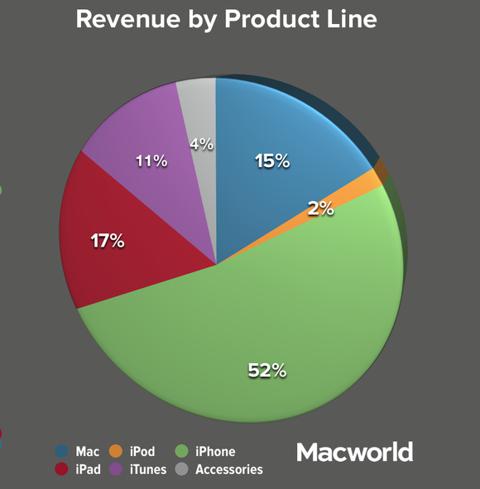 Another reason is the strong sales of the iPad Air and Retina iPad Mini. Boy Genius Report said the consensus is that around 25 million iPad units were sold last quarter. The high estimate is a big surprise since the iPad is more vulnerable to pricing competition - much more so than the iPhone which benefits from carrier subsidies. Sales figures of Apple tablets are in downward trend since Q1 2013. A QoQ increase in iPad sales will be very impressive indeed considering the stiff competition from lower-priced Android and Windows 8 tablets.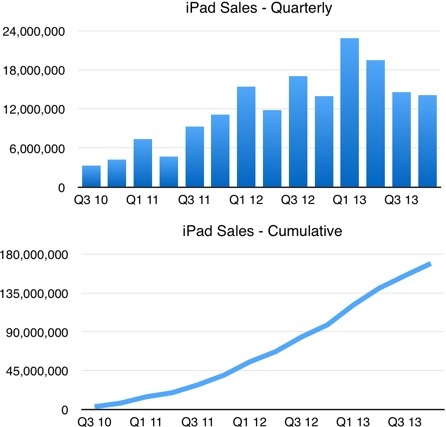 Gartner also estimated that U.S. sales of Mac computers did a 28.5% Year-over-Year increase for the last quarter of 2013. Macs still accounts for 15% of Apple's revenue so Gartner's report contributes to my belief that Apple will really beat the estimates later today. Apple increased its market share to 13.7% inthe U.S., while world number one PC-maker Lenovo saw its U.S. market share decline for Q4 2013.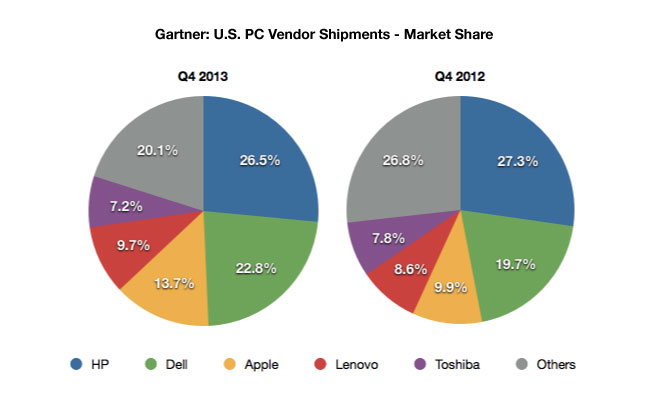 The iPhone, iPad, and Mac sales account for 84% of Apple's fortune. These three divisions are predicted to post record-setting revenues for the recent quarter. It's no wonder that Carl Icahn bought another $1 billion worth of Apple shares recently. Icahn's call for a $50 billion buyback may not win approval but he will still reap a nice profit if AAPL rises after today's earnings report.
Can Apple Hit $570 After Today's Earnings Report?
Another recent Fortune CNN article indicates an average estimate of $58.10 billion Q1 revenue or an EPS of $14.36. The CNN survey includes 29 Wall Street professionals and 18 amateurs. The blues are pros while the greens are amateurs.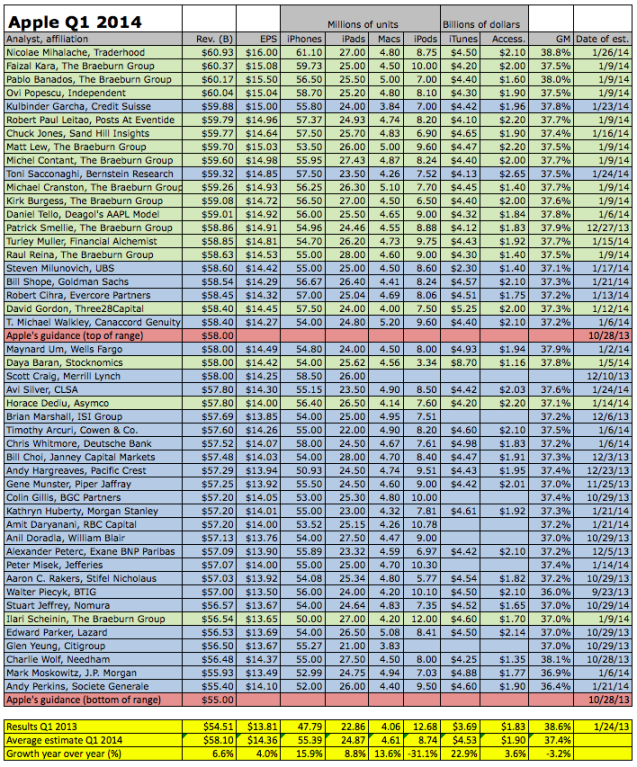 Chart Courtesy of fortune.cnn.com
The $58.10 billion average estimate is within Apple's own guidance of $55-58 billion. CNN's EPS estimate of $14.36 is nearly equal to what Estimize users predicted - $14.37.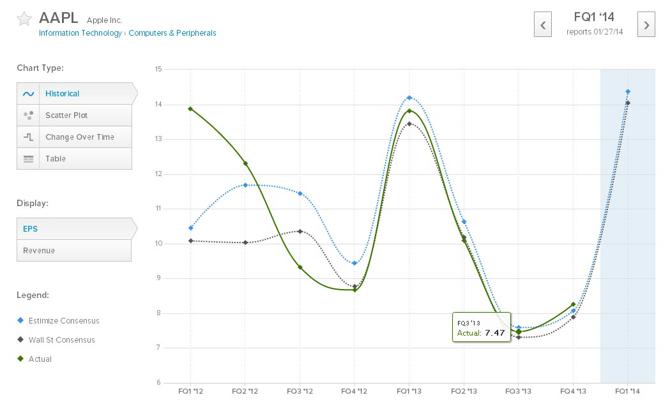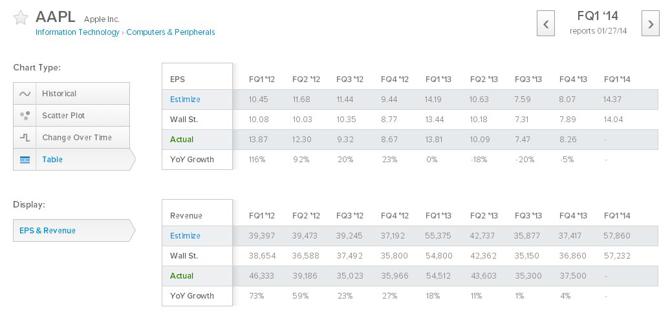 Earnings Whisper is even more optimistic, it is predicting an EPS of $14.42. A Strong Buy rating is given by 24 analysts at Earnings Whisper while only 7 analysts recommended a hold. I am assuming a mini rally for AAPL on Monday.

The iLoyalist bulls will definitely won't let bears do what they did to Nokia (NYSE:NOK) during its better-the-street-expected earnings report last week. AAPL has a big chance to hit $570, if not today, then within a month's time. I also expect AAPL investors to be more pro-active than Microsoft (NASDAQ:MSFT) investors. Microsoft recently beat both revenue and earnings estimates and yet the stock is still stuck below $38. I concede that Apple has more chances of breaking $570 than Microsoft has in hitting $40.
Conclusion
Apple, like what Earnings Whisper said, is a strong buy. Apple will most likely be the company that will reverse the Dow's sell off mood last Friday. The confidence over Apple is infectious. Both Goldman Sachs and Credit Suisse already raised their own projected Q1 revenue numbers for Apple.
Apple is previously notorious for low-balling its own projections. However, the company announced last January 2013 that it will be providing more accurate guidance. I now believe the company's peak guidance number of $58 billion for Q1 FY 2014 revenue. The $14.09 Street estimate is therefore easy to beat.
Disclosure: I am long NOK, . I wrote this article myself, and it expresses my own opinions. I am not receiving compensation for it (other than from Seeking Alpha). I have no business relationship with any company whose stock is mentioned in this article.