We've written about the hazards of investing in banking stocks so frequently that we're starting to sound like a broken record. Even still, we think an understanding of the fragility and history of the banking sector is paramount should any investor venture into the space with his or her own hard-earned money. Let's recap some of the structural concerns we have with the global banking system and the additional risks faced by banking entities relative to general, operating companies (non-financial firms):
Untermyer: Is not commercial credit based primarily upon money or property?
Morgan: No, sir. The first thing is character.
Untermyer: Before money or property?
Morgan: Before money or anything else. Money cannot buy it … a man I do not trust could not get money from me on all the bonds in Christendom.

--Mr. JP Morgan's testimony before the Pujo Committee (questioning from Samuel Untermyer), 1912-1913

During the past three decades alone, there have been three significant banking crises: the savings and loan crisis of the late 1980s/early 1990s; the fall of Long-Term Capital Management and the Russian/Asian financial crisis of the late 1990s; and the Great Recession of the last decade that not only toppled Lehman Brothers, Bear Stearns, Washington Mutual, and Wachovia but also caused the seizure of Indy Mac, Fannie Mae and Freddie Mac.

We firmly believe that an investment in a bank must come with the acknowledgement of the distinct possibility that another financial crisis may occur at an unknown time in the future. Why? Banks do not keep a 100% reserve against deposits. Our good friend George Bailey knew this very well when he tried to discourage Bedford Falls residents from making a "run" on the famous and beloved Building and Loan in the classic movie It's a Wonderful Life.

In the words of Mr. JP Morgan, character is the only thing that matters in banking-or said differently, perceived confidence that the banking system will continue to work is really the duct tape that holds the financial markets together. Once this perceived confidence breaks down as it has many a time before, a "run on the bank dynamic" occurs, and such a unique risk will always be present for banking firm investors relative to investors in general operating corporations. Source: Valuentum
We have other reservations with respect to the transparency of banking entities, especially with the concept of cash flow. In corporate finance, there are generally three types of free cash flow: traditional free cash flow (cash flow from operations less capital expenditures); free cash flow to the firm (which we apply in our valuation models); and free cash flow to equity (which is generally applied to banking and insurance firms).
Though we think traditional free cash flow and free cash flow to the firm are acceptable methods for calculating the intrinsic value of general operating corporations, our valuation methods apply a residual income model to assess the value of banking and insurance firms, as we have significantly reduced confidence in the use of free cash flow to equity as a way to value banking entities. Said differently, it is our position that free cash flow at banks is meaningless (and/or arbitrary) to assess in a valuation exercise because banks use cash to generate cash. Other general operating firms use non-cash assets to generate cash-a subtle but very important difference.
A look at JP Morgan's (the company) cash flow statement compared to that of a general operating corporation such as Union Pacific (NYSE:UNP), for example, is perhaps all that is necessary to illustrate this point. Where traditional free cash flow (cash flow from operations less capital expenditures) can be calculated rather easily at Union Pacific, a free cash flow figure at JP Morgan is meaningless, in our view. Cash flow from operations and capital expenditures are relatively easy to forecast at Union Pacific (offering the core drivers behind valuation), but there's little information in JP Morgan's cash flow statement that is a material consideration in the valuation process. We use a residual income model to derive our fair value estimates for banking firms, the process outlined below:
A bank's current tangible book value is first grossed up or down by the discounted value of its forecasted annual net income less an annual capital charge (10% of tangible book value) during the next two years. We then use normalized earnings less the annual capital charge in our perpetuity function (discounted to present). The firm's fair value is then compared to its stock price. For banks, we use a standard 20% margin of safety to determine both the upper and lower bounds of our fair value range. If a bank is trading below (above) the lower bound of our fair value range, we consider it undervalued (overvalued). If its stock price falls within our fair value range, we think its shares are fairly valued.
We have many reservations about owning banking entities in our actively-managed portfolios, but a close monitoring of the health of the global financial system is still par for the course for our team at Valuentum. Let's take a look at recent results from the sector.
Ideas: We generally prefer diversified bank exposure via exchange traded funds (ETFs) such as the Financial Select Sector SPDR (NYSEARCA:XLF) and/or the SPDR Bank ETF (NYSEARCA:KBE). This allows us to capture valuation upside within the banking sector (as the financial system heals from the Great Recession) without exposing us to any firm-specific risk that will always be inherent to the assets contained in any one large bank's relatively opaque and far-reaching operations.
JP Morgan Takes a "Big Bath" in 2013
JP Morgan (NYSE:JPM) reported fourth quarter results January 14. The bank registered pre-provision profits of $7.6 billion in the quarter, flat from the same period a year ago. Net income in the quarter, however, dropped about 7%. For the year, the company's pre-provision earnings of $26.1 billion was 19% lower than that of 2012, while net income of $17.9 billion showed a mid-teens percentage decline versus the $21.3 billion mark of last year. The profit declines were largely driven by a number of significant items, including Madoff-related items and the implementation of a funding valuation adjustment (FVA) framework for OTC derivatives and structured notes. JP Morgan essentially took care of a number of outstanding considerations this year, punishing earnings and putting it in a good position for significant bottom-line expansion in 2014.
The bank's tangible book value advanced modestly to $40.81 per share, up roughly 5% from the end of 2012. Return on common equity (ROE) and return on tangible common equity (ROTCE) were 10% and 14% during the period, respectively, a slight decline from last year's performance but decent nonetheless. Adjusted for a number of one-time items, the measure would have been 15%. JP Morgan ended the year with a Tier I capital ratio of 11.9% and a Tier I common capital ratio of 10.7%, both figures revealing the strength of its capital position.
Investing banking fees fell 3% in the quarter due to lower debt underwriting fees, but higher equity underwriting fees thanks to share gains helped stem the decline. Assets under management jumped 12%, to $1.6 trillion. The bank grew average total deposits 8% and noted that auto originations advanced 16%, while mortgage originations tumbled 54% from the prior-year period. Purchase originations jumped 6% from the prior-year quarter, but were down 35% sequentially. Though effectively holding the line this quarter, JP Morgan's net interest margin has faced incredible pressure in recent years.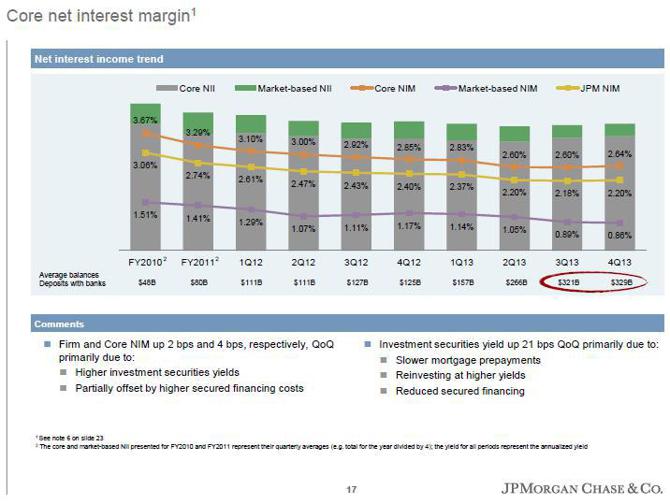 Image Source: JPM
Wells Fargo's 4Q Shows Net Interest Margin Pressure
Wells Fargo (NYSE:WFC) reported fourth-quarter performance January 14 as well. Compared to JP Morgan's quarter, results were clean. For the period, net income and diluted earnings per share advanced 10% as the company experienced modest improvements in its efficiency ratio and return metrics: ROA of 1.47% (up 1 basis point); ROE of 13.81% (up 46 basis points). Pre-tax pre-provision profit nudged up modestly on a sequential basis, but fell 5% from last year's quarter. The bank released $600 million in reserves due to continued strong credit performance (JP Morgan released $750 million in reserves in its Real Estate portfolios and Card Services division during its quarter). Book value stood at $29.48 per share at the end of the year, up 7% from last year.
Wells Fargo ended the year with a Tier I common equity ratio of 10.82% and a common equity Tier I ratio of 9.78%. Its capital position, while improving, isn't as strong as JP Morgan's, but we think Wells' book of business is better and doesn't require such a large equity backing-a look at the myriad one-time items in JP Morgan's fourth quarter reveals why JP Morgan needs a "fortress" balance sheet. Still, Wells' business is not immune to economic pressures, with CFO Tim Sloan noting "a challenging rate environment and…declines in mortgage originations." Residential mortgage originations were $50 billion in the quarter, down from $80 billion in the sequential period and from $125 billion in the fourth quarter of 2012. The bank's net interest margin of 3.26% in the quarter was 12 basis points lower sequentially and 30 basis points lower on a year-over-year basis.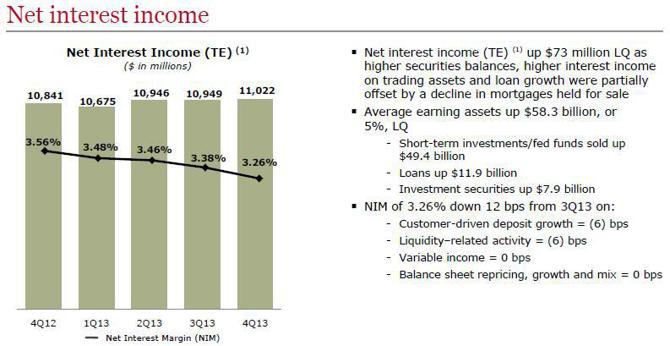 Image Source: Wells Fargo
Bank of America Striving to Put Legacy Issues Behind It
Bank of America (NYSE:BAC) reported fourth-quarter results January 15. The major appeal of the bank's performance was that the firm witnessed top-line expansion, unlike JP Morgan and Wells Fargo, where fourth-quarter revenue declined 2% and 6%, respectively, on a year-over-year basis. Net income for Bank of America, however, also surged to $3.44 billion, or $0.29 per share, up from $732 million in last year's quarter. We were pleased to see the results, if only because Bank of America continues to put its legacy issues behind it. The company's Tier I common ratio stood at 11.19% at the end of the year, while tangible book value per share stood at $13.79, up from $13.62 at the end of 2012. Fundamentals are moving in the right direction.
Bank of America's outlook for 2014 was also very encouraging. The company has record capital and liquidity levels, business performance is showing solid client activity, expense initiatives are on track to achieve cost-saving targets, and net charge-offs are approaching record lows. As with JP Morgan and Wells Fargo, mortgage originations at Bank of America declined 46% in the fourth quarter of 2013, compared to the same period in 2012. The challenging interest rate and mortgage origination environment cannot be ignored, but Bank of America is executing much better than even a few quarters ago.
Valuentum's Take
We think fourth-quarter 2013 results across the banking sector were reassuring, but the prospects for a continued difficult interest-rate and mortgage origination environment in 2014 are apparent. Capital levels are sound, and both JP Morgan and Bank of America continue to take steps to put legacy issues behind them. Still, we're not compelled to own any banking entity outright given the uniquely specific risks associated with the structure of the global banking system. We continue to hold the Financial Select Sector SPDR and the SPDR Bank ETF in the portfolio of the .
Disclosure: I have no positions in any stocks mentioned, and no plans to initiate any positions within the next 72 hours. I wrote this article myself, and it expresses my own opinions. I am not receiving compensation for it (other than from Seeking Alpha). I have no business relationship with any company whose stock is mentioned in this article.
Additional disclosure: KBE and XLF are included in the portfolio of our Best Ideas Newsletter.